Chat: Last minute tax-saving tips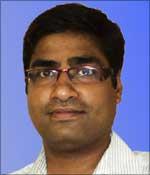 Finance Minister P Chidambaram will present the Budget in the Parliament on Thursday.
Will he raise the tax exemption limit or will he put more burden on the common people?
Do you always struggle planning your taxes?
Do you find yourself in a situation where there are just a few days left before the deadline of submission of tax documents?
Are you confused about the best tax-saving avenues?
Did you make a few errors while chalking out your tax plan last year?
Are you in desperate need of last minute tax tips?
You can get answers to your queries by chatting with Kripananda Chidambaram, director, Fintotal.com, on Wednesday, February 27, between 4 pm and 5 pm
.
Chidambaram is highly motivated to do substantial work in the financial education space and provide knowledge based platform through
fintotal.com
as a Finance portal for Non Finance people.
He has close to 12 years of experience in the field of direct marketing, business development, channel sales and team management.
He has worked with leading financial services companies like ICICI Bank, Tata AIG, Standard Chartered and Citigroup.

fintotal.com
, the no nonsense finance portal. Take a peek.