Advertisement

  

Advertisement

UB Group, Diageo agree on stake sale in United Spirits
November 09, 2012 10:56 IST
Last Updated: November 09, 2012 11:20 IST


Vijay-Mallya led UB Group is understood to have reached a deal with world's largest spirit maker Diageo for a stake sale in United Spirits [Get Quote].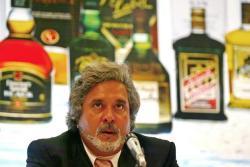 According to sources, the deal will be announced on Friday. However, the exact details such as the quantum of stake and valuation could not be ascertained.

When contacted, an UB Group spokesperson declined to comment.

According to different reports, the deal could entail Diageo picking up to 51 per cent stake in USL which could be valued between $1 billion and $2 billion.

The Economic Times reported that Diageo will buy more than 25 per cent of United Spirits in three stages. This includes the purchase of some stake Vijay Mallya [Images] holds. Following this, Diageo will make an open offer.

Depending upon the success of the offer, Diageo's ultimate stake will be anywhere between 45-51 per cent, the report said.

In September this year, United Spirits had confirmed that it was in talks with UK-based Diageo Plc for a stake sale.

"United Spirits and Diageo Plc confirm that the UK-based company is in discussion with it and United Breweries [Get Quote] Holdings in respect of possible transactions to acquire an interest in the liquor firm," United Spirits had said in a filing to BSE.

USL is the world's second-largest spirits maker after Diageo and markets various liquor brands including Signature, Bagpiper, Antiquity, Royal Challenge, Signature in the country.

USL's sales volumes stood at 3.13 crore cases (31.3 million) for the first quarter ended June 30.

Mallya-led United Breweries Holdings Ltd (UBHL), the promoter of USL, holds 18.03 per cent stake as on September 30.

Bogged down by the troubles of group firm Kingfisher Airlines [Images], Mallya has been forced to seek ways to raise funds as lenders to the carrier have refused to sanction further loans.

State Bank of India [Get Quote] (SBI), the largest lender to the airlines, wants the airline's promoters to bring in a minimum of $1 billion (about Rs 5,400 crore) from any source by month-end for its revival.

Already the country's aviation regulator has suspended operating permit last month.

UBHL has said the company along with its subsidiaries has significant financial exposure on various counts to KFA, which has ceased to be a subsidiary with effect from February 18, 2012 and is now an associate company.

This exposure as on March 31, 2012 included equity investment of Rs 2,114.28 crore (Rs 21.14 billion), loans and advances Rs 1,048.7 crore (Rs 10.48 billion) and other receivables Rs 209.08 crore (Rs 2.09 billion), and corporate guarantees to banks/aircraft lessors Rs 8,925.86 crore (Rs 89.25 billion).

United Spirits stock up 6 per cent on hopes of Diageo deal

Shares of United Spirits on Friday surged 6 per cent to 52-week high following reports that Vijay-Mallya led UB Group has reached a deal with the world's largest spirit maker Diageo for stake sale in the company.

After opening strong, shares of USL further jumped 6 per cent to Rs 1,425 - its highest level in a year on the BSE.

At NSE too, the scrip gained 6 per cent to touch a 52-week high of Rs 1,425.
© Copyright 2009 PTI. All rights reserved. Republication or redistribution of PTI content, including by framing or similar means, is expressly prohibited without the prior written consent.