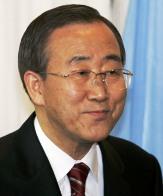 UN Secretary-General Ban Ki-moon has said that the Millennium Development Goals could be met by 2015 deadline 'despite lagging progress on many fronts'.
"Despite hard economic times, despite lagging progress on many fronts, we can still achieve the Millennium Development Goals by our target date of 2015," Ban Ki-moon told reporters after presenting his report on the MDGs called Keeping the Promise to the General Assembly.
In September 2000, world leaders had agreed to tackle eight developmental challenges, including poverty, employment, education and health.
The report described a 'mixed picture' of advances and shortcomings of the international community and national governments meeting the MDGs.
"A number of countries have achieved major successes in combating extreme poverty and hunger, improving school enrolment and child health, expanding access to clan water and access to HIV treatment and controlling malaria," it said.
However, the report pointed out that 'progress had been uneven and without additional efforts several of the Millennium Development Goals are likely to be missed in many countries.'
The report finds that progress on poverty reduction has been uneven and hunger is threatened.
In 2005, 1.4 billion people or one quarter of the population of the developing world lived below power line as compared to 1990 when there were 1.8 billion poor.
But, the report highlighted that drop was mainly because of China.
"Without China progress does not look very encouraging," it said.
"In fact, the number of people living in extreme poverty actually went up between 1990 and 2005 by about 36 million."
In 2009, some 50 to 90 million more people will live in extreme poverty that had been projected before the financial crisis.
Globally, the number of hungry people rose from 842 million in 1990-09 to 1.02 billion people in 2009.
The report also notes that there has been progress on employment and education but the goals remain unmet with insufficient progress on gender equality and least progress in reducing maternal mortality.
Despite the gloomy prospects, the head of the UN indicated that there were reasons to be 'cautiously optimistic.'
"With a decade of lessons learned, we know what works, and what doesn't. We know how to make the most of new technologies," Ban Ki-moon said, adding we are beginning to reap the benefits of new national development policies and better governance.
Emphasising a lack of 'political will', he pointed out that Africa had not seen much of the billions of dollars in aid money promised by the G8 leaders at Gleneagles, Scotland, in 2005 nor had $20 billion to boost agriculture in poor countries promised in L'Aquila, Italy, materialised.
Stressing that more pledges were not necessary, the Secretary-General urged nations to stick to their existing promises.
"If nations deliver on the financial commitments they have already made, we can achieve the goals," he said.
"That is why, this morning, I told member states that it is time to push the pace."
Ahead of UN General Assembly's annual General Debate in September, Ban Ki-moon will host a high-level summit on the MDGs to decide on the plan of action to meet the goals by 2015.
"Coming out of the September summit, we need a concrete, comprehensive, results-based plan for the way ahead," he said, adding and that is what I am determined to get.
Image: Ban Ki-moon