Home > India > Business > Special


How to make cheaper international calls

Anagh Pal, Outlook Money | May 26, 2008



Technology not only makes the world smaller; it makes it cheaper too. Making international calls from your landline or your mobile is still still expensive. For frequent callers here are a few cheaper options.

These are pre-paid cards that allow the user to make international calls even from an STD- or ISD-barred landline or mobile phone for lower rates. The user needs to buy the card, which has a hidden pin number, follow instructions printed on the card and then the ones on the voice mail.

The calls are charged to a separate account. Higher the card denomination, more is the talktime and lower the rates (see Talking Value). For example, a call to the US would cost Rs 1.75-1.99 a minute through a calling card, and as much as Rs 6.40 per minute on the mobile phone.

Internet telephony

If you have an Internet connection, you can download a messenger service and speak to anyone connected by Net. Of course, there are the Internet usage charges. This uses a technology called Voice over Internet Protocol (VoIP) and is essentially a PC to PC calling solution.

However, service providers have schemes where you can make calls from your PC to landline or mobile at nominal rates. For this you need to download the software and pay your bills via credit card. You would also need a computer with adequate system requirements and a good (preferably broadband) Internet connection.

Skype

The leader in this space has many dedicated users. "It's been a great help in connecting to friends and colleagues abroad," says Saptarshi Roy Chaudhury, a search engine optimisation consultant who uses Skype almost everyday to call professional contacts abroad.

"The higher your Internet speed, the better is the call quality. If you are on a slow connection, the time lag between words will be high and the calls might drop as well," he adds. Skype allows users to make unlimited (10,000 minutes) calls to 34 countries worldwide at euro 10.29 (Rs 657)/month. (For details see www.skype.com.)

Tata Indicom Net Telephony also offers a similar service where you can call US or UK at 99 paise/minute for a monthly rental of Rs 99 (www.tataindicom.com).
Other players
With Jajah, another VoIP provider, once you have registered and entered your number and the number you want to call on their website, your phone will start ringing and you can start talking. (For rates see www.jajah.com).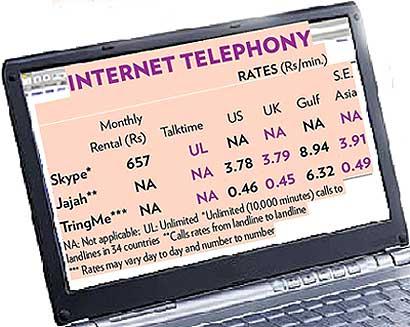 The company plans to start Jajah Direct once the legalities have been sorted out.
If launched, the service will give the user a local number for every international number he wants to call.
The user needs to call the local number, and speak 'internationally' at local rates without having to use a PC.
TringMe, a Bangalore-based company provides calling solutions from mobile phones. Those with a smart phone can download the software and make calls.
With other phones you can send an SMS with the number you want to dial to a given number and you will be connected. (Check rates at www.tringme.com).
With better technology and more players coming in, users will have more options on how they make their calls. Choose the option that best suits you and take the ISD weight off your telephone bills.
More Specials
Powered by