Home > India > Business > Pix

Rupee falls to one-year low of 41.77/dollar

May 08, 2008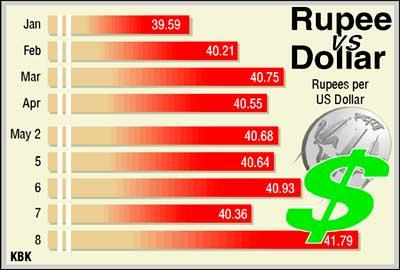 Resuming its slide against the greenback, the Indian rupee plunged to its more than one-year low of 41.76/77 against a US dollar.
Heavy demand for US currency in view of high oil prices continued modestly on its short supply.
The Interbank Foreign Exchange (Durex) market witnessed brisk trade with wide fluctuations in the local currency in a range of 41.55 and 41.79 during the day. The local currency lost 41 paise against the US counterpart.
The rupee resumed sharply lower at 41.59/60 a dollar from its last close of 41.35/36 a dollar. The rupee is hitting this level for the first time since April 20 2007 when it closed at 41.76/77 per dollar.
Meanwhile, the Reserve Bank of India [Get Quote] Governor Dr Y V Redder said the situation is reflective of the "global uncertainties".
The uncertainties "were flagged and analysed in the RBI policy statement last week. We have discussed the impact of the uncertainties on India," he added. The rupee's weakness is contrary to the apex bank's expectations of it strengthening.
RBI has hiked cash reserve ration to 8.25 per cent, though it is yet to come into effect fully, to tighten money supply. A tighter money supply should have triggered the rupee to move in the opposite direction, a dealer with a private bank said.
Sky-high global oil prices prompted heavy dollar demand from oil refiners and other importers amid inadequate supplies of American currency and a slowdown in capital inflows into sluggish equity markets, dealers said.
Oil companies and importers were forced to cover dollar positions as global crude oil prices surge to new peaks on a daily basis, causing worries about widening trade deficit. They said there was, however, very low availability of dollars as exporters adopted wait and watch policy after weak stock markets dashed hopes of any big capital inflows.
The rupee premiums on forward dollar ended slightly lower due to fresh receipts by exporters. The benchmark six-month forward dollar premiums payable in October ended at 31-1/2 - 33 paise, lower from 34 - 36 paise on Wednesday and the far-forward maturing in April also fell to 55-1/2 - 57-1/2 paise from 60 - 62 previously.
India imports 70 per cent of its oil requirements and the prices above $ 123 a barrel is likely to lead to deteriorate trade and current account deficits this year. Indian benchmark Sensex fell by 259 points or 1.49 per cent while Asian indices ended in negative territory.
The RBI also fixed the reference rate for US dollar at Rs 41.79 and that for single European unit at Rs 64.01. In cross-currency trades, the rupee also tumbled against the British Sterling, the Euro and the Japanese yen.
The rupee dropped against the Pound sterling to end the day at Rs 81.71/73 per pound from its previous close of Rs 80.91/92 per pound and also fell against the single European currency to Rs 64.14/16 per euro from its overnight close of Rs 63.81/83 per pound.
The Indian unit tumbled against the Japanese yen to close the day at Rs 40.06/08 per 100 yen from its last close of Rs 39.26/28 per 100 yen.
Source: PTI