Home > India > Business > Pix

Airlines bracing for challenging times

Anirban Chowdhury in New Delhi | March 31, 2008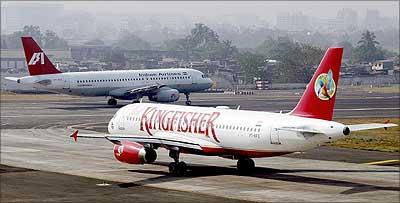 With major predictions of a deceleration in domestic air traffic, airlines are lowering seat capacity by reducing the number of flights or dropping fares in order to fill up their seats.
They have also begun the process of reducing the number of aircraft that they were planning to to induct in their fleet as part of their expansion plans.
Management consultancy firm Ernst & Young recently estimated that domestic traffic would grow by 24.16 per cent this year compared to 32.51 per cent last year.
According to the Centre for Asia Pacific Aviation, domestic traffic growth for 2008-09 will be 22 per cent compared to 31 per cent last year.
For instance, Air India offered only 8 lakh domestic seats during January this year, down from 9 lakh during the same period last year. This took place despite adding new aircraft to the fleet, as the carrier discontinued flights between certain sectors.
Similarly, Jet Airways [Get Quote] has cut down over 7,000 seats for the month of January compared to the same month last year. And Paramount Airways decreased its seats offered by as much as 22 per cent during the same period.
CAPA estimates a yawning gap of about 25 per cent between the supply of seats and the demand for domestic travel.
"The fact that full service carriers are looking at decreasing seats offered following the predictions of lower growth in domestic traffic is certainly possible. Also, all the full service carriers are looking at expanding internationally. So a lot of their capacity will be deployed there," said an Air-India executive.
Last year, Air-India halved its capacity on certain loss-making routes by deploying ATRs on those routes. Jet also reconfigured certain flights by cutting down on a row of business class seats.
Low cost carriers, which have cumulatively added 30 per cent seat capacity in 2008 over the previous year, are now cutting down on their expansion plans. IndiGo, which had planned to add one aircraft to its fleet every month, has now pruned this drastically.
"While we have had an average induction of one aircraft every month, we will induct only seven aircraft this year and six each in the next two years," said Bruce Ashby, CEO, IndiGo.
IndiGo is also going in for shorter leases - three years for its new aircraft instead of six to ten years. Since the lease period ends early, most of the new aircraft will merely replace the old ones instead of adding to the fleet.
SpiceJet is adding only five aircraft instead of the seven which were planned earlier as they have decided not to renew two of their old leases.
"We are going to see an eight per cent decrease in fares in this peak season compared to the last peak season. While the fares might not come to as low as Re 1, airlines are definitely not going to keep the lower limit at Rs 500 as they have been claiming," said Bhavna Aggrawal, co-founder of travel portal Yatra.com.
"Lower fares are definitely a possibility. If we have lower load factors in the peak season, people would definitely want lower fares," said Ashby.
Also read:
Photograph: Pal Pillai/AFP/Getty Images
Powered by