Home > Money > Pix

Activists keep date with 'khooni' car

BS Reporter in New Delhi | January 11, 2008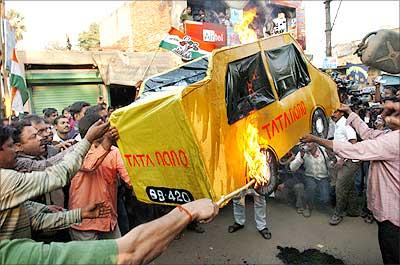 They came in T-shirts spattered with red paint to represent drops of blood and slogans that read "one lakh car has Singur's blood on it", and "Tata screwed up in Singur."
They were half-a-dozen activists led by Anuradha Talwar of the Paschim Bangal Khet Majdoor Samiti and several sharecroppers from Singur, West Bengal, who arrived at the Auto Expo and stood silently for two hours in front of the Nano, Tata Motors' [Get Quote] new competitively priced small car that was displayed today at the ninth Auto Expo here. 
The silent protest was against what activists described as the unjust acquisition of land by the West Bengal government for the Tata car project. The land was the source of livelihood for over 1,200 sharecroppers and about 300 agricultural labourers in five villages. 
Talwar, who was later joined by Medha Patkar at a press conference in the evening, said the Tata group cannot bask in the glitter of its new car that activists renamed "khooni (murderer) car."
Talwar and Patkar demanded that the Tatas talk to the people whose land they have taken and stop any further construction on the site.
Talwar also demanded that the company return the land to those who have refused to accept the state government's compensation so far and said the police force should be removed from the area.
"They don't need 997 acres of land. Let them keep 300 acres and return the rest. But for a beginning, they must start talking to the people who have been affected by the car factory," Patkar said, Many sharecroppers who joined them in the protests today are to stay back tomorrow to demonstrate in Delhi.
Patkar added that the Tatas had not engaged in a dialogue with the people of Singur though she claimed eight people have died so far and suicides continue. "Since there is such apathy to the people affected by the car factory, what other option is there for the people to get themselves heard but to stage protests?" she said.
Activists of the Trinamool Congress-led 'Krishi Jami Raksha Committee' burn an effigy of the Tata Nano during a demonstration in Singur, 30 kms north of Kolkata, where the construction of the Nano car factory is in process.
Photograph: STRDEL/AFP/Getty Images
Powered by