Home > Money > Pix

After biggest-ever crash; Sensex recovers

October 17, 2007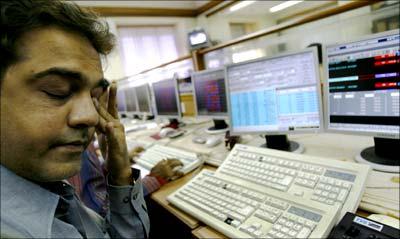 It was shocking day for the markets. Two days after crossing the 19,000-mark, the BSE Sensex on Wednesday crashed in the wake of a proposal to tighten participatory notes (PNs) by Sebi.
The Sensex opened with a huge negative gap of 5.3% (1,014 points) at 18,038.

The market lost 1,743.96 points or 9.15 per cent within minutes of trading, prompting the Bombay Stock Exchange and the National Stock Exchange to suspend trading for an hour.


Trading was halted for the first time on May 17, 2004 when the index crashed 16.6% (a swing of 842 points) in intra-day deals following the change in government. The second instance was on May 22, 2004 when the Sensex hit the lower circuit, and the intra-day swing was 1,316 points on account of a meltdown in global metal stocks.

The stock markets staged a recovery once trading resumed at 1055 hrs, helped by reassuring statements from finance minister P Chidambaram and SEBI chairman M Damodaran.

The stock market nearly made up for the 1,744 points it tanked on Wednesday after the government and regulator SEBI reassured investors there was no move to ban Participatory Notes (PNs) but only curb funds inflow.

The barometer index, Sensex, restricted losses to 336 points to close at 18,715.82 although it had dipped to the day's low of 17,307.90 as nervous investors resorted to selling fearing that the regulator would ban PNs, a derivative instrument issued by FIIs to unregistered foreign investors. The NSE Nifty lost 109 points to close at 5,559.

"Let me assure all investors what has been done is to moderate capital flows, which have become very copious. It is a culmination of long discussions between SEBI, RBI and government," Chidambaram said, adding that SEBI's proposals are just a consultation paper, but would become regulations with or without some modifications.
SEBI, in a discussion paper, had mooted curbing issuance of Offshore Derivative Instruments by FIIs and sought public comments by October 20. SEBI chairman M Damodaran said the proposals were a well- designed package and asked investors not to go by rumours.
Chidambaram also alluded that Indian stocks are cheaper despite the market gaining new heights, saying: "Our PE ratio are still far lower than the PE ratios of say China."
The number of FIIs and their agents issuing ODIs has increased to 34 from 14 and notional value of PNs outstanding has risen to Rs 3,53,484 crore (Rs 3534.84 billion) as of August this year from Rs 31,875 crore (Rs 318.75 billion) in March 2004.
The financial instruments PNs are used by investors or hedge funds not registered with SEBI, to invest in equity, market players said.
Chidambaram has expressed surprise and concern about the recent surge in the market, saying "our assessment tells us that Sensex is driven by copious inflow of funds".
"We needed a correction... it may be good for the market but the sharp recovery is a little baffling," Arun Kejriwal of Kejriwal Research and Information Services (KRIS) said.
RIL [Get Quote], Infosys [Get Quote] Tech, Satyam [Get Quote] Computer and TCS [Get Quote] Ltd scored impressive gains. Barring BSE IT index which gained 1.02 per cent, other sectoral indices registered losses.
"While, the medium to long term outlook is quite good, SEBI has banned only unidentified flows into the country," said Paras Bodhra of Asika Stock Brokers.
 A stock trader reacts while watching the 30-share Sensex index after it plunged 1,743.96 points.

Photograph:  Sajjad Hussain/AFP/Getty Images
PTI & Business Standard