Home > Business > Special


Is your mutual fund sitting on your cash?

Sunita Abraham, Outlook Money | May 23, 2007



Are you watching the cash holding in your mutual fund (MF) portfolio? If you are not, it's high time you did. A lot has changed and fund houses are now holding in excess of 10 per cent in cash, up significantly from the earlier norm of 2-5 per cent.

What does it mean? For fund managers, moving into cash is a favoured strategy to combat volatile markets. However, the risk in using cash calls arises when a fund manager books profits too early or misses out on a rally by not foreseeing an upswing.

Reliance Mutual Fund manager Sunil Singhania says: "Reliance MF looks at cash as a security and uses it to ride volatile markets. The fund house looks at cash holding between 5-25 per cent in all its schemes."

Sundaram BNP Paribas vice-president (sales and marketing) Sanjay Santhanam says Sundaram Select Midcap Fund always maintains cash of around 20 per cent to smoothen volatility. Holding cash either as a defensive strategy against a downside, or as a tool to make gains in a volatile market may have worked in a limited way in the past.

Nevertheless, it smacks of a short-term approach to investment, which increases the risk for the investor. Investors need to evaluate how this fits into their overall investment strategy and take a call on continuing with the investment.

Paucity of investment opportunities? Larger cash holding may also indicate that funds are not being deployed at the pace that they are flowing in, indicating a paucity of investment opportunities, especially in less liquid segments, such as mid-cap stocks.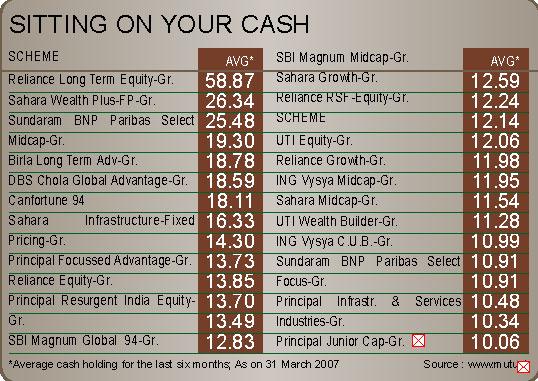 SBI Mutual Fund's head (equities) Sanjay Sinha says that the demand for equity funds combined with uncertainties brought on by events such as the Budget in February and global factors in March contributed to the cash build-up. Talking about mid-cap funds from SBI MF, he adds, "We are looking for value and investing as and when we find it."
On Sundaram Select Mid-Cap Fund's strategy, Santhanam says: "The strict discipline that funds follow on maintaining stock weight in the portfolio results in frequent profit booking, while fresh deployment happens at a lower pace, leading to a cash build-up."
However, the fact remains that your funds are in an asset class, namely cash, which was not the mandate given by you when investing in the fund.
What should you do? If you have invested in a fund house whose size is growing, but the growth is accompanied by larger cash holdings, you could consider suspending further investments and instead monitor the ability of the fund management to identify investment opportunities in current market conditions. In these cases, fund houses should ideally look at a temporary suspension in subscriptions -- some of them have done in the past -- until markets provide opportunities for investing.
The past trends in cash holding by the fund would also give an idea of whether it has used cash as a defensive strategy, or as a way to exploit short-term opportunities.
 The comfort of the investor with the risk in the strategy adopted would help decide the way ahead. Otherwise, your money is better off in your bank account rather than in an MF account.
More Specials
Powered by