Home > Business > Special


Check out these swanky phones

Priyanka Joshi | March 27, 2007


| | |
| --- | --- |
| W880i, Sony Ericsson | |
| | |
| | |
| | |
| | |
| | |
| | |
Launching W880i as an extension to the fast-swelling Walkman line up and the K550i Cybershot, Sony Ericsson has re-instated its belief in Walkman and Cybershot series.
A quick dissection of this camera phone reveals that the K550i is an intuitive integration of a digital camera with a mobile phone. The phone's screen, at 1.9 inches serves as a clear viewfinder.
Image sharing can be done in a number of ways like the in-built picture blogging is a simple click process to send images to a blog site, support for memory stick micro (the one bundled is 64 MB) will not store many images but with Bluetooth 2.0 allows you to transfer images to other Bluetooth-equipped devices.
The K550i also packs in a FM radio, conference call functions with more than one contact per conference call and a not-so-impressive speaker-phone facility. In addition, printing is made easier. User does not need a computer while printing through the K550i's PictBridge tools, all done via USB (provided in-box) to a compatible printer.
The good Sony Ericsson's W880i is a stunning piece of design, complete with a brushed steel face, a 2 megapixel camera, push email support and a 1GB Memory Stick Micro (and this is pinched into a thin device of just 9.4mm).
The W880i includes the latest version of Sony Ericsson's proprietary music software, Walkman version 2.0. It still uses the previous tiered system (with artists, albums, tracks and playlist menus) but now adds access to Sony Ericsson's new download service PlayNow.
The PlayNow download service operates like iTunes -- listen to samples and then download tracks in MP3 or AAC format. Also included in the new software is album art support. On the browser side, W880i's email client supports POP3 and IMAP protocols and can manage several accounts simultaneously.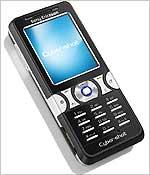 Downsides Our biggest gripe with the W880i and K550i (left) are the tiny keypads. Thinner like the size of a rice grain, the buttons are not only hard to press but the sharp edges of the keys can be painful when texting for prolonged periods.

Talktime for both the phones averages around 6.5-7 hours of battery life, which is respectable. Since W880i is a 3G phone, it includes a 2-megapixel camera on the rear for taking photographs and a VGA camera on the front for video calling (and you cannot use it for taking photos). The camera has no auto focus or a flash, but it does have 2.5x digital zoom, making W880i's camera just a fancy attachment.

In sum Sony's K550i, which costs Rs 11,995, is good for those who wanted to own the K790i, which is a tad costly at Rs 18,899 without compromising on the camera's performance. W880i, at Rs 24,000, promises good music software, camera and browser functionalities.

Powered by
More Specials