Home > Business > Special


No surprises: Real losses in real estate

Rajesh Kumar, Outlook Money | March 14, 2007



We had warned readers of over-optimistic expectations from the real estate sector and their share valuations earlier. However, aided by the hikes in CRR and interest rates, the slump in prices in the sector has been even more rapid and savage than was anticipated.

Clearly, investors in such stocks have lost value. For those invested over the medium- or long-term, the loss is notional, after the run-up through all of 2006. But for late entrants, including "successful" IPOs like Parsvanth, the loss is real. We had highlighted the cyclic nature of the sector with a case study of Unitech, a favourite among investors in 2006. We also indicated that if you hold real estate stocks, you have made your money and it's time to quit.

At a more fundamental level, the drop in share prices will constrict the ability of this sector to grow. At last count, 35 companies in the business had planned to raise about Rs 33,000 crore (Rs billion) through 35 public issues in the near future. Under current conditions, several of these may go into cold storage. The reduced access to public funds will lower their capacity to convert their "land banks" into saleable assets -- flats, commercial property or developed plots.

Moreover, companies coming up with issues will not be able to get expected valuations in the market. In the last month, Mumbai-based Akruti Nirman got listed and is currently trading at Rs 431 against its issue price of Rs 540. Parsvnath Developers, which saw a terrific listing in November 2006, is now trading at Rs 285 against its issue price of Rs 300 and listing price of Rs 540.

In fact, it's not just the new listings, shocks have been felt across the board (see table). We don't see prices bouncing back in the near future or even stabilising at these levels. The recent CRR hike, which has pushed interest rates upwards, is yet another dampener.

The steady hike in interest rates will put pressure on affordability of property, especially housing, which will lead to low demand and, more importantly, lower price and lower margins for real estate companies. We have already established that the revenue and profits in the sector is extremely cyclical and companies either stop producing or reduce production significantly when prices correct, which at times make these stocks worse than commodity stocks.

Our advice: we believe stocks in the sectors may see a further downturn in the near future. It's difficult to predict how long the downside will continue. We advise you to stay away from the sector for a while. If you still want to enter, be very careful.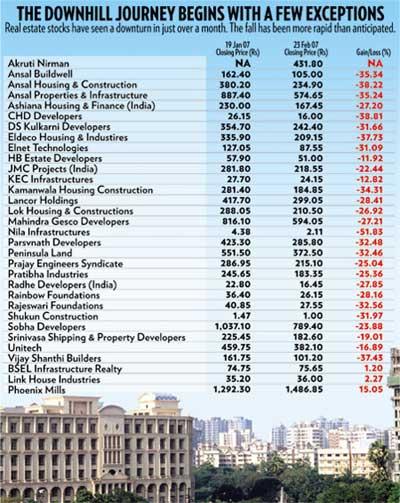 More Specials
Powered by