Home > Money > Pix

Palmist reads Mukesh Ambani's future

Rediff Business Desk | June 27, 2007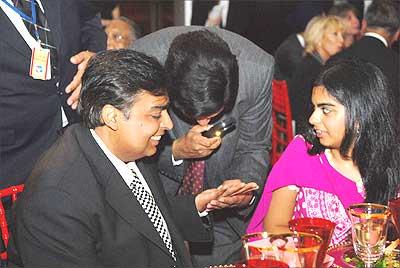 Why does India's richest man needs his palm read? And what did the palmist find? Well, from the grin that Mukesh Ambani is sporting, it seems his future is very bright indeed.
And why not? Ambani, chairman and managing director of Reliance Industries [Get Quote], India's biggest private sector company, is the world's 14th richest man. His company, too, belongs to the elite group of Fortune 500 companies.
The US-India Business Council will confer the 'Global Vision' 2007 award for leadership on Reliance Industries Ltd chairman Mukesh Ambani in Washington on Wednesday.
With an estimated wealth of  $20.1 billion, Ambani, who heads the Reliance conglomerate has interests in oil exploration, refining, retail, textile, petrochemicals  and SEZs.
He is expected to meet top United States officials, including Secretary of State Condoleezza Rice, at the event and hold discussions on a range of issues including outsourcing and energy security.
Palmist Rakesh Sharma 'reading' Mukesh Ambani's palm at the USIBC Gala Dinner in Washingtion DC. To the right is Mukesh's daughter, Isha.
Photograph: Paresh Gandhi