Home > Business > Special


The cheapest home, health & car covers

Bridget S Leena, Outlook Money | December 26, 2007



You have moved beyond the first base. We don't need to convince you any more that you need to protect yourself as an income earning asset (with a health cover) or the assets you have built (with car and home covers). The question you are asking is: I know I need to buy all this, but which policy do I buy?

With 13 companies offering all three products, you have a choice of more than 50 polices in the market. While the buying of a life cover is more nuanced, general insurance polices are pretty much a decision that swings on cost. There are two reasons for choosing a lower cost product today.

First, general insurance, unlike life, is a one-year contract. If you don't like the company or their service, you can switch to another one the next year and carry your no-claim bonuses (the brownie points you earn in the form of either lower premium or higher insurance cover for not making any claims on the policy) with you.

Second, with three new players entering the insurance market in the last two years, there is a dog fight on to attract you the urban mass affluent customer who needs a home, car and health cover. No new private company today is going to quibble over small amounts and get a reputation of being difficult with claims. In fact, the companies are making efforts to bring down the claims period and push up the service.

These are early days of competition, so, sit back, relax and enjoy the low-cost experience. Life will change as the companies settle down and get entrenched. But, till then, choose the cheapest.

To make this comparison possible, Outlook Money took comparative rates from various general insurance companies for the same or similar covers. We present the results of our exercise. To facilitate the process we have made a few assumptions, which do not abstract much from reality.

Home insurance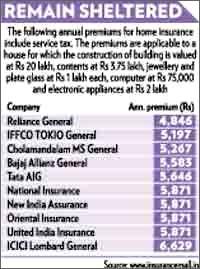 Did you know that the home insurance you have been planning to buy but have postponed it for a long time comes at 50 per cent discount when taken for a 10-year period?
So, if you are comfortable with your insurer and are sure of the claims service record, go ahead and tie in for 10 years. It lessens the grind of annual premium paying exercise, but do remember to update your household goods list as you add or upgrade the gadgets.
Health insurance
Medical costs are prohibitive and are expected to keep increasing. Although the basic health policy is now a part of the urban mass affluent's expense basket, it remains to be seen what kind of health cover you are buying and how much of it is adequate for your needs.
We recommend that you move over to a family floater policy since the probability of all members of a family needing hospitalisation at one go is remote.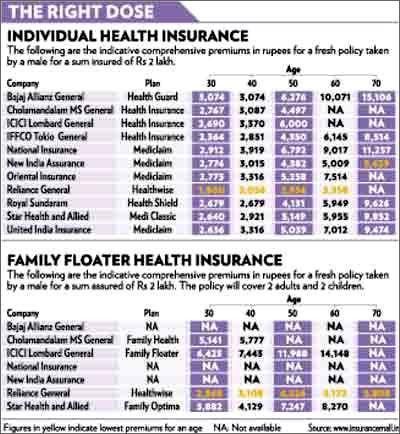 However, since many people already have a standalone individual policies for each member and no-claims-bonuses have been built up, there is merit in continuing with them, either with your current insurer or by moving to one that has the cheapest cover for your age and life stage.
But do add a floater product to your medical cover basket for added coverage. For a family of four with an annual household income of Rs 6 lakh-10 lakh a year, a Rs 5-lakh floater policy is a good enough add-on to the existing individual covers.
Car insurance
Do you get calls each year from many companies just before the renewal of your car cover is due asking if they could get your business? Overleaf is a quick comparison of rates from different companies to help you make a decision about those calls.
We worked with Mumbai-based Bonsai Insurance Broking to ferret out the cheapest car cover rates. The problem, of course, is that these will differ from model to model, year to year and city to city. We've taken the premiums for a one-year-old car, chosen some of the most popular models neither entry level, nor the most premium and Delhi rates.
Some interesting statistics came to light as we worked on these rates. We found that a significant chunk of car insurance comes from cars valued between Rs 4 lakh and Rs 7 lakh, but the premiums for cars priced between Rs 8 lakh and Rs 25 lakh have fallen. This is because insurers perceive that owners of these cars take good care of their vehicles since they are high-value cars.
Premiums of cars valued over Rs 25 lakh are a on case-to-case basis. Rahul Agarwal, CEO, Optima Risk Management Services, says that although the premiums for own-damage took a cut after detariffing (free to price premiums), the third-party liability premiums have, however, increased dramatically.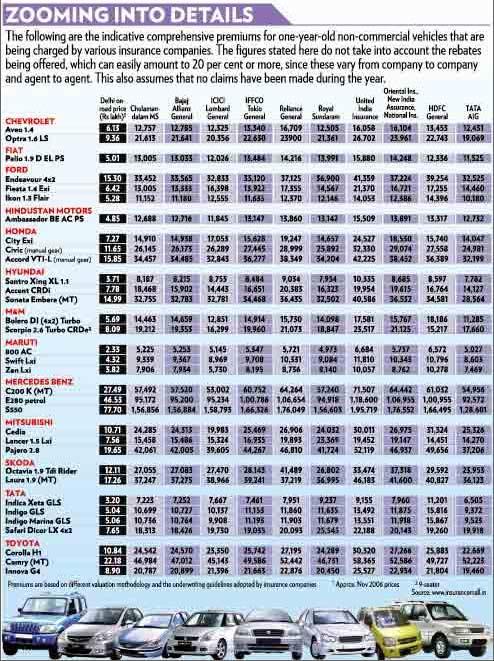 More Specials
Powered by