Home > Business > Special


Have an idea? Anti-theft it!

Ronojoy Banerjee, Outlook Money | December 21, 2007



Lying in bed listening to his stereo in his dorm at the Massachusetts Institute of Technology (MIT), Boston, US, Amar G. Bose fretted about how bad his new stereo sounded. This provoked him to turn his mind to improving the sound quality. That was when the idea came to him.

In the moment of euphoria, he dialled his professor, Charles Hieken, forgetting the insane time of the hour and told him how it would work. Bose got down to working towards it and finally, at Hieken's behest, filed for a patent. What followed is well known. He became the founder of the Bose Corporation that almost redefined how speakers would sound.

Two things stand out here. The power of the idea and the decision made by the inventor to safeguard it. A patent taken in India ensures that no one but the patent-holder can exploit the idea for 20 years in the country.

Talking about the commercial use of patented ideas, Priyal Bisht, group manager, IP Services, Evalueserve, a knowledge provider, says, "Good inventions can generate a return of around 6-7 times the amount invested in making them." But you can't get a patent for a mere business idea. Like Bose, you have to either build the product or clearly mention the process involved in making it.

Is my idea patentable? Certain conditions have to be fulfilled before you can expect a patent. The idea has to be novel, that is, it should not have featured in any literature before you file an application. The idea should also involve an inventive step.

Says Soumya Ray Chowdhury, advocate, Kolkata High Court, who does work related to intellectual property rights (IPR) for corporate houses: "The mere discovery of a principle or a scientific process does not fall within the realms of patenting. There has to be an invention involved."

The idea also needs to be useful and replicable for industrial application. The surest way to determine whether an idea is patentable is to approach a patent attorney, says Saikrishna Rajagopal, owner of IPR solutions firm Saikrishna & Associates.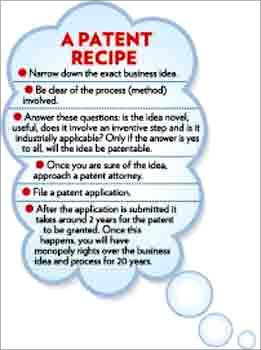 How much will it cost? The cost of filing a patent varies with the technology used in the invention. But, in most cases, it is Rs 1 lakh-2 lakh (Rs 100,000-200,000), inclusive of the patent attorney's fees. A US or UK patent can cost Rs 3 lakh-3.5 lakh (Rs 300,000-350,000).
STEPS IN THE PATENT PROCESS
Invest in a good patent attorney. All civil lawyers would not be able to understand the legal jargon in patent applications. Approach a patent attorney who has litigated in such cases earlier. A good one will cost Rs 50,000-1 lakh.
Prior art search. Attorneys usually take 20 to 30 hours and inventors have to pay about Rs 10,000 for the prior art search conducted to find out whether the invention has already been made. Patent attorneys have access to databases that help in conducting the search.
Patent applications. These are of two kinds: the provisional patent application and the complete patent application. The former is filed when the inventor is in the process of completing his invention, but his job is not over yet.
He will be given a maximum of 12 months to complete the process. A complete patent application is filed if the invention is complete. The processes usually take the attorney around 40-50 hours and cost Rs 20,000-30,000.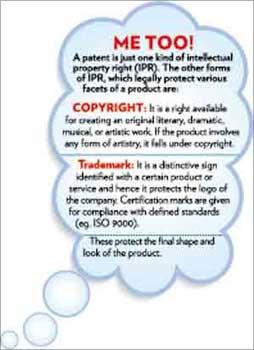 Examination of the request. After the patent is filed, the onus lies with the examiners of the patent office to see whether the invention fulfills all the criteria. After 18 months, during which the originality of the invention is checked, it is put in the public domain (through the website) to be sure that it is not encroaching upon anyone else's intellectual property.
How long does the process take? Patents are granted by the Kolkata-based Controller-General of Patents. Says Calab Gabriel, partner in law firm K&S Partners, "Presuming the application is not challenged, it takes at least two-three years from the date of filing to get a patent."
Exclusions. The Indian Patent Act points out inventions which are not patentable -- one example is surgical inventions. Getting patents for software is difficult in India. Visit the official website www.patentoffice.nic.in/ to get more information.
Benefits of a patent. A patent increases the chances of getting funding for an idea. Says Kaushal Sampat, COO, Dun & Bradstreet, a provider of business information, "A patentee has an edge over others because he enjoys a legal backing in the form of a safeguard for his intellectual property."
Says Gabriel, "The power of patenting can be gauged from the fact that some companies run because of patents." Anjali Roychowdhury, who invented Anuvadak, a software for translating from English to Hindi, says, "I filed for a patent as I realised the idea was becoming unsafe and I had already invested a lot of time and money in creating it."
Will my idea be safe all around the world? "Patents are territorial rights and are not applicable abroad," says Rajagopal. The inventor should find out where his idea may work. Instead of filing for a patent in every country where he intends to use his idea, he can assign it and earn royalties.
The renting/assigning must be done within a year of receiving the patent in India. International treaties allow filing of patent bids for inventions made in India in signatory nations within a specified period from the date the patent is granted in India. One of them, the Paris Convention, whose signatories include South Africa, Sri Lanka, the US, the UK, Germany and India, gives 12 months; the Patent Co-operation Treaty gives 31 months.
Before the gold hunt begins. Roychowdhury reminds of a practical aspect that may stand between a patent and a fortune: "The marketing that has to follow acquisition of a patent is often beyond the inventor."
And Gabriel suggests that inventors should sign a confidentiality agreement with investors before revealing their idea. It will prohibit them from revealing the idea or using it even if the deal fails. However, he warns that the legal standing of this agreement is debatable and loopholes can be found in it.
If you have snuggled up to a great idea, let it work wonders for you. But remember to protect it from hijackers.
More Specials
Powered by