Home > Business > Special


Infosys: Momentum play

Niraj Bhatt in Mumbai | April 14, 2007



Infosys' March quarter numbers may have come in a tad below expectations with revenue growth at just 3.2 per cent quarter-on-quarter and a drop in the operating margins owing to an appreciating rupee.

But the Rs 13,893 crore (Rs 138.93 billion) technology major has more than made up for it with a good guidance for FY08. The Bangalore-based company has said it hopes to become a $4 billion company through a revenue increase of about 28-30 per cent in dollar terms, while targeting a bottom line growth of between 29 and 31 per cent over FY07.

The management appears confident about the operating environment, the continuing momentum in offshoring and believes that companies overseas will need to increasingly leverage the global delivery model in a bid to keep costs in check.

Thus, even after a hit on margins of around 300 basis points, thanks to 14-15 per cent increase in salaries offshore and 3-6 per cent onshore, and an additional hit of around 110 basis points owing to the rupee appreciation, Infosys should be able to maintain operating margins in FY08.

This would be possible thanks to lower expenses on sales and general administration arising from a higher scale of operations, better utilisation from the current levels of 74 per cent and lower losses from subsidiaries.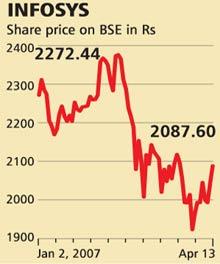 However, earnings per share will be impacted by about 3 per cent owing to the dilution in equity resulting from the exercising of stock options.

Infosys' PBO subsidiary, Infosys BPO, is expected to clock revenues of 925 crore (Rs 9.25 billion) in FY08 up around 40 per cent over FY07 with operating margins of between 23 per cent and 24 per cent. The consulting subsidiary, the management says, should turn around in FY08.

Revenues for the fourth quarter at 3.2 per cent to Rs 3,772 crore (Rs 37.72 billion) may seem muted, but the growth was a decent 5.1 per cent in dollar terms. Billing rates were up for both the onsite and offshore segments by 1.75 per cent and 1.37 per cent respectively and going ahead, the company should benefit from stable pricing.

The top 10 clients grew by more than 15.5 per cent. This is the fourth consecutive quarter of double-digit growth for the top ten clients, indicating that the company is able to mine its bigger clients.

However, operating profit dropped 100 basis points to 31.73 per cent and the operating profit remained flat at Rs 1197 crore (Rs 11.97 billion).

Attrition has gone up marginally to around 13.7per cent, a problem that is likely to persist. At Rs 2,090, the stock trades at around 24 times estimated FY08 earnings and is attractively valued given that the company would have cash reserves of around Rs 8,500 crore (Rs 85 billion) by FY08 even after accounting for dividend payouts and capital expenditure.

Honeywell Automation: Labour pain
 
Honeywell Automation, which provides engineering and automation solutions to diverse industries such as oil and gas, infrastructure and the manufacturing sector, benefited from strong demand conditions in the March 2007 quarter, but it had to also grapple with higher operational costs.
 
As a result, operating profit grew merely 4.7 per cent y-o-y to Rs 22.3 crore (Rs 223 million) in the March 2007 quarter compared with 21.9 per cent growth in net sales to Rs 189 crore (Rs 1.89 billion). Operating profit margin also declined 190 basis points y-o-y to 11.8 per cent in the last quarter.
 
The pressure on margins in the last quarter was due to the rise in staff costs by 30.8 per cent y-o-y, coupled with adjusted raw material costs, as a percentage of net sales, rising 130 basis points y-o-y to 60 per cent. In contrast, in CY06, operating profit margin grew 300 basis points y-o-y to 13.3 per cent.
 
The Honeywell stock has declined 6.5 per during the past three months, which is broadly in tune with the fall in the BSE Mid-Cap Index. Going forward, demand conditions for the company's repertoire of engineering and automation solutions are expected to remain strong.
 
However, its ability to manage operational costs will also be crucial. The stock closed at Rs 1,700 on Friday, which discounts trailing 12-month earnings 25.7 times, given the company's growth prospects.
 
With contributions from Shobhana Subramanian and Amriteshwar Mathur
Powered by
More Specials