Home > Money > Pix

World Bank chief ordered girlfriend's pay hike

April 12, 2007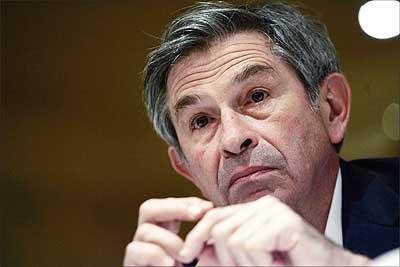 World Bank President Paul Wolfowitz, says a Financial Times report, had ordered the Bank's HR chief to give Shaha Riza, a lady official of the bank with whom Wolfowitz was romantically linked, a huge pay hike and promotion.
Following Wolfowitz's direction in a memorandum in September 2005, the Libyan-born Shaha Riza was seconded to the US State Department. This was shortly after Wolfowitz became World Bank president, said FT.
The report said that Wolfowitz's memorandum to the HR chief specified the 'salary that Riza had to be paid, the arrangements for her promotion, and the basis on which her subsequent annual pay increases are to be calculated,' reported FT.
World Bank rules forbid its employees from overseeing anyone with whom they have or have had a relationship.
Riza's current salary, which is paid by the World Bank, has been put at $193,000, tax-free. Riza had worked as a communications advisor in the World Bank's Middle East department.
Meanwhile, protests have been raised over the World Bank chief's action. News reports said Wolfowitz has sent an email to World Bank employees accepting full responsibility for his actions and said that he would cooperate fully in the case review.
World Bank President Paul Wolfowitz.
Photograph: Gianluigi Guercia/AFP/Getty Images