Home > Business > Special


The Nokia N80 is really smart!

Priyanka Joshi | October 03, 2006



Nokia's N80 includes features like a 3 megapixel camera, 3G and smartphone functionalities.

The phone's slide form factor seems to have taken a cue from the first S60 smartphone - the 7650. The big difference, however, is more evolved. The N80 is pleasing to the eye and comes encased in chrome and metal casing (reminds one of the N70).

It will be available in two versions - silver and black. At 95.4 x 50 x 23.4 mm, it is a few mm thicker than a monoblock such as the 6680 (and is smaller than the N70). It is bigger and heavier (134g) that the other modern S60 slider, the Samsung D720, but one can attribute it to the extra functionalities found in Nokia's model.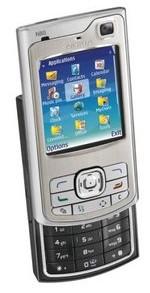 With all the major control keys accessible in the slide-closed mode (a notable improvement over the 7650) there is very little need to open the slide except when writing messages or inputting other data.

The screen resolution, at 352 x 416 pixels, is crisp and bright. Definitely one of the best mobile screens and it leaps past the impressive QVGA screens found on the N92 and N71.

Camera comes of age A 3 megapixel camera phone can virtually write off the digital cameras from your shopping list this season. N80's camera trumps over Nokia's own N90 and Sony Ericsson's K750i by a full megapixel.

The N80, despite the lack of an auto-focus, manages to produce some excellent results. Pictures can be printed via Bluetooth (via the BPP Bluetooth profile), infrared, Wi-Fi or USB. Video capture resolution at 352 x 288 is also impressive, as on the N70 and N90.

As a bonus, there is also a VGA camera mounted on the front of the device for video calls. The camera lens (on the rear side of the phone) is not secured by a cover (like in N70).

Next to it you will see a LED flash and a sliding controller that switches the camera to macro mode. Keeping in mind the catastrophic close-up results of some previous Nokia smartphones (except for the N90 model with autofocus), the macro mode is a great camera tool.

Power software The N80 uses the Series 60 3rd edition on top of Symbian OS 9.1 that enables the phone's user interface change into a rich multimedia experience. Phone screens often suffer from the pixelation effect because they tend to be held quite close to the eye, but with the increased pixel density in N80, graphics and text on screen look less blocky.

The browser is faster than Nokia's previous efforts and comes much closer to Opera and Netfront performance levels. The new S60 browser and its 'minimap' feature allows you to see a full page at a glance and navigate with complete ease.

Higher resolution screens, together with minimap, mean that it is possible to quite comfortably view any web site on the phone. The software bundle that ships with S60 devices continues to grow.

Quickoffice (Word, Excel, and Powerpoint viewers) will become a standard part of the platform with 3rd Edition. Like the N90, the N80 puts quite a strain on its battery, managing up to 4 hours of talk time.

Happy match The Nokia N80 has roughly 40MB of available internal storage that can be used for multimedia, contacts and appointments and other applications. A miniSD memory card slot can boost the same to 2GB.

The smartphone might appear expensive at Rs 32,059 (MRP) but it delivers data transfers for 3G (384 kbps), EDGE (236 kbps) and GPRS. Complemented by WLAN (802.11g), an option with communicators like Nokia 9500 and 9300I, it can be used for browsing, e-mail or any other network connection application.

Software built into the phone allows you to scan for and connect to any available hotspot. Inclusion of Bluetooth 2.0 means support for fast data transfer rates and better performance in a multi-link situation.

Handily, the N80 addresses one of the key complaints about the N70 - the screen. Sandwich the screen with the camera, and bingo N80 is clearly a powerful imaging device.

Powered by
More Specials


What do you think about the story?








Read what others have to say:





Number of User Comments: 2








Sub: Advertising...

Why the hell is rediff advertising a phone in a regular column.....?????


Posted by Vishwas









Sub: Re: The Nokia N80 is really smart!

Where are you guys? You are reviewing this phone now. It is already more than a year old !!! I wonder how long will you ...


Posted by AD






Disclaimer