Home > Business > Special


Rakhee Nagpal, an entrepreneur at 28

Moneycontrol.com | October 03, 2006



Rakhee Nagpal, a 28-year-old Londoner, gave up living in the United Kingdom to start afresh in India. She's got an undergraduate degree in economics and a master's in marketing from Kingston University, London.

She's the managing director of Dynamic Vertical Solutions and plans to be the number 1 provider of retail solutions in India.

This is one young lady, who has achieved quite a bit in a short span of time and she had a early start -- she began by helping her father in his business, when she was 16 years old and then went on to do short work stints with Merrill Lynch and Barclays in London.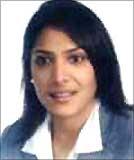 But then 9/11 opened her eyes to a new, rather uncomfortable reality -- that a lot of people were arbitrarily removed from their jobs at Barclays Bank, where she was then working.
She told CNBC-TV18, "After 9/11, around 200 people got shoved off from their jobs at Barclays Bank, who had spent a lot of their time, their livelihood and their life at the bank and they had no choice but to leave. I thought I never want to put myself in a situation like that."
"It was also about wanting to work for myself because anything I do, I always give it my all. So, I thought if I was going to do that, then I'd rather do it for myself. At the same time, my father who is a huge entrepreneur from the United Kingdom, came into India in 2001 with a company called Navision India. Since he was starting operations in India, he gently persuaded me to go and work for him. Leaving the UK was a big step for me -- I had never moved out of London -- but I took the bull by the horns and said 'I'll do it!'"
So here she is: she cut her teeth on her father's business and started her own company -- Dynamic Vertical Solutions -- about five months ago. After having worked as a director at Navision and having taken care of marketing activities there, she saw scope for anyone who was offering integrated business solutions.
She says, "Technology is something that is huge in India, but more so in terms of the fact that we want to use that technology for the domestic market, rather than just focus on exporting it."
Her company focusses on importing technology and hopes to cash in on India's booming retail and hospitality sectors. She has partnered with Iceland-based Landsteinar Strengur (or LS Retail), which is the world's largest developer of retail solutions based on Microsoft's ERP platform.
This strategy has made her India partner LS Retail smile too. LS Retail handles clients such as Adidas, Ikea and Pizza Hut globally, but Rakhi hopes to provide more Indianised solutions for the local market.
"We never compete with our partners. In fact, our business is built on partners and I believe that the channel partner network will be able to cater to the unique requirements of the different territories, the different locations within India, which differ so drastically. So, that's what we look for," she explains.
She's looking at her integrated solutions being implemented in a 1,000 stores by the end of this year. She's already got 15 stores as clients -- both single format stores and large ones. Her firm has also bagged US Pizza as a client.
She's thinking of investing Rs 3 crore (Rs 30 million) and is looking for 150 per cent growth year-on-year. Though, she is not looking for a venture capitalist to fund her expansion dreams, she might consider them, to take her company to the next level. She also sees her company coming out with an IPO in the future.
With so much lined up and with so many global chains looking to come into the Indian retail space, she's determined to give them the complete package deal -- hardware, software and solutions -- to her clients.
Her company is all set to be the one-stop shop for retail solutions. Almost like finding everything you want -- groceries, clothes, cosmetics, etc at one store, isn't it?
More Specials


What do you think about the story?








Read what others have to say:





Number of User Comments: 9








Sub: Company information

I would like to know more about the company. Can you please provide me the company website link? Thanks in advance.


Posted by Amit









Sub: opportunity to discuss with miss nagpal

i wish to congratulate miss nagpal on her success story and wish to discuss with her some interesting points as i feel proud as a ...


Posted by dr lakshmi saleem









Sub: great work

Rakhi really have great achivements and at the ege of 28. Congrats to Rakhi for being such a strong Indian woman.


Posted by Pallavi Chhajed









Sub: IPO hand in glove ?

She's thinking of investing Rs 3 crore (Rs 30 million) and is looking for 150 per cent growth year-on-year, you wrote.... this is a classical ...


Posted by KSM









Sub: nice work

hey nice done


Posted by neerav






Disclaimer