Home > Business > Special


How to make money on the Net

Narayan Krishnamurthy, Outlook Money | May 15, 2006



It's a sign of the times: an artist who's not starving in a garret, who's Net savvy, and who sells his paintings online -- for a healthy profit. Meet Bangalore's Udipi Vasudevarao Umesh, who is a medical transcriptionist during office hours and an artist and Net businessman otherwise. And he makes money on both: the medical transcription gives him a steady bread-and-butter income, while selling paintings is the jam.

Strangely, Umesh did not go online to make money. "I wanted to try out my creative skills whenever time permitted," he says. "But I did not expect it to take off the way it has."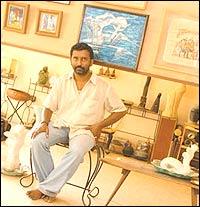 Over the past six years, Umesh has set up a regular business centre at home. He does his medical transcription online from his home office, and uses the rest of the time to paint and upload his inventory online. Umesh admits that he is an accidental businessman, and says that he enjoys both his jobs. And, now with his childhood passion for art bearing fruit, Umesh wants to take up the cause of other artists and get them a better deal than what art houses offer.
Click start: Umesh is not alone. There are dozens of entrepreneurs who have realised that the Internet makes for a great marketplace and store, without the hassles of a brick-and-mortar outfit. Says Harish Bijoor, brand expert and CEO, Harish Bijoor Consults: "There is wide scope to treat the Internet as a marketplace and make best use of it to further business interest."
And, of course, what has helped immeasurably is the change in shopping behaviour in the country, where there's someone buying online almost every minute. The presence of online shopping catalogues are testimony to the changing buyer preferences and the comfort that they find in transacting online to make their purchases.
The single largest advantage of online selling is that there's little by way of start-up costs. "In 2000, when I started exploring selling on the Net, I already had a computer and an Internet connection. My only expense is the cost to source and despatch my goods," says Ahmedabad-based businessman Chinmay Tripathi, who sells religious books online.
Unlike Umesh, Tripathi knew he wanted to get a business, any business, onlin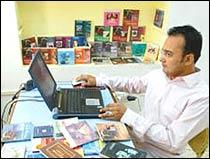 e. "As an IT student, I figured the power of technology, but it took me some time to get a fix on the business opportunity that it offers," he says.
Having found a niche, he now spends some 18 hours a day checking his orders, sourcing the books, confirming payment, and sending them off. Today, he employs three people in his home office and has no inventory to speak of as he sources the books depending on the orders. His monthly sales turnover is over Rs 3 lakh (Rs 300,000) and he makes more during the festival season, when it can go beyond Rs 10 lakh (Rs 1 million).
Online convenience: Visakhapatnam-based Mahendra Tated went online to expand the scope of his wholesale unit making paper and paper-related products. "The possibility to expand my business existed but it would have entailed huge costs to replicate the set-up in other centres, something that I was not willing to do," he says.
It is not the costs of replicating the business; it would also entail the owner spending more time manning both the establishments, something that puts off many from expanding. And, with close to two million broadband users in the country, more people are experiencing the pleasure of buying and selling on the Net, making it a huge marketplace.
Tated now not only sells what he manufactures, he has begun to sell computer peripherals and even fabric on the Net. And he finds clients from as far away as Australia. With a little additional expense on enhancing his existing Internet connection and spending a few hours a day online, Tated manages to run his manufacturing unit as well.
He wants to earn more than the Rs 10 lakh he now makes and is looking to expanding his online business. Says Bijoor: "The overhead costs of online extensions are very low. And, profits come in much easier and faster, making them very popular."
Both Tripathi and Umesh agree that the practice of providing pictures of products online is very useful. If they had to stock the real products, they would need large warehouses and so on. Also, there's the added convenience of being able to sell on existing portals like eBay and sify.com, instead of spending time and money on setting up company websites. And, with digital cameras costing as little as a few thousands, the task of clicking and uploading images becomes minimal.
Unlike a traditional business, where the seller makes a pitch to the buyer, the Internet is like a marketplace where the customer is the one scouting for goods.
"It's a unique platform where you display and describe your products, based on which customers approach you," says Deepa M. Thomas, manager, corporate communications, eBay India.
Security matters: "Once you have registered as a seller, you need to click images of products that you wish to sell and post them under set categories. This categorisation helps buyers to cut through the clutter and select the products they are looking for," says Umesh.
Both the buyer and the seller can remain anonymous, as they use tags provided by the portal, which keeps track of transactions through these. Portals are very careful about what is sold through their site, as the ultimate responsibility is theirs. The portal needs to ensure security and support electronic money transactions.
Some transactions need to be cross-checked. An order request from Kodaikanal, in Tamil Nadu was unusual and forced Tripathi to check offline if the client actually existed after he exchanged mails with the buyer. "I got convinced after I spoke to him, and found him interested in a lot of things that he was hesitant to buy from me," explains Tripathi.
Typically, portals protect buyers from fraudulent sellers and insist that sellers go through a verification process. This is to make sure that the seller is genuine and the buyers are at no risk of getting defrauded.
"Once a seller lists his item, eBay India contacts him on the details he provides. After the seller has been verified, he is sent a verification e-mail. The seller's items are put on the site only after verification," says Thomas. Most portals charge the seller a commission that is a percentage of the value of the sale, which goes down as the sale proceeds rise.
What to sell: It's tricky to figure out what will sell online and what will flop. Says Bijoor: "If a buyer is scouting the Net, it is either for the uniqueness that a niche offers or the pricing that a product with wide variety offers. There are also certain classes of products that one may not wish to be seen buying. It is such products that will have a wide base of buyers."
Moreover, with the buyer on the look-out and not the seller trying to hard sell, practically anything worth selling is saleable on the Net.
Dayalan Manohar, who has a garments business in Tiruppur, adds, "I supply a wide range or brands based on their specification. Many times, I am left with surplus, which I earlier used to sell cheap to clear my warehouse." However, over the past three years, he has discovered the power of the Net, and sells his surplus on several Indian portals. Not only is he able to manage his inventory better, he is getting more money on Net sales. Today, roughly 10 per cent of his annual turnover of Rs 14 crore (Rs 140 million) comes from online sales.
Umesh is far choosier about his buyers. "I make good profits, but money is not always the priority factor in clinching a deal. The buyer should see value in what he is buying rather buying art as a commodity," he says. Unlike the art galleries that sell on commission, Umesh buys pieces upfront from promising artists.
"There are times when I get almost twice what I bought the painting for, but then if it does not sell, it adorns my walls," he adds. His garage-like workspace bears testimony to the wide range of paintings that are waiting for the sale, apart from his computer workstation.
But you need to be innovative to get that roving buyer to select your product and buy it too. "I tag a lot of information with the products that I sell, sharing every possible detail with the prospective buyer, till they are comfortable," explains Tripathi.
So, there are instances when he shares the number of pages in the books he sells and how many of them have pictures of gods in it with the product description. In a cluttered Web space, a seller needs to use good images and details of the products that are up for sale.
Making money: Cost savings, increased profits, improved productivity and lower overhead costs: selling online definitely pays. "The seller, based on the order size, has the option to physically or virtually stock what he wishes to sell on the Net. This considerably reduces overhead costs, making the business of selling online a profitable option," says Bijoor.
But before you set up an account with eBay or any other portal, remember that not everyone makes money on online sales. In fact, over 50 per cent of auctions on the best portals don't receive bids at all.
That's why you need to make sure you're using the right strategies to attract the maximum number of bidders and maximise your profits on the Net (See below: Seller's Guide). Many entrepreneurs spend years figuring out these strategies or they remain among the thousands who never get past the 'hobby seller' stage. By using proven e-tailing strategies from the beginning, you save time and may manage to make a load of money on the Net.
---
Sellers' Guide
For a tech-oriented business, e-tailing has surprisingly more to do with old-fashioned business sense than with cutting-edge technology. We've studied some online, home-based businesses that are actually making money, and have six lessons that can lead to profits on the Net.
Find a niche: Offer unique products or services to a few concentrated markets. Whether on or off the Internet, niche marketing is a less risky strategy and provides the best opportunities.
Tight operations: Successful Internet entrepreneurs are all frugal. All those we spoke to avoided unnecessary expenses in the beginning. They started with very small budgets and proceeded without spending a bundle. And they've all made profits.
Expand, but slowly: Entrepreneurs working in niche markets and on shoestring budgets must grow, but slowly. Says Chinmay Tripathi: "I am content with the business growing steadily. My ultimate goal: I don't want to compromise what I have -- the personal care that I devote to every customer."
Avoid inventory: As part of the strategy to keep costs down, a start-up Internet entrepreneur must avoid keeping a huge stock of inventory. In its infancy, selling on the Net can be tricky.
Ensure quality: Quality of your products or services is crucial. Like brick-and-mortar business, rely on customer relationships built upon mutual advantage and trust. Says Umesh: "On a platform like eBay, you are rated on customer interaction, and it gets reflected each time a new customer wants to do his homework on you."
Advertising pays: No matter what type of business you operate, how, why and where you advertise will play a role in the overall success. Tated says, "The biggest mistake I made when I started was to think that people will stumble upon my products when they go online. It doesn't happen that way. You need to describe it well, present it well and it takes a long time, but once you put in a lot of hard work, it pays off."
More Specials