Home > Business > Special


Tips to be a champion at marketing

Nirmalya Kumar | January 20, 2006



Today's marketers need to think strategically not tactically. Launch initiatives that are cross-functional and bottomline-orientated, advises Nirmalya Kumar.
---
All marketers are comfortable talking about market segments and the 4Ps. Product, price, place, and promotion are basic tools.
The first step is segmentation, the process of dividing the total market into homogeneous groups of identifiable consumers who respond in similar ways to the marketing mix. Market segmentation helps the marketer determine what marketing mix to deploy.
If one wishes to serve different market segments, then the marketer develops a unique marketing mix for each segment. For example, toothpaste manufacturers target four market segments: economy, cosmetic, healthcare and taste.
To effectively reach these four segments, toothpaste manufacturers develop different marketing offers through changes in their pricing (those targeting economy are priced lower), product (different formulations), distribution (pharmacy versus supermarkets), and advertising (different themes and media vehicles).
Strategic segments versus market segments
The problem with the marketers' obsession with market segments and the 4Ps is that, it consigns marketing to a relatively tactical level within the organisation. If marketers are to aspire to strategic conversations within the organisation, then marketing must distinguish between strategic segments and market segments. Hence they should adopt the 3Vs in addition to the 4Ps.
Strategic segments are those segments that require the organisation to develop unique value networks. In contrast to market segments, changes limited to the 4Ps are inadequate for effectively serving different strategic segments.
Instead of aligning the 4Ps as is the case with market segments, with strategic segments one needs to align the 3Vs, namely:
Valued customer,
Value proposition, and
Value network.
Let us take the airline industry to illustrate in greater depth the concept of strategic segments and the 3Vs model. In Europe, the leading low-cost airline is easyJet. Its success has made it a thorn in the sides of the traditional European flag carriers such as British Airways, Air France, KLM and Swiss.
Now let's compare the flag carriers and easyJet on the 3Vs highlight the power of strategic segments.
Valued customer: who to serve?
The flag carriers like KLM and Swiss target everyone. However, their valued customers are business travellers. In contrast to business travellers who pay from other people's pockets, easyJet targets those customers who pay from their own pockets.
These two segments are strategic segments because serving them effectively requires distinct value networks, rather than a simple differentiation of the marketing mix.
Value proposition: what to offer?
Value proposition reveals stark differences between the two segments. Business travellers, whose bills are paid by their companies, are more demanding, both in terms of services, such as seat comfort and business class, as well as freebies, such as newspapers, meals, and frequent flyer miles.
They also need seat selection, travel agents, and a worldwide network to save time, make seamless connect-ions, and have the flexibility to change flights to accommodate their hectic schedules.
In contrast, while leisure travellers may enjoy the above services, when given the choice, will forgo all of them for a lower price. The following four questions provide a framework for under-standing the creation of value proposition, and should be addressed by every company.
Which attributes that our industry takes for granted should be eliminated? This question forces companies to reflect on whether each of the attributes offered creates value for their valued customers.
Which attributes should be reduced to below industry standards? This question pushes companies to consider whether the industry has over designed its services for their valued customers.
Which attributes should be increased to above industry standards? This question presses companies to understand the compromises that the industry forces its customers to make.
Which new attributes should be created that the industry has never offered? This question forces companies to think about what new sources of value creation exist within the industry.
Value network: how to deliver?
Value network is the cross functional orchestration of activities needed to deliver the value proposition to the valued customer -- easyJet has systematically redefined each component to deliver low prices at a profit.
It achieves distribution savings of about 20 to 25% over other carriers by not using travel agents, encouraging Internet sales and not participating in industry reservation systems. The table below presents the 3Vs model as applied to the competition between Dell and Compaq in 1998.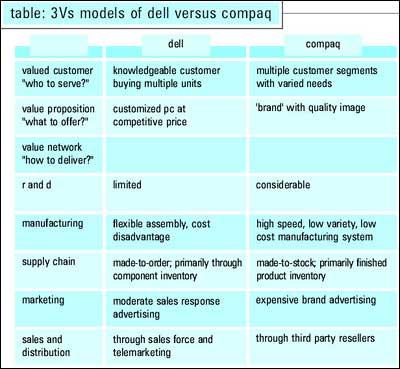 Implications for managers
Understanding strategic segmentation, and then conceptualising and responding to them using the 3Vs model helps managers confront some critical issues facing companies.
It gets marketing out of its tactical orientation. In contrast to the 4Ps, the 3Vs changed the focus of marketing to be more strategic, cross functional, and bottom line oriented. This is what companies are demanding from their marketers.
It pushes a corporation to consider what is the appropriate portfolio of segments to serve. It is relatively easier to serve a portfolio of market segments than a portfolio of strategic segments.
The 3Vs model helps companies conceptualize an essential question when trying to serve two different segments: where in the value network do we build the differentiation in the offer to the segments. Is it purely in marketing or the 4Ps or does the value network have to be cut at a deeper level?
Marketing innovation can be fostered by continuously asking questions along the 3Vs.
Valued customers: are there customers who are unhappy with the industry (example airline passengers) or not served at all (example, aids sufferers in Africa)?
Value proposition: what attributes does the industry currently offer that could be eliminated (example retail network by Dell) or what new attributes could be offered to customers for the first time (example customized personal computers)?
Value network: is it possible to develop a radical new value net-work that would either offer a much superior solution for the customer and/or at a much lower cost?
---
The author, a PhD from Northwestern University, is currently the Professor of Marketing, Director of Centre for Marketing, and Co-Director for Aditya V Birla India Centre at the London Business School.
---
Powered by
Published with the kind permission of The Smart Manager, India's first world class management magazine, available bi-monthly.
More Specials


What do you think about the story?








Read what others have to say:





Number of User Comments: 5








Sub: quite interesting

Hey it's really a beneficiary article to apply for general engineering industry!


Posted by manojvarma









Sub: Nothing new here

The professor has nothing new to propose. Usually, such material is part of a strategic marketing class.


Posted by Anil









Sub: 3Vs Vs 4Ps

In your write-up in rediff it is proposed to follow 3Vs than 4Ps. This will be beneficial for both – to improve product quality & ...


Posted by NIRMALYA









Sub: No use crying oneself hoarse ....

No use telling Indian entrepreneurs what marketing is all about. In their mindsets, they will either value "eet-pathar-factory" more or they will equate it with ...


Posted by Pink Tip









Sub: 4 ps

the article of "Tips to be a champion at marketing" is found to be of grat value. Its nice to read and imply such practices ...


Posted by AVADESH PANDEY






Disclaimer