Home > Business > Special


All you wanted to know about XBox 360

Raghuveer Malik, Outlook Money | December 01, 2006



If you want to check out the XBox 360, Microsoft Corp's hot new gaming console, you could visit the listed outlet at Ansal Plaza in tony south Delhi. I did, on a sunny winter afternoon, when the mall is packed with shoppers and hangers-on, expecting a bit of a wait before I could lay my hands on it.

I wasn't ready for what I saw. Hardly anyone was trying out the lonely, shop-soiled demo piece. There were no brochures. And a marked unwillingness on the part of the salesman to part with the toll-free number wasn't helping raise interest levels.

But I also realised that even though there are enough devout gamers, not too many would be willing to shell out for a gaming console what could bring home a PC. Not me. Not yet, anyway.

Globally, the XBox 360 was launched about a year ago around the beginning of the holiday season in the United States, the United Kingdom, Europe and Japan. It had no problem climbing the 'must-haves' list there. And recently, in November 2006, the manufacturer has said that it would rent movies and sell TV shows through Internet downloads to the XBox Live video game service.

No such luck in India. While MS has launched the XBox 360, it is yet to launch the Live service in the country. That, notwithstanding, the box should see some success, what with a bustling economy and a fresh and invigorated generation of brats and hardcore gamers.

GenNext gaming will blur the lines with computing and is set to blast into India soon enough. And the XBox 360 will make it possible. (The Sony Play Station 3 and Nintendo Wii should follow soon.)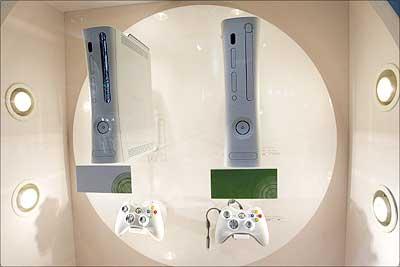 This sleek white gaming machine is pretty potent. But after spending hours with the manufacturer-provided console racing cars and killing off really ugly monsters, the big difference between this machine and those in the market today, particularly, Sony's Play Station 2 (PS2), were not obvious.
The main reason why I didn't warm up to the new XBox 360 is probably that, like the majority of people in India, I don't own a high-definition TV (HDTV). To do so, I would most likely have to sell off a kidney. Unacceptable.
But to enjoy GenNext gaming, Microsoft style, HDTV is something you'll need. So, for the average Indian, the XBox 360 is a bulkier, much more powerful, and significantly dearer version of the PS2.
However, for the discerning gamer (with cash to spare), the XBox 360 is a clear winner, at least till the next Nintendo and PS traipse in. It will cost either Rs 23,100 for the 'core,' a bare-bones machine, that will not allow you to play existing XBox games. Else, you can buy the 'pro' for Rs 27,750 and get a full-package, backward-compatible system.
But when it comes to must-have games, the XBox 360 falls short, as it couldn't play XBox, PS or computer games, and while there are several good titles that will be available at launch and many more will follow, there's nothing earth-shattering about them. Each will cost Rs 2,500. That's more than the PS2 titles and way higher than the illegal but ubiquitous pirated stuff that sells for as little as Rs 50 each.
That said, there's no denying that the XBox 360 is a complete package and has vast potential, most of it in online community gaming. And unlike PS2 owners, XBox 360 buyers can do this through XBox Live, when it is launched here.
Besides, it's not just a dream box for gamers, but a complete living room experience that supports DVD, CD, MP3, and JPEG formats. Its three USB slots can connect to digital cameras, MP3 players (including the Apple iPod) and more (you cannot play music from iTunes, though).
Microsoft's second-generation video game console features a multicore 3.2 GHz IBM PowerPC-based CPU, a custom ATI graphics chip that gives near-cinema quality graphics, and multichannel surround sound. The 512 MB of RAM in XBox 360 is eight times more powerful than the original XBox's 64 MB -- simple arithmetic.
The new machine also has a removable 20 GB hard drive to allow easy transport of game files, media, and music (you'll also need the hard drive for backward compatibility with older XBox games). The console also supports up to four wireless controllers, which have a built-in vibration feature and takes voice-communication inputs that work with any standard mobile headset.
An extra wireless controller will set you back by another Rs 2,840.
Microsoft got its fair share of flak for the big, black and brutish styling of the first XBox. It appealed to the hardcore male gamers, but not women, particularly disgruntled girlfriends and disappointed mothers.
The XBox 360 changes that -- it is elegant and easy to use, but still looks distinctive, not least because of the organic curves that give it an hourglass shape when kept vertical.
The power adapter, a.k.a. the power brick, the biggest, ugliest component of the XBox 360, is truly massive and difficult to ignore. But, you will be able to hide it away under the table.
The white wireless controller is sleek and much better looking than that of the original XBox. It fits well into the hand too. Although the shift of the 'start' and 'back' buttons to the top middle of the controller took a little getting used to, the addition of a set of buttons on top of the right/left trigger buttons were a welcome change.
So, key question for my friends in their MBA classes: In a country where people pay tens of thousands for mobile phones before they buy their first suit, why shouldn't one go in for the XBox 360? The answer is in many parts and depends on whether you can wait.
If you consider yourself a hardcore gamer and having the latest console is imperative, go ahead. The XBox 360 is a great buy. Just make sure you get that HDTV too.
For a casual gamer, who, too, wants the best gaming console, but doesn't mind a bit of a wait, it might just be a good idea to hold your horses. First, the price will surely drop once demand stabilises and supply increases. Second, XBox Live, or online gaming, a major selling point for the XBox 360, upon which a chunk of Microsoft's selling strategies are based, is not available in India yet. Third, next year, Sony and Nintendo will launch their new generation gaming consoles and you'd be better placed to do a 'comparo' and make a smart decision. Last, the increased competition could push prices down even further.
Are you game?
Buying the XBox 360
Why you should:
Given you own a HDTV, in-game detailing and overall picture quality is unparalleled.
It functions as a complete entertainment system; movies, music and gaming combined.
The first of the so called GenNext consoles to arrive, a must-have for any hardcore gamer.
After buying one of these, you can sleep soundly. The console is virtually impossible to pirate.
Much better looking than the initial XBox.
Why you shouldn't:
At Rs 27,750 the price seems a bit too steep.
Humongous power adapter, you have to see it to believe it!
Console heats up a little too much after playing for only a couple of hours.
XBox Live/Online gaming unavailable in India, as of now.
(Above) Microsoft Corporation's XBox 360 on display at the company's booth during the Tokyo Game Show 2006 in Chiba Prefecture, Japan. Photograph: Koichi Kamoshida/Getty Images
More Specials
Powered by



What do you think about the story?








Read what others have to say:





Number of User Comments: 10








Sub: Funny, more than informative

Hmm. Looks like the reviewer doesn't know much about video games. You DON'T need an HDTV to experience the awesomeness that is the Xbox 360. ...


Posted by Chirag









Sub: Wow, I've never heard of a person so ignorant of the xbox 360

That's all I need to say.


Posted by Pete









Sub: piece of crap

Some facts: Came out a year ago with 3 month warranty. Due to overheating many units got fried after 3 months. Microsoft asked $130 for ...


Posted by Sunil









Sub: Good One

But NO ONE CANT'T BEAT PLAYSTATION.................. so playstation 3 would be next Generaton Console and would be so longer alive....................waiting for release


Posted by andrew









Sub: Actually, you can stream iTunes on your Xbox360

Even on a Mac, you can get this software online that turns your Computer and Ethernet Hub into a relay for iTunes to steam music ...


Posted by Filip






Disclaimer