Home > Business > Special


The extraordinary tale of Ravan Buddu

Shobha Warrier | August 07, 2006



It is a typical rags-to-riches story for Ravan Buddu, CEO of iSOFT, a software product development company that has worldwide presence. Buddu's journey to fame had a very modest beginning -- at a primary school in a village in Andhra Pradesh that had no classrooms.

"Our classes used to be under the trees," recalls Buddu.

Reminiscing about his childhood, Buddu tells you about how he had to walk more than two kilometres everyday to reach his school, as there was no high-school in his village.

Although his father was a school teacher, it was his illiterate mother who instilled in him the value of education.

"She used to tell me, without education, we will not achieve anything in life. She told me why she could not study even though she had the desire in her. There was no school in her village in those days! She was my inspiration in my early days," says Buddu.

By the time he reached the tenth standard, he wanted to become an engineer and do something different. After successfully completing his higher secondary, he enrolled at a regional engineering college. He didn't know at that time that institutions called IITs (Indian Institutes of Technology) existed. "I had heard of only RECs then! It was only after I joined REC that I came to know about the IITs."

His father believed that Buddu should go away from Andhra Pradesh and explore other parts of India even as a student. "Given a choice, I would have studied in Andhra Pradesh itself because I knew only Telugu then, but my father pushed me to REC, Allahabad."

The initial days at the REC were tough as he had difficulty in conversing in English. "I fled from there and told my father, I would not go back, but he pushed me again. Having grown up in a small village, I had only limited knowledge of the world around me."

After REC, it was Masters at the Osmania University in Hyderabad. "Although I did mechanical engineering at REC, I moved to computer science, and this changed my attitude to what I wanted to do in life."

Through his campus interview, he got a placement with Usha Computers in Delhi as a software engineer for a 'big' salary of Rs 2,220. After three years in Delhi, in 1989, he got a job with KPMG in the United Kingdom. Three more years in the UK as a consultant, and he was off to Atlanta in the United States to work with Worldcom. From there he moved to Dell Computers.

After spending eight years in Atlanta, he started missing India and his parents. Memories of his primary school and the long walks used to haunt him, and he was consumed by the desire to do something for the society, especially in the field of education. He knew he wanted to be back in India. Today, he sponsors the education of many children in his village, and also many others through CRY (Child Relief and You) and World Vision.

Although he got the job as the director of e-commerce at Cognizant when he was ready to move back to India, it was a question from his colleagues at KPMG that energised him. "We want to start an R&D centre in India. Will you take care of it?"

iSOFT in 2001

That was iSOFT, a small division of KPMG involved in developing healthcare software.

Back in Chennai, Ravan Buddu was the only man at iSOFT, entrusted with the task of establishing the R&D facility. "I sat in a Pizza Hut unit to recruit people. The year was 2001, and nobody wanted to join us as nobody had heard of a company called iSOFT!" Yet, he managed to recruit four people.

iSOFT in 2006

From just four employees in 2001, iSOFT has grown to 1,600 employees today. From $25 million company, its revenue grew to $460 million last year. From a small house, iSOFT has moved to an office of 125,000 sq ft in the heart of Chennai.

iSOFT, which started with the NHS (National Health Service) in the UK, now controls 60 per cent of the UK market. It has 1,800 clients all over the world, in countries like the UK, Australia, Germany, Ireland, Singapore, New Zealand, Spain and the Netherlands.

"To make iSOFT what it is today was not difficult but very challenging. It was a new product, new technology. It was hard work with very few weekends at home, and not many holidays in the last five years."

What about India as a market for healthcare software?

Healthcare in India has to change quite a lot, Buddu says. "Not many hospitals in India maintain the details about their patients." But he thinks it will change in the next five years or so. Since the demand for their product is from outside India, iSOFT prefers to concentrate on the countries they are in right now.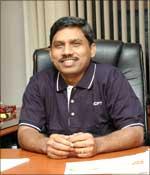 iSOFT healthcare product

iSOFT develops end-to-end healthcare software; from product innovation to delivery for the healthcare industry, from the labs to pharmacy to the hospitals. The product maintains all the patient information from birth to death with all the major events in his/her life so that they are available to the doctor or the hospital at the tap of a key.

Because all the information is available with the hospital and the doctor, efficiency of the system is better. It avoids errors -- like medicine dosage, blood group, etc.

For example, if a person is admitted to a hospital under the NHS in the UK after an accident, all information about him will be available on the computer, which are all interconnected so that they can start the treatment quickly, and save life. The information they manage in the UK is available to all the hospitals there.

Product development in India

According to Ravan Buddu, there are no two questions about Indians not being innovative. "If you look at the Silicon Valley, there are lots of Indians contributing to its growth. In India, it is a question of creating the opportunity and moving a step further into the R&D field. Five years back when we started, it was challenging to even think about product development in India. But today, many companies are starting their R&D facilities in India."

Where will India be, in services or product development?

"We have already established our presence in services. Now, we have to take the lessons from services and apply them in other areas. It is essential to move up in the value chain to product development. Yes, it is going to be competitive.

"People will move out of India as far as services are concerned when they find a less costly market. Service is not permanent because everybody is bothered about the cost. At present, we have the advantage of English and the experience of working with the western countries. So, product development should be our next target"

Silicon Valley culture in India

Buddu sees India emerging as a major product developer. "I see the culture of Silicon Valley in many places in India, you see a lot of start up companies in India now. i-flex develops products in India and sells all over the world now. Whatever had been going on in the Silicon Valley will be replicated in India. Even now I see venture capitalists scouting for good R&D companies to invest. The flow has already started."

Is India ready for R&D?

"More than anything else, infrastructure and accessibility in India have to change if we want to be a major player in product development. If you want to innovate, you need all the latest equipments. Access to that is the key in R&D.

"Also, it is high time the industry and academia work in collaboration. A number of initiatives have been made in the IITs, IIMs (Indian Institutes of Management) and even Anna University. It is a good step forward. In a few years' time, we will see big changes."

China and India

There maybe a cost advantage in China but language is a key factor. That is where we have the big advantage. In my opinion, we are ahead of China right now. But I persist that we have to move up in the chain; to product development.

Reservation

Ravan Buddu is totally against reservation of quotas based on caste. "Not only in the private sector but in public sector also, I am against reservation. What we need to do is impart good education, not only at the primary level but at the higher level too. Education is what we need and not reservation."

Future plans for iSOFT

"My dream is to make iSOFT the number one company in the world in supplying software to the healthcare industry," says Buddu.

Journey so far

The journey Ravan Buddu undertook from a small village in Andhra Pradesh to become the CEO of iSOFT is "certainly interesting."

"I did not anticipate it to culminate this way but I would say, it was a measured way of doing it. From tenth onwards, I had a clear idea about what I wanted to do. After engineering, I had plans to do something on my own. I also had a dream to be the CEO of a big company, and here I am!

"Yes, there were turbulences because some of the jobs I undertook in the US were risky but (I have) no regrets. All the risks I took during the dotcom boom period were learning experiences for me. Those decisions taught me about timing the market. If you don't time the market well, whatever you do won't work even if you try your best.

"You have to have a practical approach. Even if you want to start something, you should know that it can go both upward and downward. As long as you know both the tracks, you will have no regrets.

"In 2001 when we started our R&D facility in Chennai, we were a bit ahead. That was because we were not bothered about the cost factor. We came here only for the skills and not for cheap labour. And, we did benefit from coming to India.

"I am happy that I am back in India. When I was away from India, I used to think about India all the time but I don't even once think about the US or the UK.
More Specials



What do you think about the story?








Read what others have to say:





Number of User Comments: 31








Sub: Phenemenon

Dear Sir, One of my cousin worked in your company (Isoft) in Chennai for a almost a year (2002). I have heard earlier about you ...


Posted by Vijay Peddysetty









Sub: Very Proud of you

We are proud of you. You are the inspiration for the younger generation and I am sure, this will give more light to thinking of ...


Posted by K V Narasimhulu









Sub: Ravan Boddu

Amazing!!! to think that from the tiny village arose a Great Wonder.


Posted by Radha









Sub: hello

i read the whole article .it was very inspiring and i hope that in future like him i go back to my country after taking ...


Posted by vishal sachdeva









Sub: Whats the Big Deal !!!!!!

Some facts for you -- 1. Till until a decade back, almost 80% of middle and poor class studied with modest school facilities. 2. With ...


Posted by Jay






Disclaimer