Home > Business > Special


These smart phones really sizzle

Priyanka Joshi in New Delhi | December 09, 2005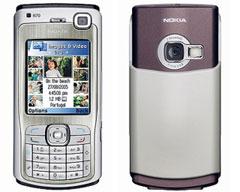 The latest in the N-series, the N70, is a sizzler when it comes to looks, style and functionality. At just 108.8 x 53 x 17.5 mm it's got to be the smallest 3G smart phone in Nokia's range, though at 126 grams it is a bit bulky.
Since the N70 is complete with features including email functionality with attachment support, Internet browser, video streaming and 3G-enabled features such as two-way video calling and video sharing, it's a useful tool for those on the move.
The main camera's pretty nifty with a two mega-pixel specification, and though the second one (located at the upper right hand corner of the phone) isn't too hot with at just 0.3 mega-pixels, it is good enough for a video conversation (you can also check yourself out before a crucial meeting!).
The 20x zoom facility also makes it easy to view distant objects. Compared to the Nokia 6680, images clicked with the N70 are way ahead when it comes to printing. With the Nokia XpressTransfer storing solution, photos and video clips can be easily, though slowly, copied to your PC.
The video editor lets you cut clips, add special effects and combine multiple clips to create mini movies with music, which can be fun.
I wouldn't recommend the N70 for any close-up shots since it clearly lacks in object clarity and focus tracking -- the quality I get on my LG T 5100, which has a 1.3-megapixel camera is better, at least to my amateur eye.
The plus points include the N70's true colour depiction that lets you play with the scene, colour tone, white balance and flash settings, and like the Nokia 6680, it has a slider shutter cover that when opened, automatically fires up the camera.
For a multimedia diary experience, the Nokia Lifeblog software automatically organises photos, videos, text messages and multimedia messages into a chronology for easy browsing, searching and sharing.
Don't worry about battery levels. This one gives you a good six-hour run and promises a standby time of up to six to 11 days.
The audio (music) functionality of the phone's nice, though the white fibre cord headphones appear out of place with a silver-bodied phone -- clearly, Nokia's aiming at an i-Pod touch and feel! To get some free music, you need to first register yourself online on the Nokia site and then preset the radio stations on the phone.
The 64 MB memory card that comes free with the phone is really too small to enjoy your own music, but the built-in music player can handle all kinds of music including un-encrypted AAC files.
Sadly, the phone is underpowered with a 20-MB device memory and switching between applications takes time.
You can upgrade the multimedia cards till 512 MB (provided by Nokia) but that costs another Rs 3,000.
Compatible cards from other manufacturers can also be used (up to 1GB) and the price would be anywhere between Rs 3,000 to Rs 4,500. Another irritant is the fact that the keypad is little too compact to shoot away those quick emails and SMSs.
The call/end buttons are placed a little too close to the menu buttons, but I guess you could get used to it.
The Nokia N70 also supports Symantec Mobile Security, an integrated antivirus and firewall solution. The sales package also includes an Adobe Photoshop Album Starter Edition 3.0 software, an add-on for your multimedia experience.
Nokia has not included bluetooth headsets in its sales kit. So, you would have to shell out Rs 3,000 to Rs 5,000 extra for a handsfree and wires-free experience.
The EDGE-enabled (Hutch card) gave me an average download rate of 215 kbps (this varies as per service provider). Nokia claims it can touch 236.8 kbps.
BenQ's latest smart phone, the P30, is roughly the same size as the N70 at 118 x 52 x 17 mm, though a lot heavier at 150 grams.
And like most smart phones, it has a really slim keypad, with keys placed really closely, enough to make your fingers ache after any SMS or email session.
The phone is neither EDGE- nor 3G-enabled, and that's a negative for anyone looking for a decent surfing experience. Of course, now that service providers like Hutch are working on instant push-in mail with a host of phone providers, this may not be too much of a problem in future.
The TFT screen has a 208x320-pixel resolution and is great on the eyes. Though the keyboard's a pain, the touchscreen makes life a lot more bearable, though it is difficult to figure out why the stylus (ridiculously short, I might add) is stored at the bottom right hand side of the machine as it makes retrieval and storage a bit of a chore.
Frankly, I think Sony Ericsson's P910i has the best combination of a keypad, a stylus and a jog dial which allows you to use the PDA with just one hand if need be.
The P30 has a 300-K pixel camera (VGA resolution) with photo editor, though the 3x zoom makes it pretty useless for anything slightly far away. Also bundled are the usual features like MP3 playback, MP4 video recording, and voice recognition.
On the connectivity side, the P30 is a tri-band GSM phone (900/1800/1900 MHz) with GPRS and bluetooth and can deliver a data-transfer rate of up to 35 kbps. BenQ has licensed the Picsel Document Viewer and will also support the Adobe PDF format and standard image formats.
Picsel Document Viewer brings a wide-screen viewing of different image formats and frequently used document formats, such as Word, PowerPoint and PDF.
The really irritating part about the phone, though, was the fact that if my ear/face touched the display, this activated various functions! Memory is another pain point. It comes with a 5MB memory and although it features a SD/MMC expansion slot, you would have to buy one for yourself to make this smart phone work faster.
You have the option to upgrade the memory to 1 GB, with an additional burden of up to Rs 2,000. But a price tag of Rs 19,500 might just work for BenQ.
Powered by
More Specials


What do you think about the story?








Read what others have to say:





Number of User Comments: 3








Sub: mobile phones

When ever I read that so many companies are going to sell their mobile phone products in India or some companies are going to produce ...


Posted by jatinder









Sub: No TouchScreen....

Nokia N70 is a very good piece of equipment but its sad that it doesn\'t have touchscreen. Not only this i don\'t see any future ...


Posted by Sam









Sub: Nokia 9500

What about the Nokia 9500 Communicator? Isn't that a phone smart enough for rediff chaps?


Posted by Raj






Disclaimer