Home > Money > Pix

The Bill Gates-Narayana Murthy jugalbandi

December 08, 2005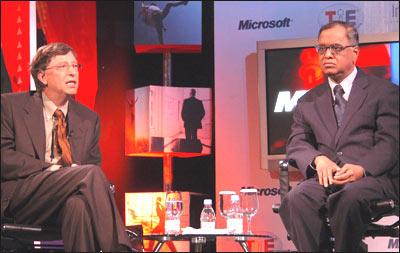 Bill Gates, Microsoft's chairman and chief software architect, and N R Narayana Murthy, chairman & chief mentor of Infosys Technologies, have quite a few things in common.
Both are the IT world's icons who created companies that have made waves globally, both are humble men with a sharp sense of humour, and both dream big of changing the world.
At a conference organised by The Indus Entrepreneurs in New Delhi on Wednesday, both Gates and Murthy candidly admitted to having a split personality. Addressing the audience Gates said that while at one meeting he planned how to make more money, at another on the very same day he discussed how to give that away.
Bill Gates in India: Complete Coverage
While Bill and Melinda Gates Foundation gave away more than $47 million in cash and $363 million in software to various non-profit organisations throughout the world, the Infosys Foundation carries out projects in the areas of healthcare, education and rural upliftment.
Their dream
Gates said his original dream was not 'sales,' but a dream computer. Even today he dreams of one such PC that would change the lives of one and all. He also dreams to see a PC on top of every desk, but rues "we are no where near the finish line."
His biggest dream, however, no matter how impossible it may sound is to merge the United States with India and China to create a great country.
Murthy's dream was to set up a company that is respected globally, but as he humbly stated: "We are miles away from it."
Their nightmare
While Murthy has sleepless nights worrying about scalability, Gates' biggest fear is that he may miss out a technological change and his rivals may make hay over it.'
How they started
For Gates, life changed when he was a13-year-old boy -- he got an opportunity to use a PC and was asked by his tutor to take classes. Since then he was convinced that his future lay in information technology. The second defining moment came when he decided to drop out of school to work on a project that was a huge success. Gates said he never hesitated to take risk.
For Murthy it was quite another story. While he was in Bulgaria, Murthy was arrested for having talked to a girl in French! He was subsequently released when the Bulgarian authorities found out that he was from India. It was then that he decided to build an organisation that would be globally respected.
Gates on Iraq
Gates thought 'Iraq was a very good decision'. However, he warned that it does not mean that one 'backs off from a commitment in another country' and added that 'in a good democracy, you get smarter as you go on.'
Murthy on US
Murthy said the US is smarter at doing business and running universities than any other nation. He said when it came to the open economy no one could compete with the US.
Gates, who is on his fourth visit to India, pledged $1.7 billion over the next four years to expand its operations in the country. He also said that Microsoft would hire up to 3,000 people in the next three years.
Gates also plans to set up 100 rural IT pilot projects in six Indian states; make rural information kiosks accessible to 70 crore (700 million) Indians; convert Microsoft products into Indian languages, and have 700 retail outlets in next the next four years.
Sense of humour
Their sense of humour too was visible at a chat show for a television channel in Delhi. When the mike was handed over to Narayana Murthy, he just said, "One, two, three. . ." into it and quickly thrust it at the Microsoft czar, who promptly said, "One billion, two billion, three billion. . ." drawing much laughter.
(Above) Microsoft founder Bill Gates and Infosys chairman Narayana Murthy during a chat show for a TV channel in New Delhi on Wednesday.
UNI Photo