Home > Money > Pix

Suzuki to enter Indian mobike market

September 13, 2004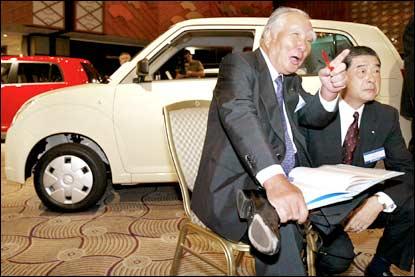 Bullish on the Indian automobile market, Japanese giant Suzuki Motor Corp. on Monday decided to enter the domestic burgeoning motorcycle segment next year besides investing over Rs 1,000 crore in Maruti to manufacture diesel engines in the country and set up a new car plant.
"A 'Project Team' is going to execute comprehensive preparatory work related to these three new ventures," a Suzuki statement made available to PTI said.
"A new company, 'Suzuki Engineering India (tentatively named), plans to construct a plant with production capacity of 100,000 diesel engines per year in Haryana," SMC Director (Overseas Automobile Planning Division) Kazumi Matsunaga said.
For setting up a new car assembly unit, a joint venture 'Suzuki Maruti India' is being formed, which will construct a new plant, with a capacity of 250,000 units, scheduled to begin operation in early 2007.
'Suzuki Motorcycle India' would be the motorcycle venture of Suzuki in India, Matsunaga said.
The diesel plant, slated to start operation by the end of 2006, will make 1.3 litre, four cylinder engines.
Suzuki has entered into an agreement with Italy's Fiat Auto SpA and Adam Opel AG of Germany.
Suzuki Metal India, which currently makes aluminum castings here, will be merged with 'Suzuki Engineering India'.
Total investment for the firm's upcoming plant in Haryana would be announced later, Matsunaga said.
At present, Maruti manufactures 10 models at its existing plant in Gurgaon, which has a production capacity of 500,000. -- PTI
Japanese car maker Suzuki Motor Chairman Osamu Suzuki (L) and President Hiroshi Tsuda smile as they introduce the new mini-car 'Alto,' equipped with a 658cc engine, at a Tokyo hotel on Monday. Suzuki announced the company will build the new assemble plant and a new diesel engine factory in India to boost production in the country's growing market during a press conference. Photo: Yoshikazu Tsuno/AFP/Getty Images