Home > Money > Pix

A will. A fortune. A fight

July 14, 2004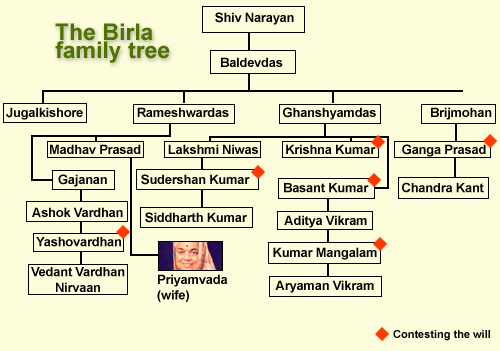 It's the kind of stuff Bollywood thrives on. But this real life story has more ingredients for a runaway hit than most films do.
A death. A will. A gigantic fortune. A super rich family. A surprise benefactor. And now preparations for a legal battle.
The will left by Priyamvada Birla has stunned the Birla family. All of the Madhav Prasad Birla Group's assets, worth over Rs 5,000 crore, have been bequeathed to Kolkata-based chartered accountant Rajendra S Lodha, who is also co-chairman of Birla Corporation and former president of FICCI.

Priyamvada, who died on July 3, was chairman of Birla Corporation Ltd and the head of the MP Birla Group.

The astounded Birlas have now come together to fight the 'outsider' and to keep him from 'taking away the family's property.'

"As per law, the property of a person goes to the nearest relative. How can an outsider claim the Birla family property?" Basant Kumar Birla, the patriarch of the Birla family, asked on Wednesday.

Asked if the Birlas are doubting the veracity of the will, he said, "It is not the question of doubting the veracity. It may be correct, it may be wrong, but we have to deal with it from a legal point of view, for which steps are being taken."

Lawyers meanwhile opine that if the Birlas are able to prove without doubt that Priyamvada's will was not in keeping with her natural behaviour, then they could be on a strong legal wicket, said moneycontrol.com.

The will can also be challenged on another point: 'good presumption of undue influence' as R S Lodha was considered very close to Priyamvada Birla. If this is proven, the will could be declared invalid, said moneycontrol.com.

The other basis for invalidation is if it is proven that the person was not of sound mind while signing it. The brief will -- apparently a mere four lines -- can be considered unusual though not bad in law, said moneycontrol.com.