Home > Business > Business Headline > Report


Amitabh Bachchan to hawk Cadbury chocolates

Dhiraj Shetty in Mumbai | January 07, 2004 16:40 IST
Last Updated: January 07, 2004 17:36 IST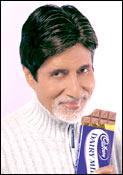 Superstar Amitabh Bachchan's contribution to reviving the Indian economy cannot be underestimated. Banks, home loans, cars, clothes, colas, health foods. . . he's endorsing them all.
And more products are in the pipeline.
But before the vadapav-wallahs could get to him, chocolate major Cadbury has appointed him its brand ambassador for a period of two years.
The company believes the reputation he has built up over the last three decades complements their own, which was built over a period of 50 years.
Their other brand ambassador Preity Zinta will continue to be around.
Cadbury India Ltd Managing Director Bharat Puri made the announcement at a press conference in Mumbai where he also unveiled the strengthened, new 'purity-sealed' packaging for its flagship product, Cadbury Dairy Milk.
The packaging is in response to foreign bodies, notably worms, being found in its products.
The issue had ballooned into a major controversy resulting in severe adverse publicity for the company.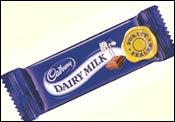 The new packaging is just one part of the corrective measures the company has initiated.
The major thrust is on educating its dealers and retailers on the correct procedure for storage of chocolates. The company believes improper storage conditions resulted in the chocolates becoming vulnerable to infestation by foreign bodies.
The company does not claim to have completely eliminated the problem, but is continuing efforts to provide air-conditioned storage units to its dealers and retailers.
At the press conference, rediff.com had a tête-à-tête with Sanjay Purohit (GM, Marketing) and Prashant Chhaya (Director-Technical).
rediff.com: Which is your biggest selling product?
Cadbury: Cadbury Dairy Milk.
rediff.com: Which come next?
Cadbury: 5 Star and Perk followed by Cadbury Gems.
rediff.com: What about dark chocolate?
Cadbury: We have Bournville, but the market for dark chocolate is negligible.
rediff.com:  So what do you have for lovers of dark chocolate?
Cadbury: Temptation, and more Temptation is in the pipeline
rediff.com: How many youngsters eat chocolates?
Cadbury: 60-65 per cent of the consumers are 19 and under.
rediff.com: Why Amitabh Bachchan as brand ambassador?
Cadbury: He will appeal to people from 6 to 60 years of age.
rediff.com: How?
Cadbury: Watch our new ads.


What do you think about the story?








Read what others have to say:





Number of User Comments: 7








Sub: Mr. Amitabh Bachhan's association with cadbury

It is a good idea to associate him by Cadbury. He has been very successful throughout, for ex. Karorepathi. Besides, he is a nice gentleman ...


Posted by H S Gopinath









Sub: regarding cadbury

we just love dairy milk with fruits & nuts.


Posted by trupti









Sub: Cadbury

You say the market for dark chocolate is negligible. Well it wouldn't be if Bournville was available more. I for one would buy it if ...


Posted by jbpatcid









Sub: Makes one scratch the head !!!

Why must Big B get into this mess ?? "The packaging is in response to foreign bodies, notably worms, being found in its products. The ...


Posted by chanakya









Sub: pass a comment

hi amitabh ji i like you very much i am with you you hawk cadbury ...


Posted by idress ahmed ganai






Disclaimer