Home > Business > Special


Geeta Padmanabhan | February 26, 2004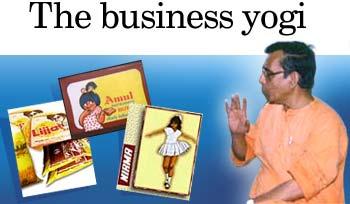 Swami Someswarananda, director, Vivekananda Centre for Indian Management, Indore, is unmoved by the B-School brouhaha. If they close down tomorrow because the government won't sign their grant cheques, he will not shed a tear.
"What is taught there is for large-scale organisations. Will they take up small, sick units and put them on the road to profit?" he asks. "They have subject knowledge but no subject understanding. Have our engineers invented any of the items you use? A stapler even? Why do we depend on imported know-how?"
He wants engineers to concentrate on production instead of aiming at managerial positions. He wants them to work with their hands and depend on themselves, not on the job market. He wants them to be able to invent. Why, he wonders, do they go to B-school to learn how to run an office? Isn't everyone a CEO at home? All one needs to do is apply the same principles at work.
Swamiji believes in just one mantra -- Indian Indigenous Management. Ethos in Industry is his philosophy. Udipi restaurants, Lijjat Papad, Amul, Nirma and other indigenous products are his bhajans. The irony is more striking than the colour he wears. Here is a monk who talks business solutions that include family values. This is surely a phenomenon of the 'This happens only in India' variety.
Not really, he says, if you remember our ancient wisdom. Management should have a social perspective and all business should be geared towards creating a humane society. Knowledge and skill should be based on values. "Before you have a corporate objective, you should have a social objective," he says. Have a holistic approach. How does your work affect society?
How did he get involved in the business of business?
"Twelve years ago, I was working with young people in Mumbai's slums. ONGC invited the Ramakrishna Mission, of which I was a member, for a community leadership programme." This was how he came to found the Vivekananda Centre for Indian Management.
He has patented a business model called the Ekalavya Approach, in which workers learn managerial skills without looking up or behind their shoulder. Several successes in the unorganised sector prove his theory that business strategies evolve from within. They are not imposed from above. Never mind Six Sigma. Or oxygen meetings. The dabbawallas (lunch box transporters) of Mumbai, an unqualified success story, have never heard of them.
Swamiji collects Indian business success stories. He isn't really surprised that they comprise of people whose capital was their faith in themselves and in their business ideas. And no, they are not B-school graduates. His favourite entrepreneur is Prakash Shinde, who has only studied until class IX. He earns up to Rs 15,000 a month by holding magic shows.
Swamiji believes everyone has the potential to manage. In Udaipur, factory bus drivers learn designing between shifts. Mukherjee of Minerva Publishing started his business with zero capital. You don't have to work in an MNC to earn a lot of money. At Vatva in Ahmedabad, furnace workers are involved in R&D. The Reserve Bank of India has invited university teachers to train its people.
If he had a say in the MBA curriculum, it would run something like this: All case studies would focus on local units -- the sicker, the better. Students would be required to turn around a sick unit and change society. Idealism would be a compulsory subject. Lectures would explain how the same idea underlines the process of selling potatoes in a mandi (market) in Bihar, egg rolls in a Kolkata bylane or software in Bangalore. Everyone would be encouraged to start their own business, preferably in rural areas. They would find the poor and figure out how they could be employed. Local skills would decide the product. After all, business is about common sense and problem-solving abilities. Haven't rural women in Tamil Nadu successfully used micro-capital to generate employment?
Those students who opt for lucre will still find themselves thinking: What do I want to leave behind? What will be my legacy? How do I use human resource skills to create a set of willing people? How do I cross psychological barriers? Before Tenzing conquered Everest, he conquered himself. Before Mihir Sen swam the English Channel, he had to channel his energies. Do I believe I can be anything I want? That, according to Swamiji, is the Mahavakya (great philosophy). 
"Be good in business," he adds, "not goody-goody. If problems arise, shift your perception and keep going. Do not give VRS [voluntary retirement scheme] to anyone. Set up another unit to employ them. If an employee leaves, it means the HR [human resources] department has failed. The best earnings are in entertainment. But the income is not assured."
Swamiji admits effective management is difficult in India. In the West, public life is divorced from private life. In India, one has to earn credibility. One has to be creative and patient.
Swamiji conducts in-house workshops for companies. A typical workshop covers these questions.
How do I improve performance?
Empower the floor-level worker. If it is a factory making automobile parts, involve the employees in R&D. If it is a retail store, train the shop assistant in four areas. Do they have high standards of service? Do they have total knowledge of the products they sell like, say, the difference between various kinds of teas? Are they empowered to take spot decisions; for example, can they give a bulk-buyer a discount or order a product? Finally, are they trained to read the customer's mind?
What if an employee armed with this high-skill training leaves for a more remunerative position?
So? Be a different breed of employer. Let him grow. After all he is going to serve customers elsewhere. Whatever you do, do your best. Be a role model as an employer.
How do I cut costs?
Don't compete, be a trendsetter. Supermarkets lose out on personalised service. Think co-operatives. Make consumer goods using local products. The Indian consumer is price conscious. Be a cost leader. Prove that your product gives value for money and you might find yourself selling cheaper goods to the same supermarkets.
Make goods even a slum dweller can buy. Help the poor stand on their feet. Profit is the only motive for big shop-owners selling branded products. For you, profit should be incidental and social service should come first.
How do I get customers (in most cases the lady of the house) to come to my shop?
Personalise your service. Start home delivery. Wish them on birthdays. Offer branded products at a discount. Visit them often. Make them feel it is their shop. Nurture your relationship with your customer. Business is nothing but good public relations.
How do I expand my business?
Why don't you go to the villages? Most shops there are primitive. Start a chain of stores. Use a tempo to help stock goods. Appoint local people. They know consumption trends. Start cottage industries employing local women. Employ local youth. This should cut down your costs. Do business with the spirit of sacrifice.
In Bastar, the Ramakrishna Mission helped tribals set up shops.
Business goes beyond profit. Have you ever wondered why all corporate organisations start doing charity at one point?
His favourite business idea: In India, 65 of the homes in rural areas -- where electricity is an eccentric guest -- do not own radio sets. Why hasn't anyone looked into this? Think what a radio means to the illiterate in non-electrified villages. Establish local units making radio sets.
Find ways to increase the purchasing power and productivity of the poor. It is the best prescription for social unrest. Business is a powerful tool to bring social harmony. Enjoy the peace it brings in these areas.
His final vakya (sentence): Competition is a symptom of mediocrity. It's what a company does when it has nothing to offer. Be an innovator. Create jobs; don't seek them. The world respects ancient India. The West just sees modern India as a market. Learn to respect yourself. Make the family your point of reference. Develop good leaders. Teach people entrepreneurship. Raj shakti (political strength) is undemocratic. Develop Jan shakti (common man's strength).
Swamiji's world of buy-and-sell will not have businessmen. It will have business-yogis who use an Indian business logic that is unbeatable.
Image: Dominic Xavier
More Specials


What do you think about the story?








Read what others have to say:





Number of User Comments: 13








Sub: Swami's Bengali book on _Vivekananda o aajker Arthaniti

The book concerned published before globalisation and India's joining in WTO in 1991 highlights's the original thinking of the author. I would like to know ...


Posted by Dr S C Banerjee









Sub: Lets get together

After reading the article and comments thereof, i felt there are many like me who feel that after Software Revolution, India is in need of ...


Posted by Deepak









Sub: good eye opener and makes one think

I am also strongly influenced by Swami Vivekananda. I had the thoughts how to do it. This is on the same lines..., Can I have ...


Posted by Vani









Sub: Business Yoga

I am really impressed with Swamijis article and i want to discuss and want his view in my business. I am basically into printing of ...


Posted by Mukul Ahuja









Sub: Business yogi

I appreciate swami Someshwarananda thoughts and surely try for his contact details. But his ideas are not reported in right spirit. Lines like "This is ...


Posted by Sreenivas






Disclaimer