Home > Business > PTI > Report


No tax breaks for common man

Agencies | February 03, 2004 12:30 IST
Last Updated: February 03, 2004 13:36 IST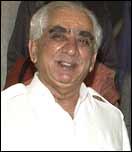 Union Finance Minister Jaswant Singh said on Tuesday that there would be no changes made to the tax structure.
Jaswant Singh sought a vote-on-account from Parliament to carry on with essential government expenditure, like employees salaries, beyond the current financial year, till a new Parliament approves the spending for the full 2004-05 financial year.
Presenting the vote-on-account in the Lok Sabha, Finance Minister Jaswant Singh said that the existing tax structure will continue for now.
The finance minister said that the common man's dreams had been fulfilled and the government found the expected growth rate of 7.5 per cent to 8 per cent 'satisfactory.'
He said that the employment had risen in India, but expectations had grown even faster.
He said that gross national contentment was the most important factor in his mind while presenting the vote-on-account.
With elections round the corner and the government keen to keep the 'India Shining' and 'feel good factor' themes in the forefront, an increase hike in the exemption limit for tax payers was expected as part of the incentives for the common man. But the finance minister ruled any such changes on Tuesday.
Jaswant Singh, say analysts, could not have proposed any changes in direct tax rates, but he did have the liberty to extend sunset clauses for exemptions that lapse with the end of the current fiscal year, and raise income-tax exemption limits for salaried individuals.
The vote-on-account was sought as Parliament will be dissolved on February 6 in all likelihood and the country will prepare to elect a new government in April or May. The term of the current Lok Sabha ends in October 2004, but the government decided on advancing the general elections to take advantage of the feel good factor sweeping India.
The finance minister has been under pressure to offer more sops for the common man in view of the forthcoming Lok Sabha elections, but any extra promises would also have meant keeping them up if the National Democratic Alliance is voted back to power.
Reports had speculated that the income tax exemption limit would be raised from the current Rs 50,000 to Rs 100,000 giving a relief of up to Rs 9,000 to all taxpayers, even those in the higher income brackets.
© Copyright 2005 PTI. All rights reserved. Republication or redistribution of PTI content, including by framing or similar means, is expressly prohibited without the prior written consent.



What do you think about the story?








Read what others have to say:





Number of User Comments: 9








Sub: hopeless FM. (Feel Sick Factor!!!)

I felt like kicking the FM when he said that - "the comman man's dreams have already been fulfilled and he will persue with the ...


Posted by nitin









Sub: FM not raising the IT limits

Its most disgusting that successive FMs of NDA Govt have denied any tax benifits to the most honest taxpaysers-the salaried class. There is no feel ...


Posted by Anil D.Kulkarni









Sub: no relief for salaried

All the prominent (read organised) sections such as the agriculturists and businessmen, have been given tempting sops by Jas, but since the salaried class in ...


Posted by pg vijairaghavan









Sub: income tax

After some time cl.IV employees will also be trapped in I-tax net.


Posted by moholkar









Sub: The Interim Budget

And so one more budget from the BJP and the party continues with its flogging of the salaried class. After spreading a lot of canards ...


Posted by yenpeeyes






Disclaimer