Home > Business > PTI > Report


Premji, 17th most powerful biz leader outside US

July 23, 2003 16:32 IST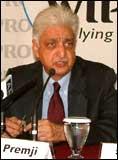 Wipro Chairman Azim Premji is amongst Fortune magazine's list of 25 most powerful business leaders outside the United States.
Premji, 'who has turned technology company Wipro into the largest publicly traded company in the most dynamic sector of India's economy,' has been ranked 17th on the list.
According to a Fortune statement: "The survey takes a broad look at the world of big business and reveals that the business leaders who rule the global boardrooms work in countries as diverse as Switzerland and South Korea and in industries ranging from food to finance."
The list features eight leaders of Asian companies, four of which are in the top ten, with Sony's Nobuyuki Idei leading the way at number 2.
The list is topped by Britain's John Browne, CEO of BP.
"Browne is at number 1 for transforming BP into a global oil power with the purchases of Amoco in 1998 and Arco in 2000. He has also managed to become a favourite with women's groups for his hiring practices, as well as with the green lobby, giving him more clout than his peers," writes Fortune.
7333: The Latest News on Your Mobile!
© Copyright 2005 PTI. All rights reserved. Republication or redistribution of PTI content, including by framing or similar means, is expressly prohibited without the prior written consent.



What do you think about the story?








Read what others have to say:





Number of User Comments: 3








Sub: Premji in Fortune Power 25 list

I wanted to know more about the basis on which these rankings have been arrived at. I searched in Forbes website and did not find ...


Posted by Raj









Sub: Kudos!!!!

Premji good you are doing muslims proud.


Posted by zaheer









Sub: What a Joke ?

This guy cant get a road repaired around his office in Sarjapur and he is listed in 25 powerful people. Ha Ha Ha Ha . ...


Posted by Vivek






Disclaimer