Home > Business > Special


Kishore Chhabria: A pugnacious dreamer

BS Corporate Bureau | August 09, 2003



A few days after the Special Appellate Tribunal passed an order last week that could transfer control of Herbertsons from Vijay Mallya to Kishore Chhabria, the liquor industry was rife with rumours that the two were engaged in closed-door negotiations to cut a deal.

But at that time, Kishore, the pugnacious younger brother of the late Manohar Rajaram "Manu" Chhabria, was on his way to the holy town of Tirupati to offer prayers, away from the negotiating table.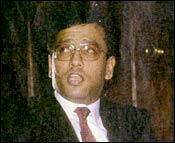 "Nahin dost, I go there 2-3 times every year," he said when Business Standard suggested he was celebrating his victory over Mallya.
Perhaps. But what Kishore cannot deny is that after a long wait, he is close to realising his dream of becoming a big player in the Indian liquor industry, thanks to the tribunal's order. Not just Mallya, Kishore has had to fight his own family as well.
The story began in the mid-1980s when Manu and Kishore wrested control of the Kolkata-based Shaw Wallace & Co, even as the then management led by S B Acharya fought tooth and nail to block their entry.
| | |
| --- | --- |
| | Also Read |
| | |
Once the opposition was put down, Manu returned to Dubai to look after the Jumbo group there, while Kishore was in the driver's seat at Shaw Wallace as managing director.

Trouble erupted between the brothers in April 1992. Manu accused Kishore of transferring 100 per cent of BDA Distilleries, the company which owned the Officer's Choice whisky brand, from Shaw Wallace to himself.

What miffed Manu was that Shaw Wallace had built the brand from scratch by pumping almost Rs 30 crore (Rs 300 million) into it. But Kishore said Manu had given him the company as compensation for moving out of Shaw Wallace. Soon, the matter was in court with the brothers filing a string of cases against each other.

Before Manu's death in April last year, he and Kishore had resolved a number of these cases out of court. A few cases are still pending. Though Manu's daughter, Komal, had reiterated that she would continue to seek a settlement with her uncle on the remaining disputes, things seem to have hit a roadblock when Kishore some months ago came out in support of Bhavika, Komal's sister, who had asked for her share of the business.

Meanwhile, after leaving Shaw Wallace, Kishore joined hands with Mallya. Thus, Kishore got a 26 per cent stake in Herbertsons -- Mallya owned around 30 per cent -- and BDA Distilleries became a subsidiary of Herbertsons.

All was going well till Mallya discovered that Kishore had quietly raised his stake in Herbertsons to 43 per cent and had lodged another lot of over 7 per cent for transfer to his name. As this would have given him absolute control of Herbertsons, which owns Bagpiper, India's largest liquor brand, Mallya took the matter to court.

A few months ago, the two agreed on an out-of-court settlement: Kishore would exit Herbertsons and get BDA Distilleries in return. Before the deal could be consummated, the tribunal passed its order recognising Kishore's 43 per cent stake in Herbertsons and asking him to make an open offer for another 20 per cent in the company. At this moment, it is not certain if Mallya will appeal against the order or the two will reach another settlement.

The question is: Does Kishore, who has two daughters, want the business or will he be happy with the money?




Powered by
More Specials