Home > Business > Special


George Iype in Kochi | August 04, 2003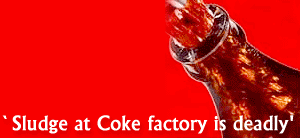 In the last three years, a Coca-Cola plant in Kerala's Palakkad district has produced more than 5,000 tonnes of sludge, which Coke officials say is good fertiliser for crops.
But an investigative study by media giant BBC- the British Broadcasting Corporation -- and environmentalists insists that the fertiliser contains 'hazardous toxic chemicals.'
Water samples collected from the wells near the Coke factory situated at Plachimada are now found to be unfit for drinking. The hardness and chloride found in the well water are at medically unacceptable levels.
A probe has now been launched by the Kerala government to check out the hazardous content in the fertilizers provided to the farmers.
Another study by Greenpeace too says the sludge is extremely harmful to plant and animal life. 
For all these years, Coca-Cola has received bubbly support from thousands of farmers in villages in and around Plachimada.
The reason is not hard to find.
Farmers had hitherto spent Rs 270 and Rs 350 per bag for fertilisers like urea and compost, respectively. And then the American cola giant offered them fertilisers for free.
| | |
| --- | --- |
| | Also Read |
| | |
But the fizz has now run out of the love affair. And there are indications of a bitter spat in the air.

Today, these cultivators of coconut, rubber and pepper are a paranoid lot. They fear that soon their plants will perish and they too will either meet with similar fate or fall ill by drinking the water from their wells.

All because of the fertilisers -- or factory sludge that was given out by Coke as manure.

"We fear a number of small villages across this area are contaminated. We have been supporters of the Coke factory all these years. Now we want to fight back and seek compensation," P K Rajan, a farmer with four acres of land near Plachimada said.

Rajan is not alone. The number of disgruntled farmers questioning 'the Coke fertiliser' is increasing. Alarmingly, from the Coke point of view.

The BBC study

The BBC report revealed that the sludge, which the Hindustan Coca-Cola Beverages Pvt Ltd has been supplying as fertiliser to the local farmers, has 'dangerous levels of the known carcinogen cadmium.'

BBC, which got sludge samples from Coke's Plachimada plant, had it investigated at the University of Exeter in Britain. The report said the fertiliser supplied by Coca-Cola could have devastating consequences on the health of the local villagers. The use of the sludge, the study says, may have led to contamination of the potable water and the food chain in the area.

BBC Radio 4's Face The Facts presenter John Waite who did the study visited the plant in the wake of an ongoing campaign by the locals who allege that the villages near the Coke factory are drying up because of over-exploitation of water resources.

Till the other day, the farmers had no clue what BBC was all about. But today it is a household name and local activists have even translated the report into vernacular Malayalam.

It might cause cancer, renal failure. . . : Greenpeace

Another recent study -- by Greenpeace India -- said the sludge contains inorganic contents like heavy metals and aromatic and non-aromatic organic contents.

It said the sludge has the following contents: lead – 1,100 mg/kg, Cadmium -- 100 mg/kg, Chromium -- 190   mg/kg, Phosphorous – 1,580 mg/kg, Zinc -- 680 mg/kg, Aluminium – 4,000 mg/kg.

The Greenpeace findings said the Coke factory has violated the Kerala Land Utilisation Act, 1967, Water (Prevention and Control of Pollution) Cess Act, 1977, Kerala Pollution Control Act, Central Ground Water Authority Rules, and Environment (Protection) Act.

It said the effects of cadmium in the sludge would result in health effects such as cancer, renal failure, hormone problems and lung damage.

It further said the effects of lead can results in miscarriage, stillbirth, premature delivery and deformed babies in pregnant women and mental retardation and kidney failures in children.

"We have launched a major campaign to oust the Coke factory from this village. It has been forcing these poor people to drink and eat poisonous water and agricultural produce," says Vennala Baby, a local environmental activist.

In the last one week Baby and scores of young activists have toured the villages where the Coke plant has been dumping the sludge.

'But it stinks'

"Look at it. That is a heap of sludge that the Coke factory has dumped. The factory has told the local people to use it as fertiliser. The farmers have been thrilled to get it for free," Baby said.

But once it rains, Baby points out, the sludge emits a foul smell almost that of a decomposed corpse. "A number of kids are suffering from various allergies and the elders complain of perpetual headaches," explained Baby.

Across villages like Plachimada, Chittoor, Thattanchallam and Manalthode heaps of black-and-yellow coloured sludge are deposited. Activists quoting the Coke plant's own statistics say that more than 5,000 tonnes of sludge have been deposited across the villages.

It is a Catch-22 situation for the farmers who, caught in the web of agrarian loans, sky-rocketting prices of fertilisers and plummeting prices of agricultural produce, had gleefully gone in for this free fertiliser.

Says Thomas Varghese, a farmer with six acres of land. "The fertiliser from the factory has been a big relief to us. Except for its foul smell, so far there was no indication that this Cola fertiliser was bad for our crops. But now we are frightened that our land would be unfit for cultivation," Varghese said.

Varghese and his neighbours are also frightened of drinking their well water. During rains, the toxic materials have run down into their wells, making the water taste 'different.'

"We used to have clear water in our wells. Now the water tastes bad," he said.

Complaints from the farmers recently forced the Kerala government officials to test the well water at the Regional Analytical Laboratory in Kozhikode. The hardness and chlorine content of the water were found to be above permissible levels, forcing the laboratory officials to recommend that the well water is 'unfit for drinking.'

Even though the extent of damage to the farmers caused by the Coke fertiliser has yet to be ascertained, environmental and health groups have started garnering support among the villagers against the company and it products.

"We do not want others to drink Coca-Cola by destroying our life," says Varghese.

Sludge is safe, says Coke

But despite increasing opposition from the farmers, Coca-Cola India officials say the sludge is 'safe and harmless.'

"We can very clearly and boldly say that the sludge supplied by our Palakkad factory is pretty safe and harmless," said Coca-Cola India technical operations vice president D S Mathur.

According to Mathur, out of the three samples that the BBC collected and tested, only one was found to contain high levels of carcinogen cadmium and lead beyond the permissible limits.

"This could have happened because BBC had collected the samples from the villages around and not from Coke's factory limits," he added.

He said even the Kerala Pollution Control Board chairman has gone on record saying that the Palakkad Coke factory was the best industrial unit in Kerala in terms of water and environment management.

But now the Coke officials are under pressure. So is the Kerala government. The government has now separately sent samples of the sludge to various laboratories to test whether the fertiliser indeed contains poisonous toxic materials.


More Specials



What do you think about the story?








Read what others have to say:





Number of User Comments: 26








Sub: Coke

The democracy of India is back-seat driven by the neo-liberal agenda. The impact- the elected representatives have become bootllickers of the corporate in general and ...


Posted by Rajkumar









Sub: pepsi&coke

we dont need pepsi and coke.Me and my family stopped taking these drinks 10 years ago.WE JUST DONT NEED THEM.our nimbu pani ,lassi and fresh ...


Posted by v.t.siva









Sub: Coke should go from India

Sir, it is alarming that the Indian government is not doing anything to stop the functioning of these companies like coke and others. We all ...


Posted by ashwani









Sub: Brun these Coke & Pepsi Plants

Public has to get up and safegaurd their own interest, because if you depend and believe on the politicians, the government agencies & the government ...


Posted by amrendra









Sub: Eliminate all Pepsi and Coke Products.

Why is it that harmful situations like this are pretty much excused in other countries,But if it were happening in the USA it would be ...


Posted by Stacy Perez






Disclaimer