Home > India@60 > I dream for India


'Now is the right time to be in India'

August 14, 2007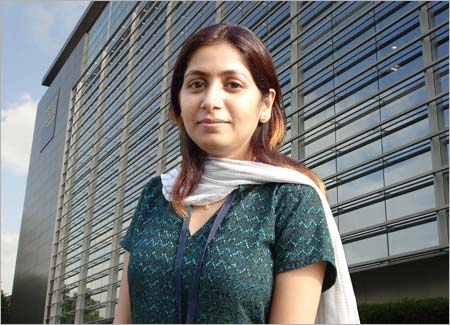 The reasons to celebrate are many -- from economic prosperity, to our moment in the sun on the world stage, to Bollywood going international, and, of course, the world's biggest youthful population determined to take success to new heights.

As India celebrates the 60th year of her Independence, we ask the new drivers of India, her youth, to share their dreams for themselves, and for the nation:
---
Deepa Raisinghani, 22
Business Process Outsourcing agent
Pune
Get married and do what? Chulah phuko or what!
Seventy per cent of the girls in our country are brought up to believe that they need to cook and take care of their families. They get married and do just that.
Yes, of course, they do their graduation but that is just an add-on. You see, the primary focus is still marriage. Twenty per cent of the girls who want to build careers are unable to achieve their goals, which leaves only 10 per cent women who go on to become successful in their careers. Only 10 per cent!
I want to dominate that 10 per cent; that is my dream. When parents look at their new-born girl in a cradle, I want them to say, 'I want my girl to be like Deepa Raisinghani.'
I can say I want to become the director of a company, or that I want to become a big shot. I am young and I can say all those big, impressive sounding things but what I really want is to be in a creative section of the service sector. I want to be on my toes and I want to be highlighted in a male dominated society.
We need to respect our women and we need to change the mindset of those girls who fall in the 70 per cent category (they believe the only purpose of their life is to get married).
I am from Ahmednagar in Maharashtra and I am the first girl in my family who has left home to work in a different city. Given my ambition and aggression, my family would have allowed me to be a part of the family business but I feel in business you cannot get noticed.
I wanted to make a mark in the service sector. I joined this call centre six months ago. Though I topped the Chartered Accountancy exam and have done a course in Mass Communication, this job is a short term plan.
It wasn't easy convincing my parents, I had to explain the atmosphere in a BPO to them. I feel people don't have much respect for young people working in BPOs. They feel we get easy money, sleep during the day and are owls in our seats at work.
They really don't know what we go through, dealing with good and bad customers for nine hours every day. It is a lot of mental stress, but I enjoy my job. What it has taught me is a lot of patience. I am going to appear for a job interview with an international charitable organisation in September. If I get the job, I will move to a metro.
I want to be in a place which has good opportunities for me and I want everyone to treat guys and girls equally.
I sincerely feel now is the right time to be in India because India is full of opportunities. There is a lot of growth and plenty of avenues for the youth to explore. I admire the Indian ability of having the willingness to learn and our tolerance.
But what we can do without is our 'taking everything for granted' attitude. Today if Shah Rukh Khan [Images] was to jump a signal, the traffic cop, instead of penalising him, would ask for an autograph on that same chalan book! Paris Hilton [Images] was imprisoned for flouting traffic rules, you think a celebrity in India would have been jailed for the same offence? No!
Deepa Raisinghani spoke to Archana Masih | Photograph, video: Seema Pant