Locks of love for cancer patients
S Saraswathi
A group of young girls from Chennai shaved off their heads earlier this year. That donation has gone for a special cause. Read on!
World Cancer Day 2014, on February 4, was marked by a special event in Chennai: a hair donation drive organised by the Rotaract Club of Women's Christian College (WCC), Chennai, to create awareness about the importance of donating hair for cancer patients.
The initiative called 'Tangled' made headlines when Rennee Saradha, the club's president, shaved off her hair for the cause. Her selfless gesture motivated many, who came in huge numbers to donate their hair.
(You can read all about it here)
The event, however, did not end with the hair donation drive. The Rotaract Club was committed to ensuring that all the hair was collected, stored, analysed, and eventually made into wigs.
They recently held a small function at the Adyar Cancer Institute (ACI) in Chennai to hand over the first set of wigs.
"We have been working towards this for a very long time and now the day is finally here," said a very excited Rennee.
Rennee says the response to the donation drive was overwhelming. Some 2500 women donated their hair.
"We had initially planned the drive for just 10 days, but Green Trends (a popular unisex hair and style salon that had taken the responsibility of cutting and styling the hair of the donors) kindly extended the deadline till the end of the month because people kept coming forward wanting to do their bit," said Rennee.
The project's 20-year-old chairperson, Sumaiya Fathima, added that the drive was also extended to Bangalore as part of the Women's Day celebrations on March 8.
"We received about 400 hair donations from Bangalore through Green Trends.
We also organised a one-day donation drive in Ennore, Chennai, with the help of the Adyar Cancer Institute and its psycho oncologist Dr Prabhakaran.
"We had about 100 donations on that one day. At the end of the drive, we had collected about 72 kg gross weight of hair," Sumaiya said.
The team of Rennee, Sumaiya and 20-year-old Ramya Ramachandran, the Rotaract Club secretary, are not resting on their laurels.
"We still have a long way to go. Along with other Rotaract Clubs and the Rotary, both in India and abroad, as well as several corporate houses, we are working hard to get sponsors."
The first set of 20 wigs made by George B Cherian of Raj Hair (a Rotarian and chief exporter of hair wigs in India), were handed over to the ACI at the recent function.
The rest will be delivered in batches of 15-20 wigs every week.
"We had initially planned to make around 200 wigs and can now probably go up to 220 wigs with the volume of hair we have collected. We already have some money with a cultural event we organised and also have a commitment from one of the Rotary Clubs that has agreed to sponsor 32 wigs.
"It is all slowly coming together. It does not matter how long it will take; we plan to continue till all the 200 wigs we had promised are delivered," Sumaiya said.
George B Cherian, who also sponsored the first set of wigs, appreciated the enthusiasm of the young women.
"Work for this project started almost a year ago and their enthusiasm and determination remains undiminished even today. The hair that they have managed to collect has a street value of Rs 7.5 to 10 lakh. This is no mean achievement."
Nabin Banik, regional head-Operations, Green Trends, said, "It has been a real pleasure to have been associated with this project. The overwhelming response we got from women of all age groups was unbelievable. This is truly a happy moment."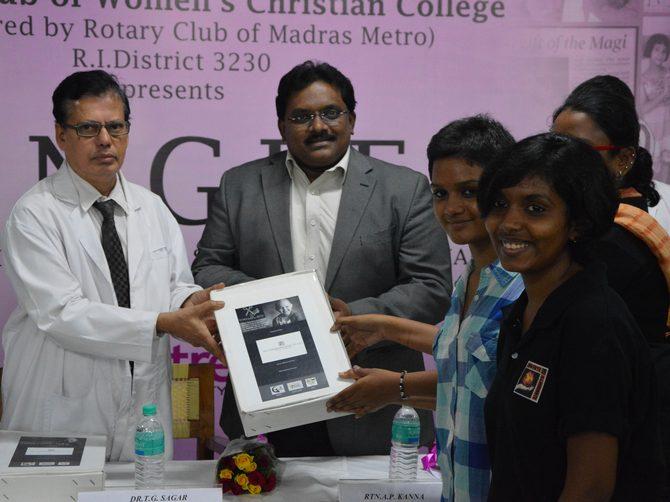 Dr Rejiv Rajendran, professor of medical oncology, Adyar Cancer Institute spoke about the importance of wigs in cancer treatment.
"From a doctor's point of view, the loss of hair may be one of the least significant side effects, but for the patient it is the most distressing.
"The high cost of good quality wigs makes it impossible for our patients to afford them. This is a huge contribution for a noble cause that will make and transform the lives of a lot of women, who are going through a very difficult phase of their life."
The wigs, which were received by both Dr Sagar and Dr Rejiv, will later be passed on to the Psycho-Oncology Department, who will co-ordinate with the patients for the distribution of the wigs.
The young women who have worked on this project will not get to meet or even know the names of the patients who will receive their precious gift, but that doesn't matter.
"Seeing the number of patients that visit ACI in a day was truly startling for me," says Rennee. "It reassures me that we have worked on a good project. Our destination was the Adyar Cancer Institute that has for years been providing free or subsidised treatment for the underprivileged, and we have kept our promise.
"As long as it reaches the patients and makes a tiny bit of difference in their lives, we are happy; we do not want to know who they are."
Image:
Top: A young volunteer offers to shave off her head as part of a hair donation drive organised earlier this year. Below: (L-R) Dr Sagar and Dr Rejiv Rajendran receive the donations from young Rennee Saradha.
Photographs:
S Saraswathi