How to become a successful IT guru
What are the challenges and stresses that consultants in the cut-throat competitive world of information technology world have to deal with it? More importantly, how should an IT consultant negotiate the twists and turns that come with the territory and emerge successful?
Ravindran Gangadharan's book Beyond Billing – 5 steps to becoming a successful Technology consultant answers some existential questions IT consultants have to live with. Gangadharan currently works as an Architect at Microsoft based out of Houston, Texas, serving and selling to Fortune 500 customers. He possesses 15 years of deep consulting experience.
Excerpts:
The Pyramid of Expectations
Across the globe, millions of consultants today serve in the IT consulting industry worth billions of dollars. Almost all of these consultants work toward the same goal. Using specialized skills as individuals or as a group, they help businesses and consumers bridge the demands of the digital age. Across several enterprises and markets and industries, consultants work with their clients to solve the problems of exponential changes in technology, new methods of innovation, and constant refinement of business processes.
Unlike consultants in other fields -- even when compared to broad areas of other types of consulting -- technology consultants vary in many aspects. Seasoned consultants run their own small niche firms. Consultants work for high-end consulting shops providing professional services that support products. And millions of workers in developing countries like India work on outsourced IT projects. Businesses across the globe employ different types of vendors providing IT consultancy services to suit their different needs across the board, but with the same underlying theme and expectations. These expectations can be represented by the following pyramid: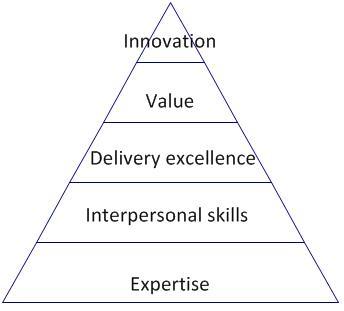 Referring to the pyramid, consultants usually end up delivering against the following expectations, with each expectation forming the basis for the one above it:
1. Expertise: The most basic of expectations. The consultant should bring to the table a set of technical skillsets that allow him to fulfill his role as a specialist. Along with his strong technical expertise, the consultant comes with strong problem-solving skills, a given in technology professionals.
2. Interpersonal skills: Once the expertise need is met, it is expected that the consultant has a personality that is influential across the different mix of audiences he comes in contact with. The consultant might be a geek obsessed with the workings of technology, but is versatile enough to present and negotiate with nontechnical professionals.
3. Delivery excellence: Once the expertise and soft skills are validated, the expectation moves up to excellence in delivery. The expectation now is that the consultant does a no-nonsense job of working well within the timelines, is calm and poised under challenging circumstances, and does an excellent job of going above and beyond just meeting his deliverables.
4. Value: Once the consultant meets the basic expectations, clients look for value. The consultant must bring value for money. Because consultants are often paid at a higher rate than some full-time employees are, or because business conditions necessitate offshoring as a cost-saving measure, it is expected that a consultant must implicitly prove his value every day.
5. Innovation: This factor often goes unnoticed. Clients expect consultants to contribute to the rising arc of meeting business demands, keeping them informed on better ways of doing things in the most creative manner. Innovating while saving costs and bringing value should be the highest endeavor of consultants.
It is not hard to notice that meeting all of these expectations and having a decent work-life balance can be a daunting task. However, to remind the reader, the premise of this book is that all these challenges can be turned into opportunities for growth that potentially lead to several satisfying possibilities.
Pitfalls and Gains
Several years ago, I was sitting in a secluded boarding area in the Cincinnati airport cursing my yet-again delayed flight and mentally picking the best place to eat. To top it off, I had the most awful experience with a client who couldn't possibly understand the difference between two very different platforms. Also, it had been a couple of weeks since I had eaten a decent homemade meal, and the proposition of another slice of pizza inspired some deep questions.
How did I land here?
Fate. I could have been the writer eating three or more homemade meals a day listening to Bollywood songs during breaks.
Exactly when did I turn into a consultant?
There was no "I have a dream. I am going to be a great consultant" moment either.
What can I do to improve my career?
I will answer that after that slice of spinach and garlic staring at me from Sbarro's.
Almost every consultant reaches a point where he starts to question his very making as a consultant. In my own career, I have had a lot of demoralizing experiences and there were several attempts to get out of the tiring nature of a consulting job. In terms of understanding the pitfalls, it is useful to get this perspective from a frustrated consultant:
1. Expertise: I need to keep my skills updated. Learning new skills requires time and energy outside of my day-to-day work. The pace of technology innovation is such that I can never claim to be a guru in any subject.
2. Interpersonal skills: I try my best to find common ground among the client contacts, my team, and various other stakeholders. I cannot claim responsibility for politics and differences of opinions.
3. Delivery excellence: Clients have this insatiable lust for doing more with less. The more efficient I become, the more demanding my clients become. I would rather keep their expectations low.
4. Value: At the end of the day, I strive to achieve maximum value for myself and for the client. However, there is always a clash of expectations. My client sometimes thinks I am a salesman, and my employer expects I should bring in more value.
5. Innovation: It is hard enough to keep up with my skillsets, keeping the client happy, and meeting my deliverables. My top priority is just to get my job done.
There are also consultants of a different breed, the ones who are content, happy, and extremely successful in their careers. The mind-set of such consultants tells a different story:
1. Expertise: My eyes and ears are always open for the new things that are happening in my specialty. I don't make any special effort to keep myself updated; things come to me. The client identifies me with a core skill, and I am happy to be approached in all aspects pertaining to that skill.
2. Interpersonal skills: The client sees me as a trusted advisor and a best friend in helping make his endeavors successful. I don't necessarily have to create a common ground between different types of audiences; however, it is clear that the client is aware of my intentions.
3. Delivery excellence: Being the client's trusted advisor, the client understands that I will try my best to rise to the challenges and deliver in time, to the best of my abilities. I always set clear expectations and goals with the client, and the client appreciates my transparency.
4. Value: To me, value means maximum bang for the client's buck. Every action that I take and every word I speak centers around value. I go "beyond billing."
5. Innovation: Innovation is not just the expertise I bring to the table, but it is also about my everyday interactions with the client. The more disciplined my execution, interpersonal skills, delivery and value, the more innovation I deliver.
The purpose of this book is to expand the consultant's awareness to help him shift from the place of stress and frustration to the other end of the spectrum, where the consultant learns a new approach to fulfilling his desires and create opportunities that help him become more successful. And while doing so, the consultant goes beyond treating his client engagements as just a billing exercise. He goes beyond billing and wins.
Image:
The book cover of Beyond Billing; Inset: Author Ravindran Gangadharan
Photographs:
Ravindran Gangadharan