Chat with the author of the hottest new IT thriller!
Anil Goel, author of Exit Point, took your questions on July 24. Read the transcript of the chat here!
A super-intelligent teenage girl is found dead with no apparent cause.
An Australian intelligence officer discovers terrible burn marks on sharks that have been going berserk off the coast of Bondi Beach.
A young reclusive tech genius is contemplating a suicide pact with an online soul mate.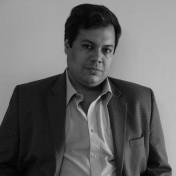 What connects these three seemingly unconnected incidents?
Anil Goel's thriller, Exit Point, shows us the dark, mysterious side of the online world... where everything is possible.
Goel, a computer engineer by education, is also the author of the bestselling Release 2.0: The Bangalore Imperative and has been hailed as 'India's first IT thriller'.
He took questions from you, our dear readers, on Thursday, July 24 about his latest book, writing and more.
You can read the transcript of the chat here!
ALSO READ On the Internet, no one knows you are dead
Photographs:
The book cover of Exit Point