Top 10 FMCG firms offering highest salaries in India
Courtesy TopTalent.in
As part of a series, exploring the companies that offer the best remuneration in a given sector, here's a detailed analysis of what it takes to build a career in the FMCG sector and why the future looks so bright for talented professionals.
FMCG stands for Fast Moving Consumer Goods and this industry in India stands fourth in the world.
It is called as such because the goods in this industry are sold pretty quickly and the costs are relatively lower.
However, the selling occurs in high quantities and when cumulative profits are calculated, the numbers are very significant.
FMCG includes a wide range of products that consumers use on a regular basis including toiletries, cosmetics, detergents, shaving items, soap, and so on along with a number of non-durable products such as batteries, light bulbs, and glassware.
Grocery items, meat, vegetables, alcohol, and cookery items also come under FMCG.
You must not forget household electronics such as music systems and refrigerators. These are FMCG as well and are specifically known as White Goods because they last for a long time.
Fast moving consumer goods are also known as consumer packaged goods and they do not last for a long period of time.
Their life can range from a few days to a few months. Only rarely do any of these products last for a year or two (except white goods).
This industry has always been among the top few in India and will only boom further because the demand for FMCG is only growing with time, mainly because all the products sold are daily use items.
Presently, it is growing steadily between 10 and 12 percent every year.
Scope of career
Since this industry is booming, it is a given that fresher individuals and professionals alike have plenty of opportunities to explore and to take advantage of in FMCG.
Marketing is the most important and the most attractive sector in the FMCG industry closely followed by operations and management.
Other areas include retail and supply, sales, and services.
Individuals choosing a career in the FMCG industry gain access to a platform that enables growth at every step.

Please click NEXT to continue reading...
Image:
For representational purposes only
Photographs:
Reuters
How much do professionals earn?
The pay package varies based on your educational background and your designation.
For example, an MBA from a reputed business school can easily expect a salary between 3,00,000 INR and 20,00,000 INR.
On the other hand, individuals with a Bachelor's Degree can expect salaries between 3,80,000 INR and 15,29,412 INR.
Designations include (from lowest to highest salary) Area Sales Manager, Brand Marketing Manager, Marketing Manager, Brand Manager, Marketing Director, Finance Manager, and Operations Manager among others.
Note: The numbers have been scaled on an average. Different companies may offer different pay packages for different designations.
These numbers speak for themselves.
Once you get into this industry, you will only see growth in terms of experience, learning, and pay package.
The FMCG industry is also quite interesting and since it is so huge, deceleration of the industry in nigh impossible.
You must not forget that the demand for FMCG is always on the rise because right from the time we start our day to the time that we end it; we use one product or the other.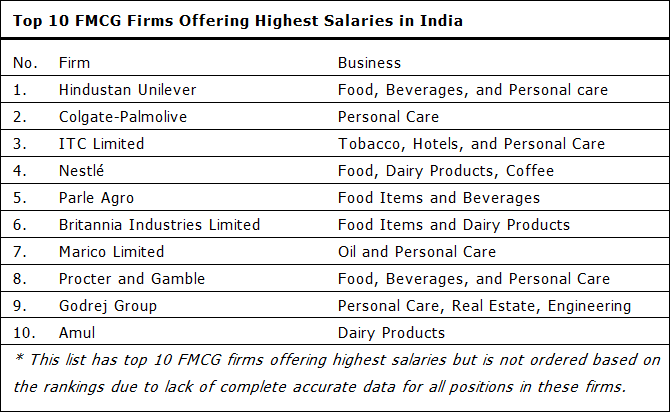 Please click NEXT to find the average monthly salary by job title and location...
Image:
For representational purposes only
Photographs:
Reuters
What is the average monthly monthly salary one can earn?
The graph below explains the average monthly salary by job title: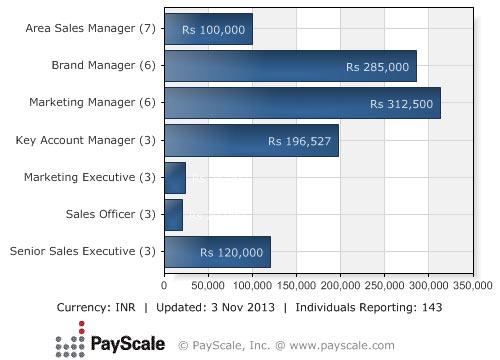 Meanwhile, this graph will give you a better understanding of the average salary by location: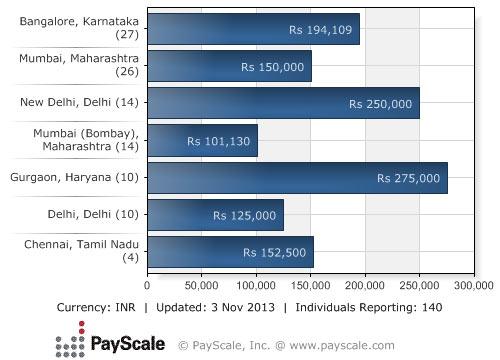 Also Read:
Top 10 Analytics firms offering the highest salaries in India