Guide to a career in social work
Shipra Abraham, Careers360
Besides a keen desire to make a difference, one needs concrete skills and understanding of the sector to excel in this field.
FAST FACTS
Where to study: Various government and private institutes
Eligibility: 10 plus 2 students with passion to do something for the society
Selection process: Marks in 10 plus 2 along with institute-specific tests
Recruiters: National and international, NGOs, government, MNCs
Priya Shishodia still remembers her first social work field visit.
It happened just two days after she enrolled for a bachelor's in social work at BR Ambedkar College, Delhi University.
A pure vegetarian, Priya visited an area famous for raw meat selling shops.
"I was saddened and wondered what course have I joined," she shares.
But into her third year, she has an absolutely opposite perspective. She likes her course and the field visits too, and at the end of the day feels satisfied.
"I feel elated when I see those kids and women smile at me when I talk to them," she says.
Stress on field work
A study programme in social work aims at developing individuals with a holistic view of the community they live in.
A student tries to understand the complex transactions between people and their environments.
It involves much of field work that exposes students to what they are supposed to do in the field.
Theory might involve some of the matter not applicable directly to the domain but it's needed with the thought to build a certain kind of orientation.
The subjects include Psychology, Communication and Development, Physical, Mental and Community Health, Social Policy, NGO Management, to name a few.
"A course in social work would give one a deeper understanding of issues and equip one with the research and organisational skills required. But the driving force would still be passion for creating positive change. Many people who have seen success in personal and professional growth in the development/NGO sector have not done a course in social work," says Brikesh Singh, Manager, Public engagement, Greenpeace India.
Please click NEXT to continue reading...
Image:
All images for representational purposes only
Photographs:
Courtesy Careers360
Graduates are hired for fundraising and public engagement activities
Social work as a profession in India passed its infancy long back and in the last few decades it has emerged as quite a demanding profession in the country.
While there are several opportunities available directly after doing a bachelor's degree in social work, these would largely be at the lower programme and field work level in various government and non-governmental organisations (NGOs) as well as in government ministries.
Students can apply for community work, as a volunteer, fundraiser, research assistant, public engagement, communication intern, etc.
In Greenpeace the fundraising and public engagement team has big participation of fresh graduates.
International organisations too are socially aware and hence a number of opportunities are available in international social work. Industrial and commercial units too are looking to hire social workers.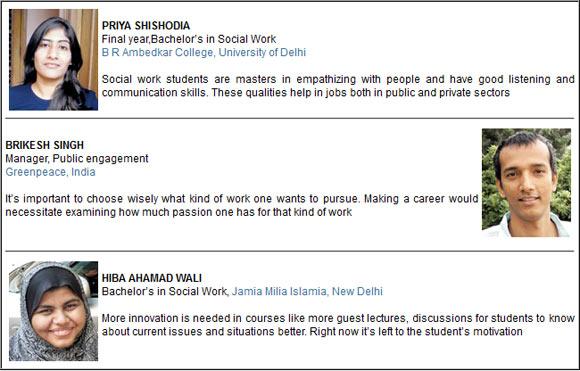 Volunteers Vs Social work students
"Social work students are often treated as volunteers. You are instructed to do those things without knowing why you are doing them, and in turn your plans don't work out," says Hiba Ahamad Wali who pursued her Bachelor's in Social Work from Jamia Millia Islamia.
She explains that volunteers are those who would teach in a class, participate in health camps, fill in registers and forms but social work students are not supposed to do such things.
This happens because mostly supervisors are not qualified specifically in social work.
Even if they have been working in the fields for many years they don't understand what students are supposed to do as part of curriculum. Moreover, they remain so overworked that they do not have time for students.
Other on-the-job challenges include working and travelling in tough conditions - in rural and in/with under-served areas and communities.
One needs to be apolitical and not give in to vested interests in service delivery or advocacy.
Photographs:
Courtesy Careers360
Choose from a range of profiles; earn upto Rs 30,000 per month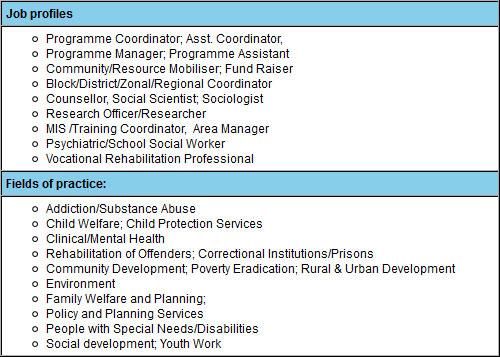 Remuneration
Salaries in social work at initial level are not that high.
If one gets to work in international NGOs and in CSR units of large firms, the pay is good. But Indian NGOs have pay bands that are much lesser.
Like in Greenpeace India, a Bachelor's degree holder can expect around Rs 15,000 plus allowances as a fund-raiser (involving a lot of out-door and field work) or Rs 30,000 as a junior campaigner.
Photographs:
Courtesy Careers360.com