LIVE Chat: Everything you can do in the music business!
Musician D Wood will take questions on careers in the music industry today at 3pm

Some of us are tone deaf. But then there are others who can hear music everywhere they go -- the rustling of the leaves, the crashing of the waves, heck even in the honking of the traffic!
Over the years, the music industry in India has grown leaps and bounds. Arguably, there has never been a better time for independent bands in India than now and not to mention the many radio stations that have mushroomed around the country.
Then of course there is Bollywood which is possibly the most reliable source of income for musicians and sound engineers among others.
If music is your thing, there is a lot you can explore in the field. You needn't be a guitarist or a drummer or a singer to be part of the industry.
D Wood, an accomplished musician and a faculty member at Whistling Woods International School of Media and Communications will take questions on avenues in the music industry. Join him for a chat on Rediff ZaraBol between 3 and 4 pm today.
Click on the red button above or this link right here to post your questions!
---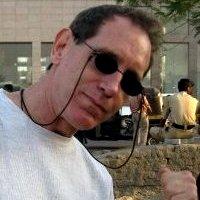 D Wood has produced music with leading music artistes around the world as well as composed for critically acclaimed films in India including Dev Benegal's English, August and Mani Kaul's Idiot and Nazar among others.

Having graduated from the Berkley College of Music and the Beacon College in Washington, D Wood came to India as a Fulbright Scholar and has collaborated with several Indian and international musicians.

He will take questions on careers in the music industry between 3pm and 4pm today.

Image: Metallica fans await entry to the F1 Rocks India Metallica concert in New Delhi
Photograph: Andrew Caballero-Reynolds/Getty Images
Also read: • She's helping independent artists launch their music for FREE! • She is India's first classical music entrepreneur • He preserves musical gems for the next generation • IN PICS: Lives of India's wedding band musicians • Indian wins top international music award