How I cracked the CAT
Courtesy Careers360.com
Excessive effort in the wrong direction is equal to putting no effort at all, says Kumar Pratik who cracked IIM Calcutta PGDM admissions with a CAT percentile of 99.7.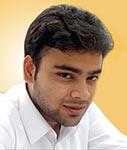 Kumar Pratik cracket CAT 2013 with a percentile of 99.7 and secured admission at IIM-Calcutta. Here he shares his CAT success strategy and also talks about how he converted his weak areas into one of the strongest sections during his preparation journey.
The CAT topper also advice aspirants on how to keep fundamental concepts strong during the CAT preparation stage.
Pratik, who dreams to be an entrepreneur is a big movie buff says that CAT preparation is like an indulgence into a recreational activity. Read on for his CAT success mantras.
What motivated you to pursue MBA? What do you aspire for?
My motivation for pursuing MBA is to use the platform that this programme provides to excel in all aspects of life.
I felt that I had a knack for analytical skills along with creativity, management techniques. And, it seemed realistic to pursue a management course which could teach me how exactly to use my skills.

My aspirations are to work for a reputed firm, learn and experience the role and process of being a successful entrepreneur.
In the future, I will invest in my own start-up company.

Apart from CAT 2013, which other MBA entrance exams did you take. How did you fare?
I took XAT, IIFT and NMAT among other entrance exams. But my focus was entirely on the CAT.
My performance in all these exams was satisfactory, but my ultimate goal was to crack the CAT which I did by scoring 99.7 percentile.

Which other B-schools made final admission offers to you. Why did you selected IIM Calcutta?
I chose IIM-C because of the long illustrious history associated with the institute and the fact that it is one of the highest ranked b-schools in India.
Other b-schools that offered final admissions offers were the IIM-Rohtak, Udaipur, Tiruchirapalli and NMIMS.

What was your preparation strategy for CAT 2013?
The strategy was simple -- understand the concepts, solve a lot of questions, fix weak areas and give as much mock tests as I could.
I kept following this plan every month and achieved my aim.

Do you think coaching or mentoring is important to crack CAT or any other MBA entrance tests?
It is important to take coaching from a reputed institute or sign up with a mentor who can guide you with a plan for the preparations.
With proper time management and expert tricks, a student also gets a chance to solve mock tests which gives an insight about how to solve the actual exam.
Besides that, the counselling you receive from experienced faculty further motivates you to achieve your goal.

How did you manage your CAT preparation schedule along with your graduation?
Somehow, I never felt the need to balance or manage the two.
I compromised on graduation scores a little bit to gain on the CAT score.
I felt that five days were enough for the end-term exam preparations and the time I would use to study for these exams could be put to better use studying for CAT.
Obviously, the key point here is that I did put that time to use studying and not just dawdling around.

Please share your preparation strategy for different sections.
Quantitative Ability: I have a strong background in Quant.
The strategy was simple -- try to eliminate options and get answers first.
If it's a 'type' question, apply the method and crack the code.
If it requires special effort, attempt other questions first and solve it later.

Data Interpretation: I had difficulty coping with DI in the beginning, and my mock CAT scores were very poor in DI.
So, I took a module on DI, sat in the library the entire day and finished all 10 exercises at once.
Each day I solved a maximum number of questions maintaining my speed. A few weeks later, I found the DI sections to be easier to solve.

Verbal Ability: Read, practice and write, the only strategy that would let you succeed in this section. Increasing vocabulary is also the key to success.

Logical Reasoning: LR is all about practice.

What was your time management formula while taking the actual CAT paper?
Solve short/easy questions first. Once you answer all the easy questions, come back to the tougher questions, relax, manage time and solve.
Never stick to one question for too long.

What were your strong and weak areas? How did you work on them?
My strongest areas were Quant and Verbal sections; I had to work hard on DI and RC passages.
I practiced speed mathematics and solved 10 DI exercises at a stretch to get the hang of it.
For RC, I practiced Critical Reasoning questions and read up on fallacies to eliminate options.

What is your advice for MBA aspirants who will appear for CAT 2014?
Don't waste time and energy on questions that you are unable to solve; learn to channelise your efforts in the right direction.
Investing excessive effort in the wrong direction is equal to putting no effort at all.
Give lots and lots of mock. Identify and rectify your weak areas.
Once you've prepared well, just relax and be confident.

How important is recreation for you? How do you unwind?
Preparing for the CAT was more of a recreational activity for me because I only did it in my leisure time, after I was through with football, movies, guitar etc. So, it was never a burden.
All I did was attend coaching classes regularly, listen to my teachers and spend enough time in practising papers.
I am a movie buff and would watch a lot of movies. I like watching all genres except drama and war.
My favourite movies are The Truman Show, The Man from Earth and The Prestige.
ALSO READ: What's new in CAT 2014?
Image:
Indian Institute of Management Calcutta
Photographs:
Varun Singh/Wikimedia Commons