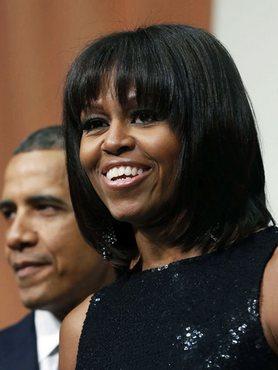 What do you think of Michelle Obama's new hair-do? Tell us!

As President Barack Obama prepares for his second inaugural address right after he takes an oath to 'faithfully execute the office of the President of the United States', he will not be the only one on journalists' radar. Also making news is First Lady Michelle Obama whose brand new hair-do has garnered considerable press.

People StyleWatch described it as 'a youthful new hairstyle: a straight, shoulder-skimming cut with bangs', while Huffington Post called it 'a total shock to system'.

Gawker brushed it aside ('Eh, they look better swept to the side') but New York's Daily News gave it a two thumbs up ('Bangtastic!') as did Wall Street Journal that described it 'a bold move at a high profile time for the First Lady'.

What do you think about Mrs O's brand new look! Vote and tell us!