It's never too late to squeeze these into your schedule.
Craving to travel in January, but don't know where to start?
Here are our Top 5 options.
January 14 to 17: Tamil Nadu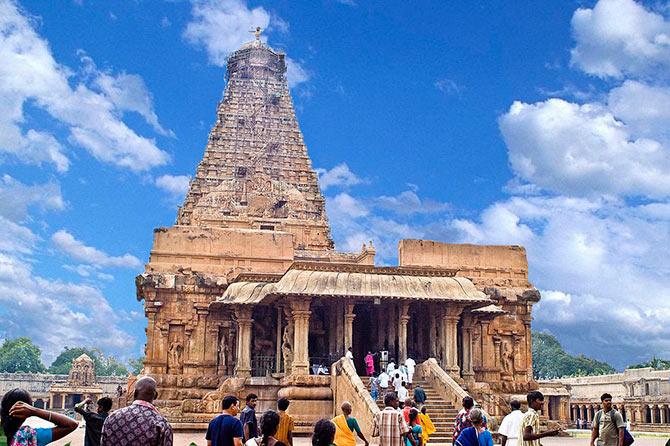 IMAGE: Thanjavur's Brihadeeswarar Temple.
Photograph:Courtesy Hafiz Issadeen/Creative Commons
Why: Pongal
The harvest festivities take place over four days and the entire state is brimming with activities.
Make sure you stay away from main cities and visit a village to get a feel of the traditional celebrations.
Things to do: Visit Thanjavur's Brihadeeswarar Temple, which is dedicated to Lord Shiva, and has stone carvings painstakingly done by the mighty Cholas.
A trip to the 'Niagara Falls of India', Hogenakkal is a must. Hogenakkal is considered to be a sacred bathing place and its waters are known to have magical curing powers.
When in Chennai, don't forget to try late Amma's Idlis. Amma's canteen charges Rs 1 for an idli, Rs 3 for curd-rice and Rs 5 for sambar-rice.
The gunpowder idli and authentic filter kaapi should also be on your food list.
---
January 14: Ahmedabad, Gujarat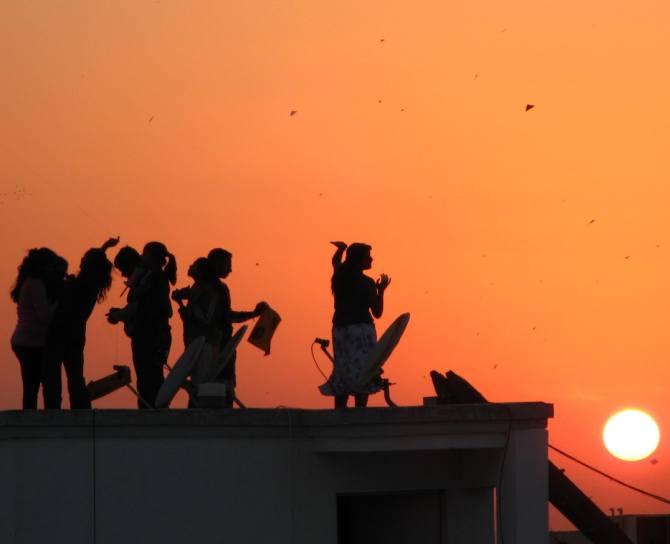 IMAGE: People celebrate Uttarayan, the onset of spring, with great fervour in Gujarat.
Photograph: K Krishnan/Wikimedia Commons
Why: International Kite Festival
This is a once-in-your-lifetime experience! There are special trains running from Mumbai to Ahmedabad so you have no excuse to skip the festival, especially if you're living in Mumbai.
During the day you'll spot building terraces filled with families partaking in the frenzy.
The night festivities begin post sunset as families release paper lamps from their terraces -- a spectacle to watch.
Things to do: Set out on a heritage walk in the pols of the city organised by the Ahmedabad Municipal Corporation.
Head to a local eatery and indulge in a plateful of kachoris, tal, mamra, sing ni chikki, jalebi and undhiyu.
You can also visit a 100 year old eatery Chandar Villas in Manek Chowk or watch the sun set at Sarabmati Ashram.
---
January 14 to 15: Bikaner, Rajasthan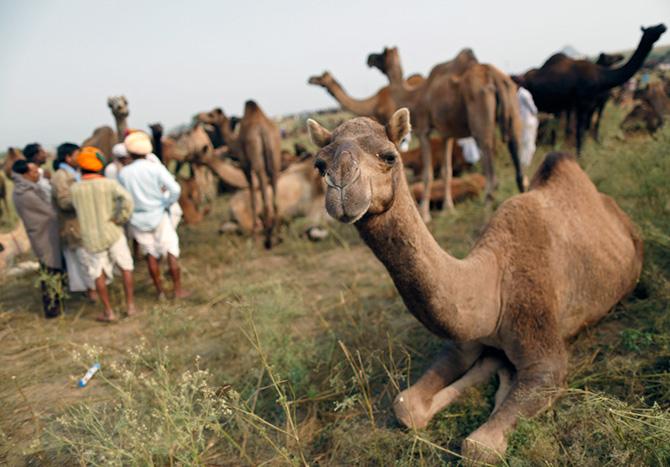 IMAGE: Love camels? Then the Bikaner Camel Festival is meant for you.
Photograph: Ahmad Masood/Reuters
Why: Bikaner Camel Festival
The weather is perfect and if you reach on time, you'll get to experience an annual festival dedicated to the ship of the desert.
The celebrations include camel races, camel milking, fur cutting, best breed competition, camel rides, tugs-of-war, dancing camels and a camel pageant too!
Things to do: Take a tour of a camel breeding farm or join a camel safari.
When at Bikaner, visit Karni Mata temple where rats are worshipped.
How to get there: It is around 30 km from Bikaner.
---
January 19 to 23: Jaipur, Rajasthan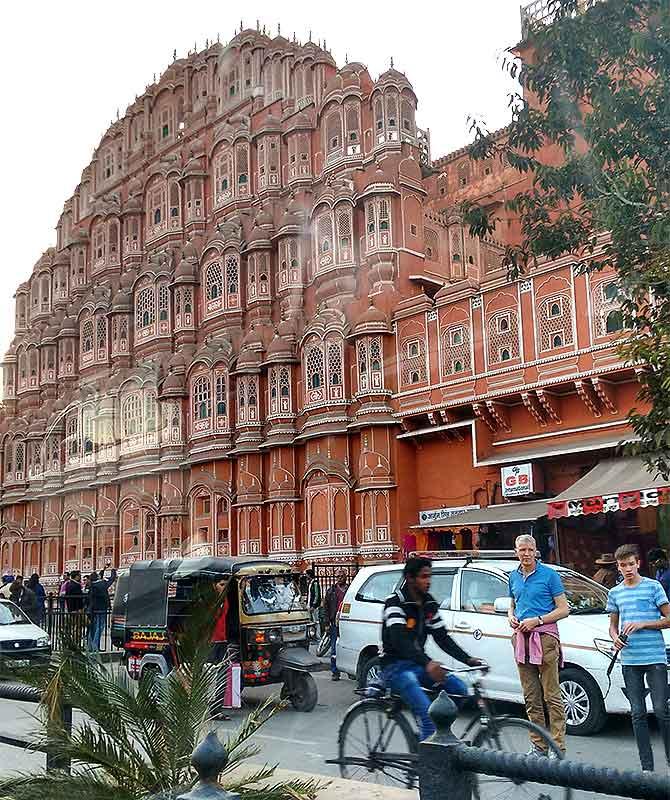 IMAGE: Hawa Mahal in Jaipur.
Photograph: Rediff Archives
Why: To attend the Jaipur Lit Fest
It's here that authors from South Asia and across the world come together for five days of readings, debates and discussions at the Diggi Palace in Jaipur.
The theme this year is 'The Freedom to Dream: India at 70.'
Things to do: The Jaipur Lit Fest will occupy most of your day, but in the evening, you can head out on a tour of Jaipur.
There's the majestic Amber Palace, the City Palace and the Hawa Mahal (Palace of Windows), known for the invigorating breeze that blows through it.
---
January 26 Delhi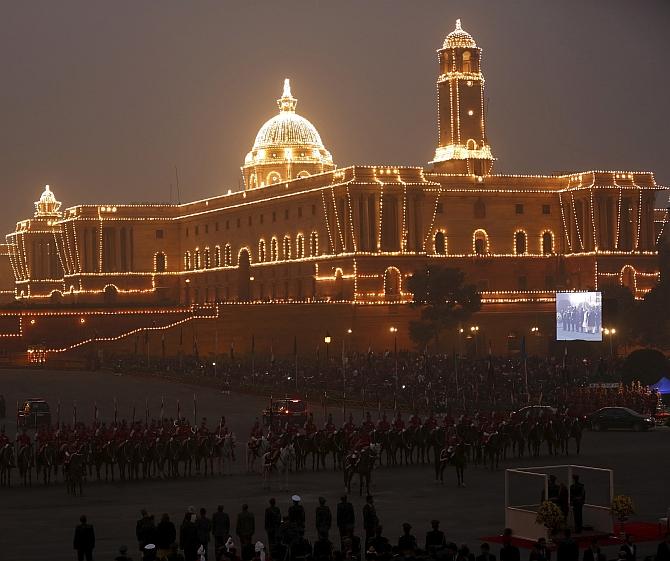 IMAGE: The illuminated Home Ministry building during Beating the Retreat ceremony in New Delhi. Photograph: Altaf Hussain/Reuter
Why: Republic Day celebrations at the Rajpath
Ditch the norm and make 2017 special by visiting Delhi and attending the parade at Rajpath.
Make the best of the long weekend and visit Delhi.
You can also head to Wagah Border to experience the beating retreat ceremony as forces from both sides perform the 'show of strength'.

Things to do: When in Delhi, you can also visit the Red Fort and India Gate.
You can also pay a visit to Wenger's, one of the oldest bakery and confectionery in Delhi.
Craving for parathas? Simply head to Parathewali Gully at Chandani Chowk.