Geetanjali Krishna meets the Ravana makers of Titarpur.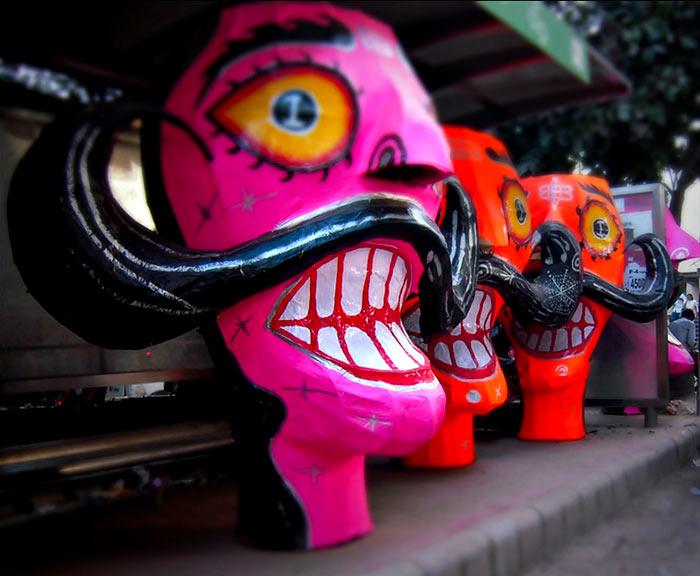 IMAGE: Paper-mache heads of Ravana line the roadside in Titarpur. Photograph: Kind courtesy kaniths/Flickr
It's that time of the year again.
I take the Blue Line of the Delhi Metro to Titarpur, where a familiar sight awaits.
Papier-mache heads and stout bamboo frames shelter by the roadside.
Oblivious to the cars whizzing by and a rank urinal next door, men work on building effigies of Ravana ahead of the festival of Dussehra at the end of September.
They paste layer upon layer of paper on frames that will eventually form Ravana's hollow torso.
The torsos have, I see, a large vent at the back for the crackers to be piled in just before the effigy is burnt to commemorate the victory of good over evil.
As I take pictures, a young fellow clambers out from the vent and grins. "I've just come out of Ravana's stomach," he says. "I guess that makes me his son."
He tells me that, every year, a temporary colony of migrants comes up in Titarpur to cater to the capital's demand for Ravana effigies.
"But when the actual day comes, none of us has the heart to watch him burn," he says, nimbly disappearing inside another torso.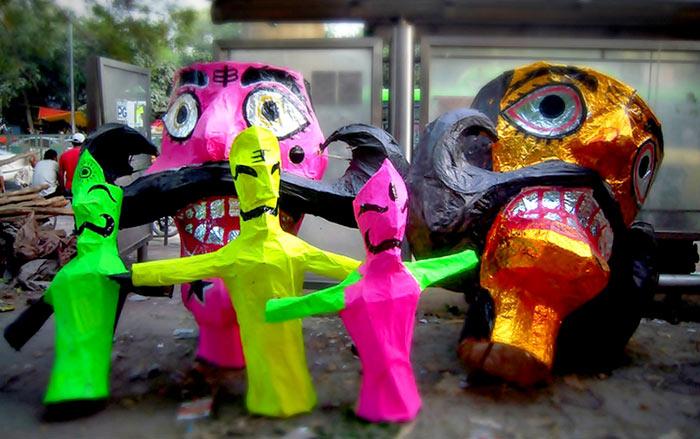 IMAGE: Every year, a temporary colony of migrants comes up in Titarpur to cater to Delhi's demand for Ravana effigies. Photograph: Kind courtesy kaniths/Flickr
As I walk around, I recall the performance last week by Darwesh, the Delhi-based performative storytelling group I've long admired -- Ravula: Unheard Tales Of The Ten-Headed Asura at Studio Safdar, a couple of Metro stops away from Titarpur.
On a darkened, rudimentary stage, the Darwesh team -- Yuweka Singh, Madhavi Menon and Nitika Arora -- portrayed Sita's swayamvara, in which, according to a rarely heard Kannada myth, Ravana recognises her as his long lost daughter.
The story goes that the childless couple, Ravana and his queen Mandodari, seek a mendicant's help to conceive a child.
The mendicant, actually Shiva in disguise, gives Ravana a mango and instructs him to feed the flesh to his wife and lick the seed himself.
Hungry after his penance, Ravana eats the flesh and becomes pregnant.
His pregnancy lasts nine days, at the end of which the baby Sita is pushed out by a mega sneeze.
In Kannada, 'Sita' translates into 'he sneezed' and, in Sanskrit, it means 'the furrow', in which she is later found by her adoptive father, Janak.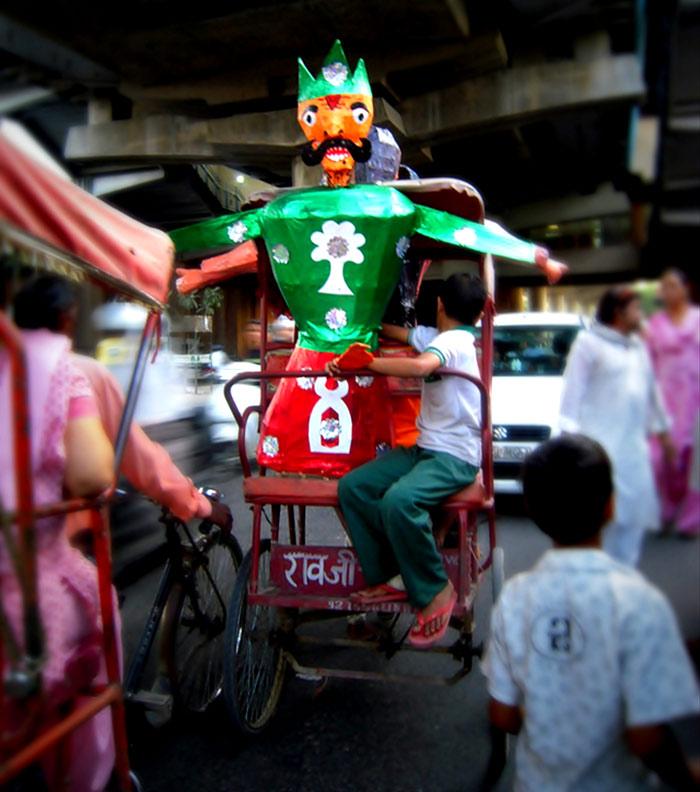 IMAGE: A cycle rickshaw is used to transport a Ravana effigy to its final destination. Photograph: Kind courtesy kaniths/Flickr
Walking down the crowded lane in Titarpur, where dozens of Ravana effigies lie piecemeal and stacks of shiny paper wait to be converted into glittery ornaments, reminds me of another myth that team Darwesh retold.
Ravana was the son of Vishravas, a Brahmin, and the Asura princess Kaikasi.
Growing up, Kaikasi and her children were dirt-poor, dependent on the largesse of a mostly absent father.
Vishravas's elder son by his first wife -- Kubera, then ruler of Lanka -- treated his step-family like they were beggars.
Through the force of his penance and prayer, an aggravated Ravana was granted an invisible sword by Shiva, with which he conquered Lanka and avenged his mother's self-respect.
The cartoonish Ravana effigies in Titarpur, 10 mustachioed heads and all, suddenly don't fit my mental image of a man who forced even Shiva to acknowledge his wisdom.
For that matter, I can't understand why someone as wise as he would kidnap Sita anyway.
Then I remember how I found myself in Ravana's supposed birthplace some time ago, when we lost our way in Delhi's rural hinterlands in a bid to escape a traffic jam.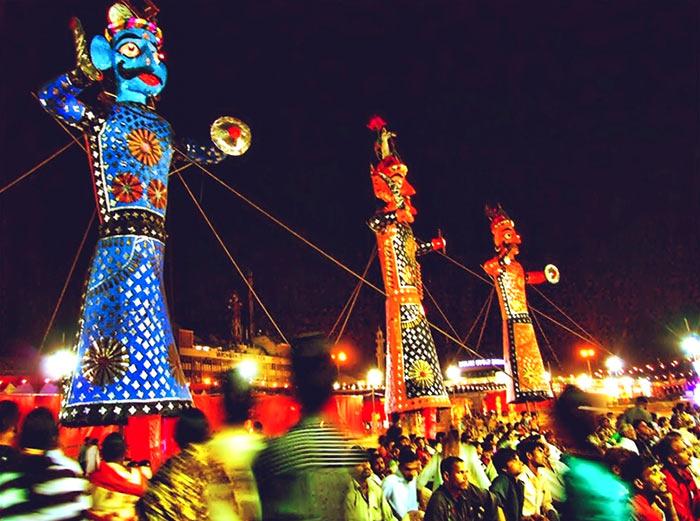 IMAGE: The Ravana effigies tower in Delhi's maidans until it is time for them to be burnt. Photograph: Kind courtesy kaniths/Flickr
Bisrakh is a dusty, nondescript village in Greater Noida, with a small temple that has a statue of Ravana.
Many in the village eschew the traditional Dussehra and Diwali festivities for prayer and repose.
I asked a woman sitting outside the temple how she felt about living in the land of Hinduism's most dastardly villain.
"We don't know if he was that," she said. "What we do know is that no man is perfect -- and neither was he."
Darwesh's stories resound in my head as I board the Metro back home.
I turn back for a last look at the Ravanas on the road, musing that it is overly simplistic to celebrate the victory of good over evil on Dussehra.
Good and Evil, as well as beloved myths like The Ramayana, are better conceived as narratives in a perpetual state of flux.
Instead of absolute black and white, perhaps on Dussehra, we should acknowledge the myriad shades of grey.
As for the rest, I've never enjoyed burning effigies anyway.
More pix: The Titarpur Ravans: Kind courtesy kaniths/Flickr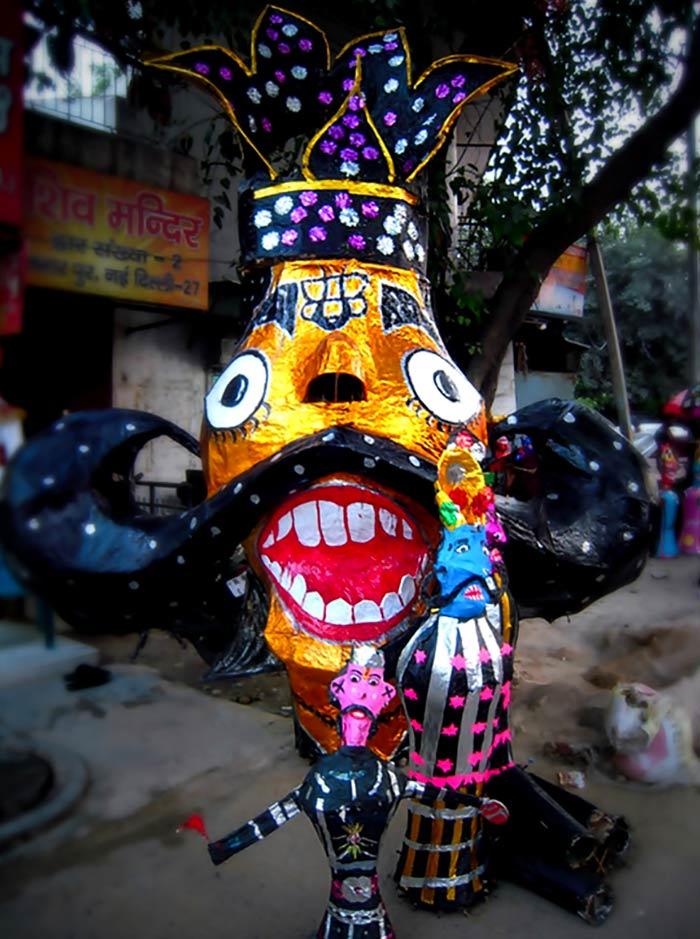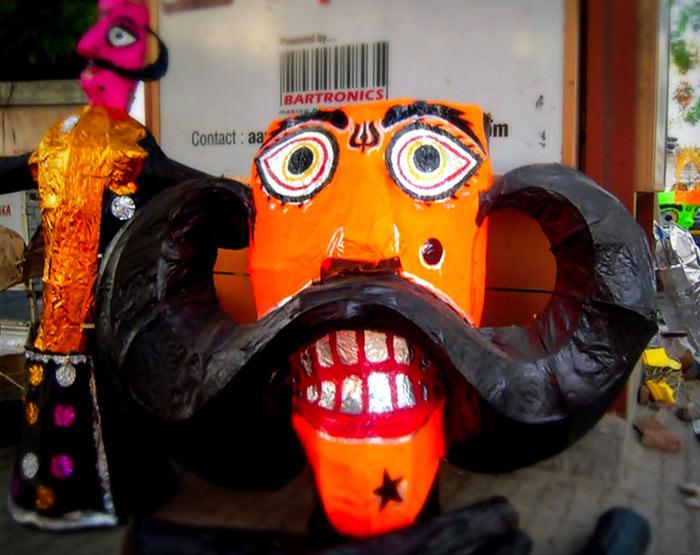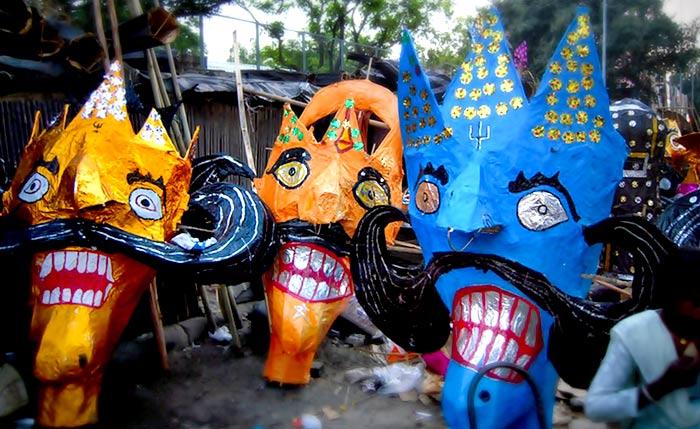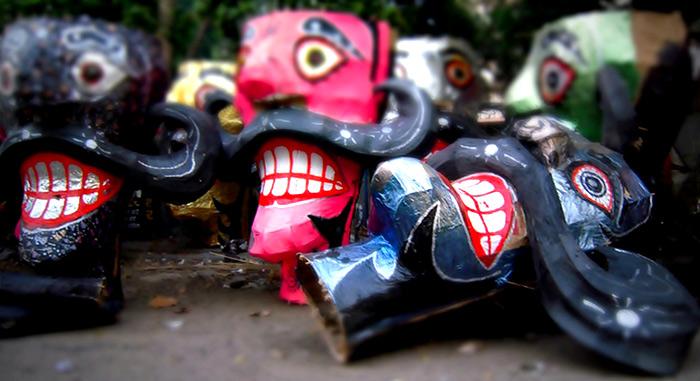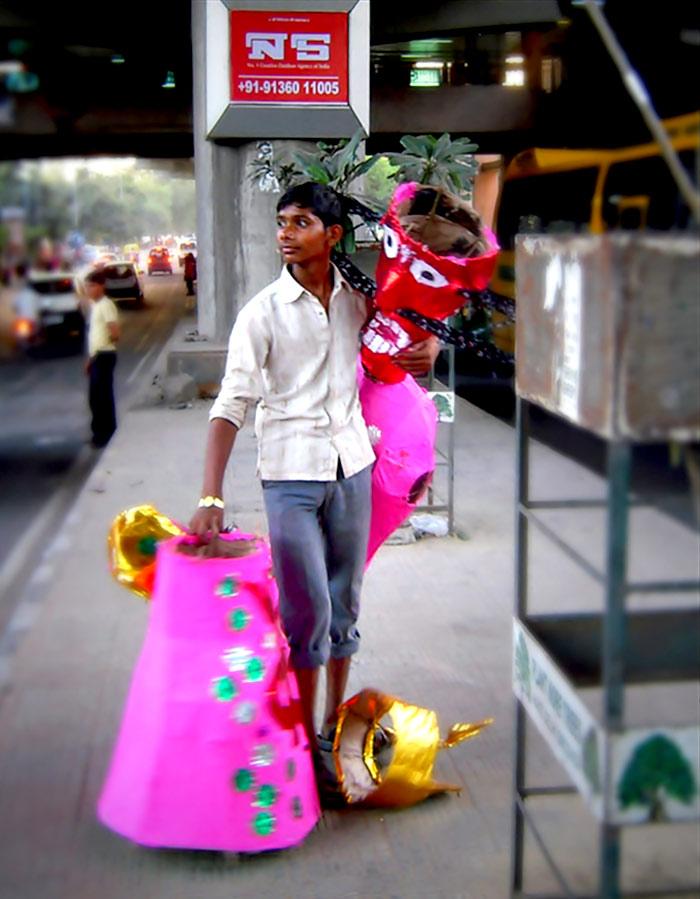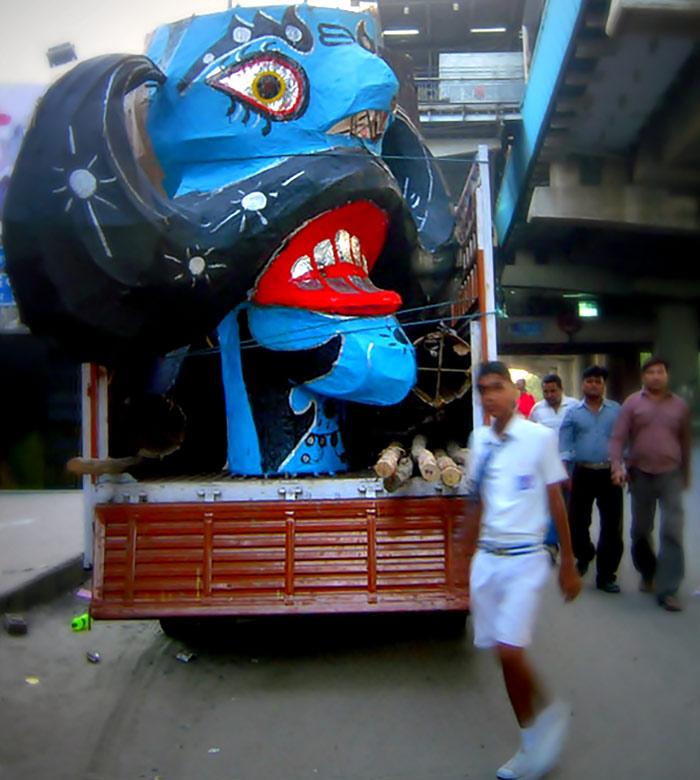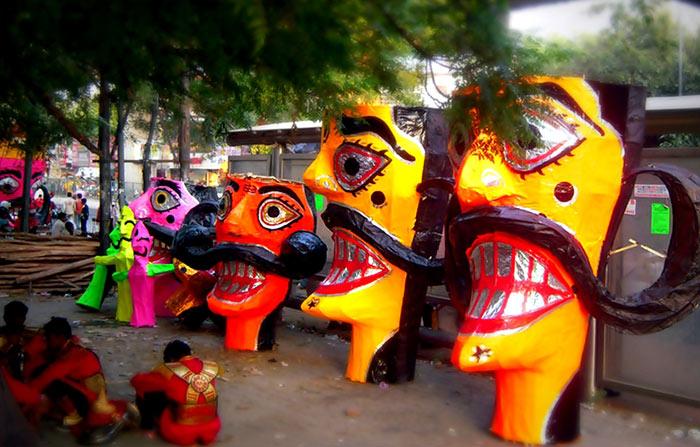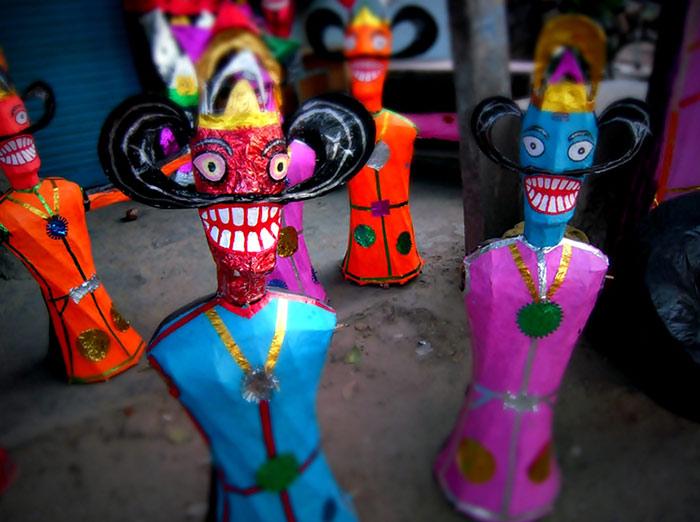 Titarpur is easily accessed by a half-an-hour ride on the Delhi Metro's Blue Line.