Indians have proved themselves as highly competent businessmen, superlative professionals, innovative entrepreneurs, and toppers in academics.
Then why do we let so much of this be disregarded by certain aspects recognised as characteristically "Indian" traits and not in admiring men?
Illustration by Uttam Ghosh/Rediff.com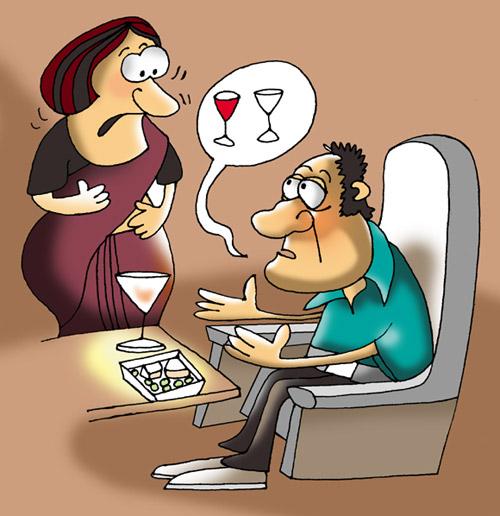 I'm looking at some photos from more than two decades ago.
Mildly discoloured, but still able to evoke nostalgia, and the thrill of my first visit to Europe -- in fact, my first foreign trip.
Paris, Venice, Rome, Milan, Nuremberg and Brussels -- I'd listened to animated tales of European cities from my parents and grandfather.
And there I was, "doing" it all -- the enchanting, storybook cities, beautiful countryside sparkling clean steeples glistening in the sunshine with an azure sky so clear in dust free Europe!
I'd wondered why they'd ever want to visit India?
Over time, destiny and inclination has given me hugely extensive travel exposure over the globe -- and indeed "I love my India" (as the song goes) and jump to defend any slur upon its good name.
I stand up strongly against the mildest racial slight to a fellow Indian, be it in England, in a flight by airline staff or anywhere. That said, at home I'd like to say that we often call upon ourselves some deserved disparagement.
In all these years, when I encounter the clean environs of Switzerland or our Asian paragon Singapore accompanied with courtesy and always a tissue when they *ahem* sniff, I do yearn for a model upgrade for my India.
Indians have proved themselves as highly competent businessmen, superlative professionals, innovative entrepreneurs, and toppers in academics. Then why do we let so much of this be disregarded by certain aspects recognised as characteristically "Indian" traits and not in admiring men?
I'm driving towards Lonavla on the Pune Expressway -- a countryside that blooms with beautiful greenery. Come monsoon and it's littered for long expanses along a sloping hillside below some village or township with plastic and other waste right in sight of the drive!
Ruining an otherwise lovely countryside! Whither svachha bharat?!
And never mind the TV promotions with actor Aamir Khan admonishing against spitting in public or ugh! relieving themselves along city walls in full sight followed by a relaxed crotch scratch?!
Worse there was a picture doing the rounds on digital media that had a traditional woman in full display with a sari covering her head, defecating by a roadside with two cellphones on each ear.
Progress is not only about smartphones and 5G in India! (For your information, that picture went viral!)
I have myself witnessed along a road bordering the posh Pali Hill (Mumbai's Beverly hills) with women from an adjoining slum holding umbrellas in the gentle rain companionably exchanging morning gossip as they squat with bare bottoms on a roadside, exposed to passing traffic. Probably a unique tourist attraction. Unparalleled in any other metro of the world!
We shift the scene, I'm returning from Germany last week.
On the flight was an Indian gentleman. Since he'd 'squandered' wealth on a business class seat, he felt it his bounden duty to extract full value for money spent -- the number of times he called for the flight attendants!
I don't know if it was his first flight, but he seemed of the opinion that the term 'flight attendant' was quite interchangeable with 'servant' as we know it in India! I cringed with embarrassment.
This brings to mind my high profile German host -- after some cross-country driving, terminated the transaction with a courteous bow and a handshake with the lady-chauffer of the hired car attired in a smart dress suit and accessories. As respectful as one professional to another.
On the other extreme are our other travellers who are so intimidated by the "gora suited-booted" onboard staff and timidly remain hungry as they twiddle with an alien non-vegetarian meal presentation, too timid to ask for a vegetarian meal.
As is human nature -- here the attendants do tend to intimidate them further.
I'm not sure I like the way they go "tch" so obviously and sneer at them fully venting pent-up work peeves on the crouched subject, mentally expostulating the ire of the former over demanding passenger upon this nervous specimen of India.
It's a global world and no doubt other cultures have their quirky candidates -- after all human nature is all about individual selves -- but underlying cultures are certain type-casting generalities.
What our endeavour needs, I feel, is to be about an upgrade of our behavioural and lifestyle patterns before we upgrade to the Bottega Veneta wallets and Croco Birkin's. Towards presenting a more aesthetically endowed, more empathetic, and more globally acknowledged presentation of the general Indian.
Even our economic growth is amongst the highest in the world. I think many would agree, that we need a makeover from the grassroots up till it transforms our aesthetics and we come across not just proud of our ancient culture but are also a refined people today.
Singapore did it in one generation! I remember eating corn on the cob there, and carrying the wasted cob in my handbag to the hotel as I couldn't sight a dustbin at the spot where we were!
Contrast that with the carefree crassness as this 'socialite' in a swanky car and even swankier togs flings an empty packet of crisps out of car windows onto Marine Drive and I recognise her with her manicured hands while she's quite sure she's not being caught in the act? Or trashy bits out of residence balconies, on the rationale "Oh it's already so dirty out there!" Tch tch tch!
We are a warm country and our foods are redolent of the aromas of onions and garlic! Which of course, brings me to Bombay's age old social maven who dresses up to the nines with those of sweat fumes wafting around her expensively got up person. Deo!
Or this other kitty-party aunty where I am caught in the affectionate encirclement of this lady friend, as she renders fond "mwah-mwahs"!
Imagine the affront to an airline passenger beside her who cannot jump out of the plane? Mouthwash!
You wonder why the dentist is looking out of the window while he's torturing her teeth.
The torture, my friend is mutual! Mouthwash and deo!
Never mind the chemicals -- they're more acceptable than the "organic" vapours you exhale.
Dear readers, have you had similar bad experiences on your travels? Or did you meet some interesting people who left a positive mark on you?
E-mail us your travel experiences, good, bad and awful with us (subject: Travel Woes) and we'll publish the best responses on Rediff.com