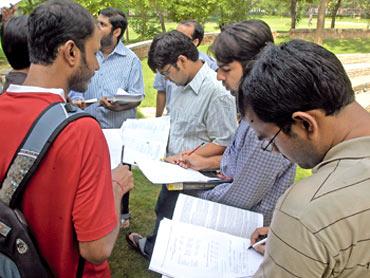 As the long election season winds down, Confidence Uwazuruike speaks to first time voters from across campuses to find out what is it they want from the government.
More than 100 million people were eligible to vote for the first time in the 2014 Lok Sabha election, and a fair number of these new voters are students. And for most of them the state of education in the country has been the greatest determinant of who they cast their votes for.
Shishir Samant, a 21-year-old management student from Lala Lajpatrai College of Commerce and Economics in Mumbai, says the only thing that matters to him and his friends is the state of education in the country.
"Economic issues do not influence us at the moment," he said.
Like many other students, Samant is not happy with the state of affairs in the education sector. His college is affiliated with the Mumbai University and he thinks the government should take responsibility for anomalies in the system.
Supriya Bwivedi, 20, a medical student at the B J Government Medical College in Pune, had the same opinion as Shishir. She said: "Some things are neglected, the funding to run hospitals and medical facilities is not there, and the money people get is not equivalent to their work."
Many others said the lack of infrastructure has made learning difficult; it has made many courses largely theoretical.
Sneha Murchavade, 20, a student of commercial art at Sophia College for Women, Mumbai, thinks that with a little more practical classes, colleges in India should be able to compete globally.
Apart from providing the right environment, the students also expect a government that would be willing to review policies.
Proshant Chakraborty, a student of anthropology at St Xavier's College, Mumbai, says there is too much State control and censorship in education. "Books that are thought provocative by one person are dropped. Education has been politicised, so whoever comes to power controls it," he said.
Not everyone, though, thinks the system is as bad or that the system needs to change drastically. Anshuman Preenza, 19, a student of mechatronics at the University of Petroleum and Energy Studies, Dehradun, expressed satisfaction at the pace of progress.
"We are gradually turning to a more practical approach. Exams are now application-based questions. Five years back we didn't have this amount of logistics. I think things are changing for good," he said.
He was, however, quick to distance the government from any of this achievement and thinks a more proactive government would make things even better.
Koran Hemant, a medical student at Rural Medical College, Loni, Maharashtra, feels that what is needed is dedication from students; tools and infrastructure don't matter too much if there is no dedication from students. But even he thinks that things have to change. He, for example, finds the common entrance test for medical colleges unjustified.
Some students though felt that things other than education should influence their votes. Pankhil Mispry, 20, a student of the Veermata Jijabai Technical Institute in Mumbai, said: "I thought first about development. I wanted a leader who would give attention to the manufacturing sector, improve the railways and other forms of transportation."
A majority of students have expressed discontent about the level of education, especially its lack of practical classes. Some of this problem has been linked to government policies or, in some cases, inaction.
"I also had education in mind when I was deciding who to vote for. The kind of education that I like takes place only in private institutions. Government colleges have the intellectual crowds that are not treated properly. Private institutions have the rich crowd. At the end there is no proper manpower," Pankhil said.
The students linked the poor state of education to the government and most thought that a new government might make this better.
"I hope for a new government. This present government has had 10 years and has not worked. Nothing will change if they continue," Sneha said.
Even Anshuman, who thinks that the institutions are improving, wants a new government. He said: "Change is always better. Let's see what a new government can do. Let's give other people a chance."
This coverage is part of Project India, a journalism initiative organised by Bournemouth University, the UK, and supported by Rediff.com.