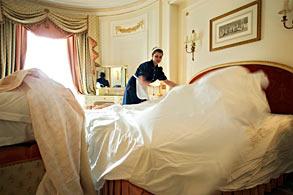 When they're not busy trying to protect their female staff from inappropriate overtures by over-friendly customers, hotels have to cope with harassment of a different kind -- thievery.
The sexual harassment case slapped on Phaneesh Murthy brings to light, again, a devious form of workplace exploitation. Never an easy problem to spot -- much less locate evidence for -- sexual harassment in the workplace is normally thought of as the systematic abuse of one's position or seniority, to seek sexual favours from junior, mostly female, employees. However, there are other kinds of harassment that women employees in client-facing roles face, as the experience of my friend Kiran shows.
Kiran, at 22, is the perfect embodiment of the new India, exemplified by the votebank-agnostic young whose massive mobilisation for the Anna Hazare campaign and the protests over the gang-rape surprised even seasoned social commentators. A student of hotel management in Pune, she is independent, ambitious and devoted to her job. Of the various hotel management disciplines, she likes front office and service the most.
One aspect of the hotel management programme is the mandatory internship at a hotel to enable students to see the details of the job first-hand. Over the last two years, Kiran, who is only one of four girls in a class of 40, has coordinated several corporate conferences and banquets. At various times, she has tended the bar, served starters, looked after desserts, and ensured overall smooth running of operations. Her pleasing smile and gentle attitude make her an ideal stewardess.
As a woman working in the service sector, however, Kiran has also faced her share of harassment.
At a suppliers' conference of one of India's top corporate houses, Kiran was in charge of the buffet spread. One of the men, a "truckdriver-type" in her words, kept looking in her direction. When she approached his table with a salver, he grabbed her hand and said: "Ma'am, why do you work so hard? That too so late into the night. So sad, no?" Kiran, who had half a mind to drop the salver on his head and give him a ringing slap, merely replied: "Yes, I do work late, but that's because people like you hang around way beyond time."
Of course, she knew even that was crossing limits. But it was okay since she knew who she was talking to. It was only a supplier who probably had come to such a place for the first time and could not believe his luck that the corporate house had invited him and his ilk to a grand dinner. But what if the too-friendly gentleman had been a suited upper class-type? In that case, says Kiran, "I would have kept my reply to myself and reported the matter to a senior."
Which brings us to the other, gratifying aspect of this issue. The management at the hotels Kiran has interned with -- and in the hotel industry at large, she informs me -- is extremely conscious of protecting female employees. Housekeeping is one area where female employees are not permitted to venture alone. They must at all times be accompanied by male employees. And if the guests are drinking in the room, the kitchen never sends women to serve them.
"Do you like your job?" I ask Kiran, as we discuss these matters. "I love it," she beams, "and no horny loser will make me change my mind." Atta girl!
Postscript: Harassment of women employees is not the only ill hotels have to fight. Kleptomania is another. It is not uncommon for people to take away shampoos, soaps and hand towels. Hotels know it happens and they don't even bother to check for these items after the guest checks out. But there are those who empty out the mini bar. Kiran told me of a guest who stowed away bits of leftover soap every morning so that housekeeping would give him a fresh cake! How do you explain this sort of niggardliness from someone paying close to Rs 10,000 for a night's stay? In five-star hotels, therefore, the practice is not to let the guest sign out until housekeeping has ensured that things are in place.
Among all the stories Kiran shared with me, this one takes, well, the cake. When a friend of the hotel owner checked out with his family at the end of a four-day stay, the wall hangings in the room were missing. Some of these were expensive scrolls that the hotel had commissioned from an art dealer in Delhi. The front office was in a real bind. How to raise the issue of obvious theft without humiliating the owner's friend?
After much commiseration, the front office staff said to the gentleman in question: "Sir, it seems the kids wrapped up the wall hangings mistakenly. Could you check?"
The man, no gullible lamb, had the gall to retort: "Are you calling my kids thieves?"
When soft talk did not help, the manager on duty did some plainspeak: "Sir, either you let us check your baggage and retrieve our belongings or we take the matter to the police."
"I guess the kids did play a prank after all. Boys, come here. You really should not..."
Photograph: Catherine Benson/Reuters