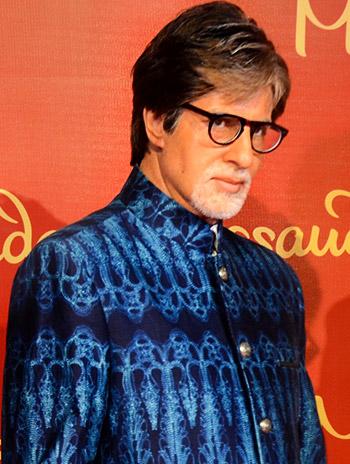 Amitabh Bachchan, Lady Gaga, Mahatma Gandhi are among the 50 figures who will be part of the wax museum in India.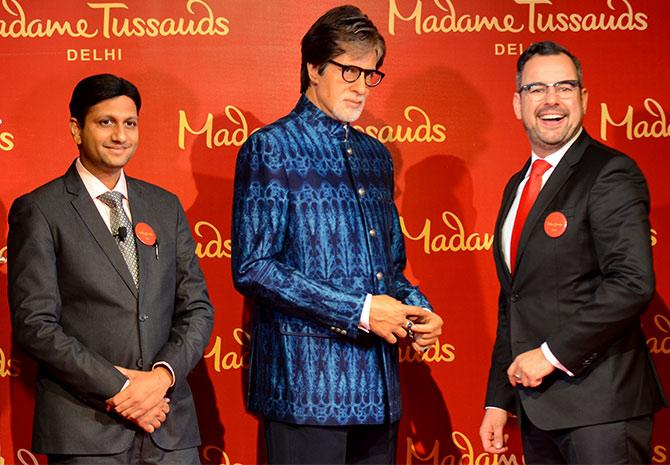 IMAGE: Anshul Jain, general manager, Merlin Entertainments India and director, Europe and Emerging Markets Marcel Kloos pose alongside a wax figure of Amitabh Bachchan at Madame Tussauds, Delhi.
Photograph: Kind courtesy Perfect Relations
One of the world's famed wax museums Madame Tussauds will open in Delhi in June this year.
Actors Amitabh Bachchan, Jackie Chan, Mahatma Gandhi, cricket legend Sachin Tendulkar and pop icon Lady Gaga are among the host of personalities whose wax figures will adorn the country's first Madame Tussauds.
Merlin Entertainments, the operator of the iconic entertainment attraction, unveiled the wax figure of Bachchan at a grand function held in the national capital recently.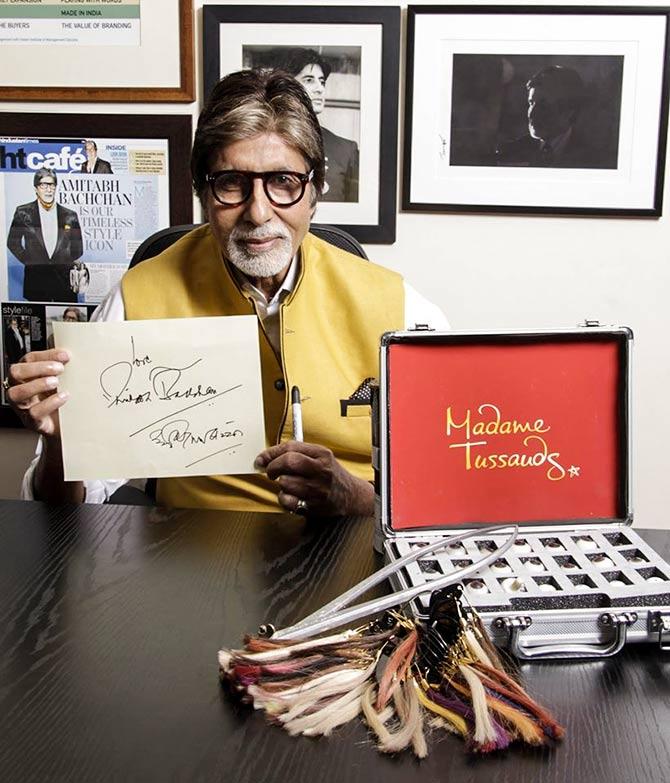 IMAGE: Amitabh Bachchan shares his love during the measurement session at Madame Tussauds, Delhi.
Photograph: Kind courtesy Madame Tussauds Delhi/Facebook
"Bachchan's wax figure, made on the basis of his real body measurement will be housed in the new attraction coming up in Regal Building. So, his is the first one to be unveiled.
"Lady Gaga and of course Madame Tussauds's figures would be showcased too, but the ones brought here have been specially flown in from Berlin specially for today's function. Besides, we will have Mahatma Gandhi and Jackie Chan's figures as well," a senior official of the company told PTI.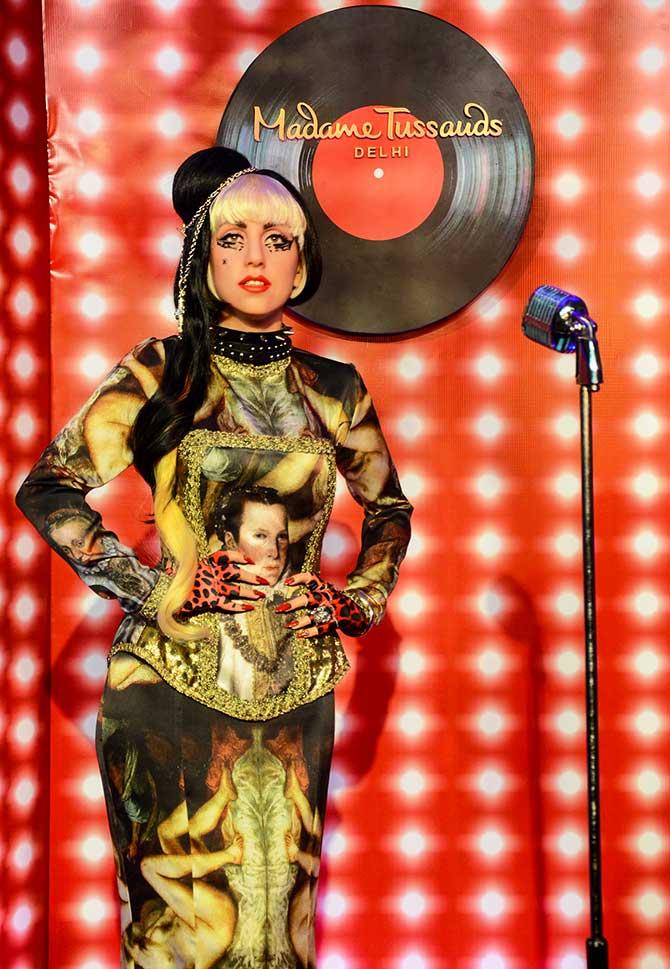 IMAGE: Wax figure of Lady Gaga at the museum.
Photograph: Kind courtesy Perfect Relations
The UK-based firm, also owner of other brands such as SeaLife and Legoland, said, "60 per cent of the figures would be of local (Indian) personalities, and the rest would be of global ones, from all walks of life, entertainment to sports to famous leaders."
Having a legacy of over over 250 years, the Delhi wax museum would be the 23rd such attractions opened globally, including in London, Berlin, Amsterdam, Shanghai, Bangkok, Hong Kong, Tokyo, Singapore, Hollywood, New York and Washington.
"All our Madame Tussauds, around the world have a mix of global and local flavours, and so the Delhi one would carry the same character," the official said.
The Madame Tussauds museum in London opened at Baker Street in 1835. It has since expanded to other countries, drawing 550 million people worldwide so far.
Asked if there were other choices for the city, Merlin Entertainments director, New Openings Europe and Emerging Markets, Marcel Kloos told reporters, "Mumbai is the entertainment capital of India, but we go beyond entertainment, as far as our figures are concerned."
"We conducted a market research and also took a sample survey, and Delhi turned out to be right fit. Also, the venue, Regal Theatre building, a heritage building in Connaught Place area was, also the right find for us, so we did not look any further."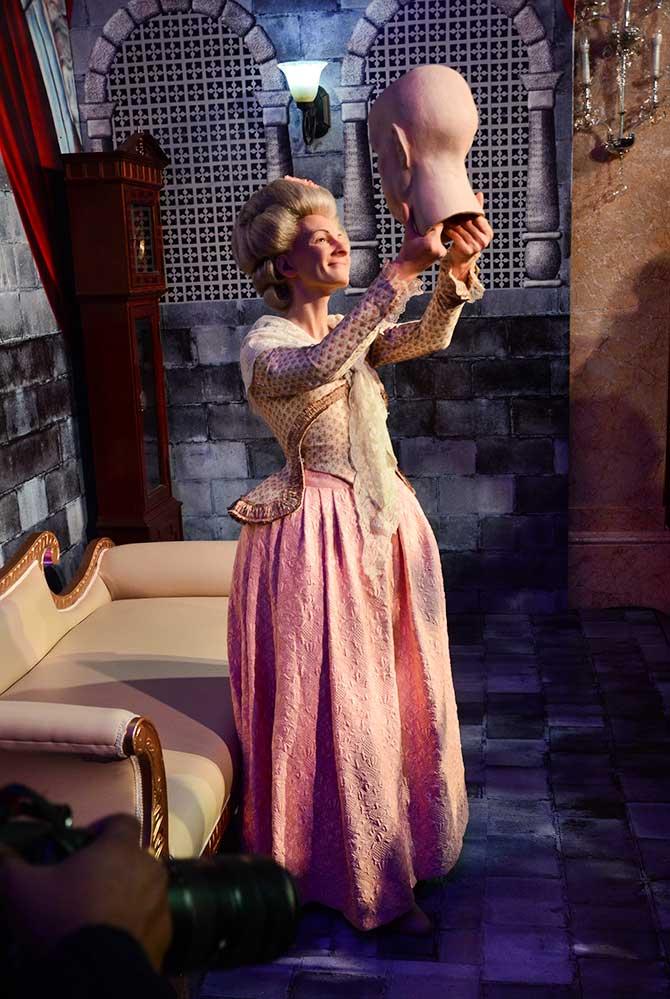 IMAGE: Wax figure of late artist Marie Tussauds, the founder of the museum in London.
Photograph: Kind courtesy Perfect Relations

Merlin Entertainments' India general manger and director Anshul Jain said, "The Delhi attraction would be a 100 per cent subsidiary of the global firm."
Talking about investments the company has made in opening its first such attraction in India, he said, "We cannot give specific details but we are launching India with 50 figures with a minimum investment of Rs 1.5 crore for each figure."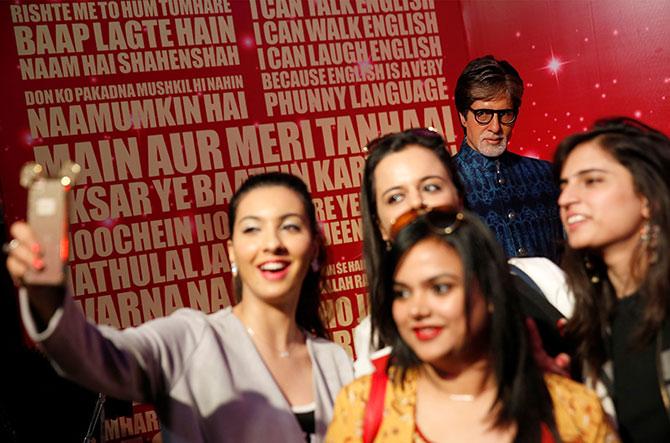 IMAGE: Visitors click pictures at a photocall for the new Madam Tussaud's waxwork museum in New Delhi.
Photograph: Cathal McNaughton/Reuters
The museum will be housed in the 1930-era building spread over the ground and first floors.
"All figures are being made in our UK studio and will be brought here. But, we do have a local team, who will work on its maintenance," Kloos said.