On Mother's Day, a daughter remembers her mother.
Have a picture of you with your mother? Share it here #MomAndMe along with a message.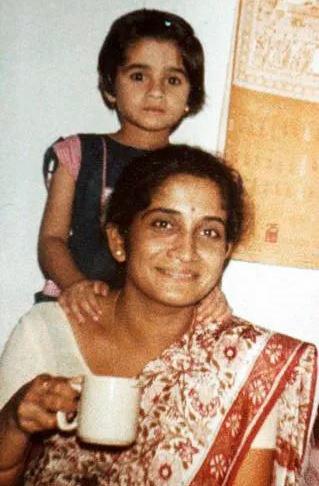 IMAGE: A young Ruchita with her mother.
All photographs: Kind courtesy Ruchita/Indusparent

Hi Maa,

Remember all those sorry cards I made for you when I was 5, 6, 7, 8 and 9 years old. I started making them as soon as I could draw a stick figure and scrawl.
'Momie I am sorree, I love you'.
Until I had caused you teenage anguish, I have been writing sorry notes to you.
Each year, the language got a little better. And the note got more expressive.

With so many sorry cards, it's not rocket science to deduce that I must have been a very naughty kid.
It wasn't just sorry (cards). I also made many beautiful birthday and, of course, Mother's Day cards.
Also let me confess that while I was very sorry for whatever I had done, I also loved making those cards, as it was great practice for the budding artist inside me!
You lovingly kept all my handmade cards safely tucked between the folds of your silk sarees. Those lovely silk sarees that always carried a faint fragrance of L'air Du Temps, your favourite perfume.
Even today, if I catch a whiff of it in a store I get a fleeting feeling of your presence around me.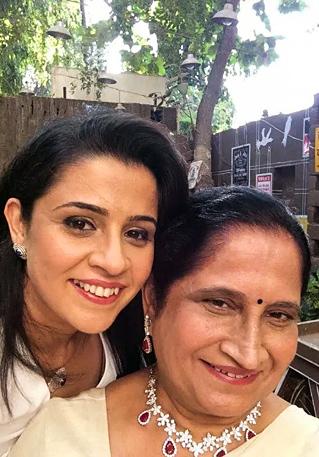 IMAGE: Ruchita, now, with her mother.

I have two sons and though, both the brats have inherited my impish spirit, they haven't inherited the art of making any cards.
Unlike you, I don't have the pleasure of saving any handmade cards, with incorrect English but the right emotion.
At best, I can hope for some sorry/I love you messages on WhatsApp with the appropriate emoticons!
And while lovely silk sarees are missing, I have enough should-have-discarded-but-one-day-I-will-fit-sized clothes in my wardrobe to keep them safe. That is, if they ever came to me in paper form.
While I wait for my sons to create cards, I try to remember the last time I made a sorry, birthday or Mother's Day card for you.
I am sorry Maa. I stopped writing to you.
It's not like, after I became a mother, I stopped being your daughter.
I am pretty sure my wrongdoings as a kid were far meeker than some adult frays we have had. I am a strong-headed daughter of a strong-headed mom.
Today, on Mother's Day I write this letter to say sorry for all the cards that I didn't make since I became a mom myself.
Sorry for all those days I forgot being your daughter in the pursuit of being a mother myself.
I am not too sure if I will ever get any handmade card from my sons. But I'm very sure that even today, this letter will find its way between your sarees.
Love,
Ruchi

The author Ruchita Dar Shah is the founder of First Moms Club.