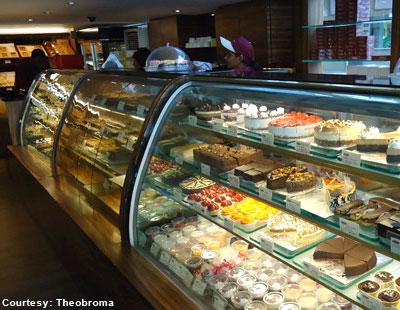 Get Ahead readers Marinha J Fernandes, who visited Mumbai's famous patisserie Theobroma writes about her experience. And you can too -- contribute restaurant reviews and share your opinions on neighbourhood eateries with us!

South Mumbai's popular bakery and café Theobroma opened up in Bandra earlier this year.

This branch varies little from its main branch in Colaba, except when it comes to space and service.

Theobroma sits smack in the middle of Bandra's Linking Road, the shopping district. It offers shoppers a welcome break from the heat, with a wide selection of sweet and savoury options, catering both, to the vegetarians as well as the non-vegetarians.

Unlike the Colaba branch, this one has more sitting space. With two levels, you can comfortably park yourself, even on a busy Saturday evening.

The service, on the other hand, is debatable. If you are in a hurry, this is not the place to make a pit stop.

Waiters, although in plenty, take their time in accepting orders and delivering it to your table.

But once they do, there is no looking back. The menu lists some fantastically worded items, that get the stomach growling.

I would stay away from the sandwiches, which were slightly soggy, but the patés and the 'light bites' are delicious. I recommend the Vegetarian Antipasto Platter if you choose to go vegetarian.

Theobroma also offers a choice of cheeses, hummus and a lot more, with four types of bread to go along with them.

The range of all-day breakfast options caters mainly to the meat-eater. You can go all out English or American, with bacon and eggs, pancakes and waffles, or simply order a bowl of muesli and fruit.

However, do note that the café opens at 11 am, so your breakfast may just end up being a brunch!

In case you happen to have a sweet tooth, there is no dearth of options. My personal favourites are the Blueberry Cheesecake and the Chocolate Truffle Pastry.

If you like a combination of sweet and bitter get the Chocolate Walnut Brownie, with an accompanying coffee to give you the ideal balance of bittersweet.

For the perfect teacake, try the Dense Chocolate Cake, which is soft and simply melts in your mouth.

Like every other patisserie, Theobroma also has a range of cupcakes, which is the latest fad in baking.

So there you go: it is definitely a must-visit.

And if you live in Mumbai's suburbs, the best part is that now you don't have to trek all the way to the southern tip of the city to taste the food of the gods!

Recommended sweets: Dense Chocolate Cake, Blueberry Cheesecake, Chocolate Truffle Pastry
Recommended savouries:Vegetarian Antipasto Platter, Chicken Liver Paté

Address
Theobroma,
29/30 Link Square Mall,
Linking Road,
Bandra West(Near KFC)

Phone: +91 (0)22 2646 9010
+91 (0)22 2646 9040

Open 11 am to 11 pm, Mon-Sun. Alcohol not served. Prices range anywhere between Rs 50 for a chocolate croissant to Rs 200 per platter.

Would you like to review a restaurant for us? Send in your experiences and opinions of eateries to getahead@rediff.co.in (subject line: 'Restaurant Review') along with your name, age, contact details and a photograph of the restaurant if possible. We'll feature the best entries right here.