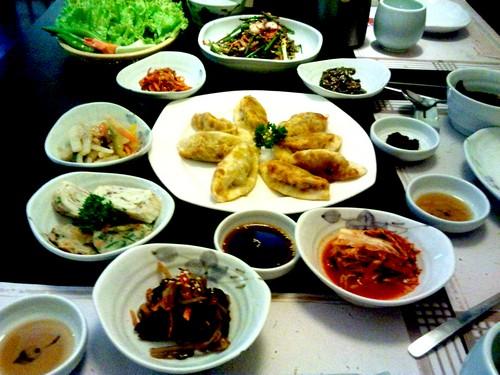 Harnoor Channi-Tiwary shares her experience at Gung, The Palace in New Delhi

In a country where Oriental food is equal to Chinese cuisine, with Sushi popular only among the elite, Korean cuisine isn't something many have experimented with.

This could be attributed to the fact that there are not too many restaurants serving it in India or to the fact that the meats used -- pork, beef and seafood have limited enthusiasts.

Nevertheless, when my friend and I were to decide where to meet for lunch, we readily agreed to try out the Korean Restaurant getting rave reviews in Delhi -- Gung, The Palace.

Located on an inner street of Green Park, the restaurant could be a little difficult to spot if you are not familiar with the area.

Having had to park our car far away from the restaurant -- close to the now shut Uphaar Cinema, we hiked the 10-minute walk in the sun.

Lack of convenient parking is a definite point of concern for Gung to look into.

But all was forgotten as we stepped into this surreal world within the restaurant. The interiors have been done in typical Korean style with tiny wooden cabins that you have to enter after removing your footwear.

The cabins are separated with paper separators and have a low table with cushions around for one to sit on. But when you sit down, you realise that the floor below the table is hollow and thus you do not need to sit cross-legged but can hang your legs down. Very inventive!

The menu can be quite confusing for a non-regular and the prices steep for anyone but royalty! Each main dish is priced between Rs 600 and Rs 2,000.

With the promise of an elaborate experience, we ordered the Yam Gap Sal (Grilled Pork Belly -- Rs 800) and a plate of Yaki Mandu (Chicken Dimsums -- Rs 400) to start with.

At first it seemed to us that we may have under-ordered
but we couldn't have been farther from the truth.
To our delight, the servers got a zillion small bowls of accompaniments for the grilled dish and soon our table looked like it would feed a king! To add to the drama, the meat is grilled right before you -- on your table by the traditionally attired servers and served hot to you with a plate of lettuce leaves to wrap it in.
The other dishes included toasted garlic, cabbage Kimchi, radish Kimchi (much spicier than the version we are used to), cooked spinach, fried sea weed, sliced vegetables, raw onions, little omelettes and potato pancakes with a nice sesame soya sauce on the side. And ofcourse our Dimsum order.
So as one can quite imagine, we had a feast to say the least! My favourites were the Kimchi and potato pancakes.
The Pork Belly itself was nice and chewy. The dimsums were good but the Chinese versions are juicier. There was also a jug filled with a lovely light cold Korean tea to wash it all down.
We happily devoured everything on our table while my 6 month old complied and slept peacefully on a cushion beside me. The bill was a steep Rs 1400 considering we only ordered one main dish and no drinks (they serve Korean beer and rice wine too).
The restaurant authorities made a point of specifying that the service tax included is the government mandated one so tipping is expected!
We walked out our wallets lighter but our souls nourished. Korean may not be a cuisine I would eat every fortnight but once in a while to try new tastes I am glad we found this lovely restaurant.
If you too like to experiment with your palate and are open to new experiences, give this a go. You'll love it!
Address:
D-1 B, Near Ashirwad Complex, Green Park, New Delhi
Phone:
011-46082663
Alcohol:
Served
Meal for two:
(Approx) Rs 2000 (without drinks)